Want to go on a virtual webcam date with a cute girl? Then check out Coomeet, where you can experience random chats with babes from around the world. Tell me what you think by email!

Pros
Chat with girls only
Mostly HD webcams
Cons
Trial users are ignored
Premium membership can get expensive
Bottom Line
Coomeet is a different kind of live cam site where you'll have the opportunity to chat with girls only - no men randomly popping up on cam here! There's a free trial, but you'll want to get a premium membership sooner rather than later because the trial is very limited and doesn't let you do very much. But a monthly subscription, while affordable, only lets you chat for 200 minutes and you'll need to buy more if you want to keep the conversation flowing. The good news is that all the girls are a lot of fun and love to flirt. You'll feel like you're on a virtual date!
My Full Coomeet Review
Want to Date Random Cam Girls?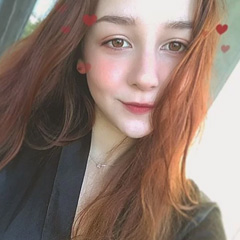 One of my pet peeves is when I'm on roulette chat site and keep hitting that Next button only to see guy after guy on cam. What if you could go on a site where you were guaranteed only to find babes and lots of them, too? Well, it exists and it's called Coomeet. They bill themselves as "the #1 video chat site with girls." Do they live up to the hype? Let's find out!
When you land on the main page, you won't see much. Just some fancy looking graphics and info on what the site is all about. To get started, click the Get Free Trial Now button. But let me get something out of the way right now - you literally won't be able to do a thing with the trial. I'll explain.
How Does the Trial Work?
You sign up by answering a few questions, including your gender, preference, age, etc. No email or credit card required. You'll start seeing girls right away after that. I landed on a chick wearing a revealing tank top, listening to classic rock! But before I could type the "h" in Hi, she was gone. Looks like they have the same features you do - clicking Next and finding someone else to chat with!
Another girl immediately popped up after her and within two seconds, she was gone too. And then it happened again. And again. After six times, a message came on my screen that said I had to wait a minute before I could try again. So I waited and not only did the same thing happen, this time I had to wait three minutes! What kind of free trial is this?
Finally, I decided to try one more time to see if I could chat with someone. To my surprise, a babe popped up and she stayed on cam with me. I introduced myself and she replied. But it was behind an image that said: "Click here to see her reply." When I did, I got a pop-up that read, "Become a premium member now!"
Get Perks With a Premium Membership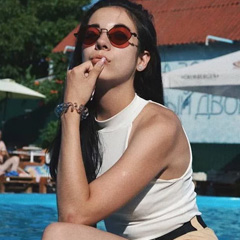 My guess is that these girls are not random amateurs, but cam girls who could see that I was only a trial user, so they skipped me in favor of getting a premium paying member. To become one, it costs $10/month, which includes 200 minutes. If you run out of minutes before the month is over, you need to buy more and, let's be honest, that's only a little more than three hours of chat time per month, so you'll probably have to buy more time.
Becoming a premium member has its perks though. Instead of just using "skip" while looking for someone to chat with, you also get "skip and never find again" (I assume this means she'll disappear from the roster) or "skip and warn about video recording." The latter is there for the unfortunate reason that some girls have a pre-recorded looped video instead of being live. If you suspect that's what's going on, report it and their customer service team will look into it. Either way, you can take advantage of all those features on their mobile-interface too. They're releasing an app soon, but right now, you can go to the site and use the camera on your phone as a webcam.
As you flip through the cam babes, you'll be glad to know most are using HD webcams with clear audio. It helps you feel like you're actually on a date with these girls. And while there are some who are down for something a little naughtier, the point here is really just to chat and flirt and get to know them.
Have Fun Flirting & Chatting
If you take the plunge and get a premium account, everything changes. Suddenly, you'll be able to chat with all sorts of girls, including teens, a few MILFs and I also spotted some Latina and Asian ladies. I hit Next several times and always found someone to talk to. They all have the option to go cam2cam and I must've spent about 20 minutes chatting and flirting. I added them to my Friends List, so I could access them right away on my next visit. One sexy babe was just in her bra and panties. She wasn't as interested in flirting though so while music played in the background she gave me a little striptease.
Virtually Date Hundreds of Cute Babes
I'd call Coomeet a virtual speed dating site, actually. Except you'll never have a shortage of chicks to meet. Just remember that you'll have to pay and become a premium member if you want to do much of anything. Either way, it's definitely a different experience, much like the other sites I've reviewed in the cam dating category. Unlike most cam sites, there's no private shows, tokens or all the other fancy bells and whistles.
Click Here To Visit Website
Similar ❤️ Cam Dating ❤️

It's free to browse the site and see the babes live on cam. With all the HD streams you'll get a great look at the babes' bodies before and during your hot xxx session.

There are 100's of performers online at any given time on Meet Cam Models, so finding the online girl of your dreams is easy. And enjoying a live sex show is always in the cards.
Sign Up and I'll Hook You Up
Get exclusive email offers and meet your next online beauty!

Adult Friend Finder is one of the oldest and largest dating communities. They offer an advanced search and good community features. Find friends, dates and hookups.

On Sex Play Cam you'll find horny people looking for the same things as you. Enjoy live sex cams and user-submitted porn movies. Browse members' profiles as well.

My Dirty Hobby is a large community of people from around the world who chat, share videos and perform live on cam. Watch amateur porn videos or chat in real time, it's up to you.

Looking for someone to masturbate with? JerkMate lets you have an intimate sexual experience with cam girls, who are waiting for the right guy to come along and connect with!

Twero lets you register for free to meet singles and connect with horny strangers. You'll meet girls who like getting naked on cam and sharing their naughty photos and vids!

Are you looking for a hookup or a relationship? Well, both can be found among Fling members. Browse their large community and check out the extensive member profiles.

A community full of horny people looking to hook up is what you'll find on Passion.com. There's a large network and good user features. Check it out with a free trial membership!

Arousr makes it easy to connect with hot babes for online dating. Experience sexting, phone sex and video chat directly from your smartphone. It's really that simple!

Download the Flirtymania app to your smartphone and immediately start experiencing live video chats with hundreds of girls for free and without even registering!

Thousands of real and verified girls from around the world are online and waiting to connect on Coomeet. Make use of free video chat, and flirt and have fun without any commitment.

Sky Private has Skype-verified live girls available for pay-per-minute private shows, where you can get intimate with more than 27,500 sexy babes!

While some of the babes on AdultWork only work as live cam performers, others are also escorts. And they would all be happy to meet with you for a great sexual encounter.