Want to be the fly on the wall in other people's homes? Well, with the sites in the voyeur cam category that is exactly how it feels as you watch them go about their daily lives. If you have any site suggestions, email me.
👀 Voyeur Cams
What's The Difference Between Regular & Voyeur Cams?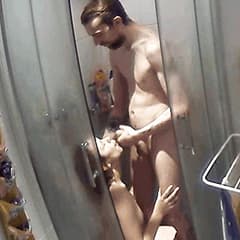 I know what you're thinking. "Isn't every cam site a voyeur site?" Well, yes, in a way that's true given that what you're doing is watching girls perform. And depending on your level of activity and communication in the chat rooms, it can be more voyeuristic than if you're participating more in what takes place on cam. But over the years I've come across sites like the ones you'll see in this category that are a little different.
Feel Like a Voyeur with Real Life Cam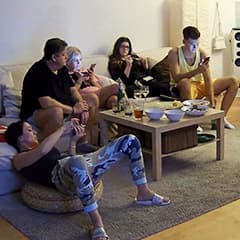 This is as voyeur as you can get without going too far. By "too far" I mean actually going out and installing cameras in people's homes without their consent and then not only streaming the video of their lives to yourself, but also out to the world. DON'T DO THAT! Instead check out this list of voyeur cams where someone else has gone and done all that for you and the one difference – that makes it all okay – is that the people in the homes are well aware that the cameras are installed and recording at all times. All you have to do is sit back and click through the different rooms in the house.
Sexy Girls Going About Their Daily Lives
Generally you'll find these voyeur homes populated by multiple babes. But unlike a regular sex cam site, they aren't always working the camera to get you off. Instead they may be watching TV or making something to eat or taking a nap or playing on their phone. They might be doing it in their panties or fully clothed. They could also be taking a shower or getting changed or masturbating or having sex.
I's Like Uncensored Reality TV
When you watch reality TV shows like Big Brother they blur out the naughty bits - and any sexual contact is hidden or edited out. However, on these live cam voyeur sites, anything goes and when it does, it doesn't get edited or censored. You'll see it all. These sites involve a lot of sitting around and watching the screen while nothing much happens. But it's that realness, that genuineness of people just going about their day that can be very appealing and I've found myself watching them for a lot longer than I would care to admit. If you've never checked them out before, I suggest you give them a try.

Imagine a house where sexy girls live, filled with hidden cameras in every room so that you can see what's going on 24/7. Well, you don't have to imagine it with Voyeur House!

Pop open this can of CamSoda to enjoy lots of free nudity. You can join this live sex site at no cost and watch beautiful nude girls getting very naughty on webcam.
Get Exclusive Email Offers
Deals, free tokens & minutes on the top voyeur cam sites!

Check out Voyeur House, a place where you can watch real life cams featuring sexy, young couples in their homes. Watch them lounge around the house or have sex with each other, 24/7.
Camarads cams are streaming 24/7. Check them out anytime and you might see a girl making dinner, folding laundry, taking a shower, or having sex. You never know!

Take a look at these Real Life Cams and see what's going on in kitchens, living rooms, bedrooms and bathrooms, where sexy girls are just going about their day.

In the Voyeur Villa, you can chat with 1,500+ sexy cam girls from all over the world. Whether you're looking for a mature babe or a sexy teen, these performers are as hot as they come!