The roulette cam experience is simple and very easy to use. And there are lots of babes, HD cams and various show and price options for when you're ready to watch the girls naked. Share your thoughts via email.

Pros
HD cams that look great
Browse public chat rooms for free
Lots of beautiful babes on the roulette cams
Cons
Some expensive performers
Bottom Line
Let lady luck guide you as you play with the roulette sex cams on Camingle. And the good thing about this experience is that it's free and it always lands on your number! All the babes are winners and each one will make you want to cash out in a very good way. Let the roulette decide, or take matters into your own hands and find the girl for you. They're all sexy, using HD cams and ready to get naked and do whatever you want them to.
My Full Camingle Review
Camingle Brings You Hot Girls Live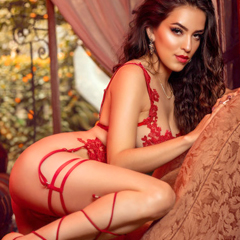 When you land on the site you're presented with a chat window and on the left-hand side you'll see a girl's live cam. And it's always random as to who she is. I've visited Camingle on many separate occasions and I have yet to see the same performer in that window. Which is what makes the roulette experience so much fun. And it doesn't stop with just that one babe who initially pops up.
A Variety of Performers on HD Cams
It's fun using the "next" or "random" button to go from one live babe to the next in the roulette setting. Stay with one for a while or move on to another. There's a lot of variety too. From coeds to MILFs, as well as different ethnicities and body types. I personally like the randomness of it all and the excitement that comes from clicking the button and seeing one hottie appear after the other.
And you're catching them live too. Sometimes they're in a horny mood and already talking dirty. Other times they might be relaxing and waiting for someone to perform for. I'll admit that I spent a little time on the site before starting this review today. In my random roulette views I saw one babe rubbing her tits (she looked like she was minutes away from an orgasm) and another who was just drinking her morning coffee.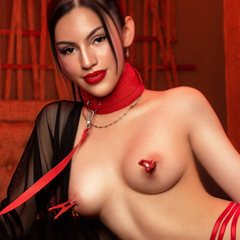 It looks like everyone on Camingle is using HD cams and it shows. The movement was fluid and the images sharp and crisp from one babe to the next. You'll have a great view of everything, from a babe's hard nipples through her shirt to the steam rising up from that morning cup of Joe. You'll also get an "about me" section with profile and show information. And you can check out comments about the performer from other members.
Chat For Free
Everything I've talked about so far is absolutely free. You can even do it without signing up or being a member. Just go to the site and click those "random" and "next" buttons to your heart's content. You'll also come across a chat-bot in the room who's there to ask you a few questions and gauge your interests. You can chat with it or not. It doesn't matter. I also appreciate that the bot is called "chat-bot." They aren't trying to trick you into thinking you're talking to a real woman. It's very upfront and I appreciated that.
Membership Has Its Privileges
On Camingle the real fun – and the nudity – happens in the private shows. And to have one of those you will need to become a member - if you haven't already. First off, your screen name in the chat room won't be "guest" anymore and you will probably get more attention from the performers when you say hello. Also, you won't keep getting a membership login/signup window popping up when you click on certain things. And, finally, there are the private chats! For that you will not only need to be a registered member, but you will also have to spend some money. As you know, or at least probably assumed, private chats aren't free.
Private and Gold Shows
Yes, you have to pay to see nudity, but how much and in what manner is up to you. If you want a full private show where it is just you and the babe, those are generally the most expensive options. Although it does vary depending on what the performer is charging. So, while some girls are asking upwards of $5/minute, others are somewhere in the $2-$3/minute range. But with private shows you're the only one making requests to the model and all her attention is on performing to please you.
Then there are the "Gold Shows." For these the babe sets a cash goal that she wants to reach and when she reaches it she puts on the hot show for everyone who tipped into the pot. Often the amount you need to tip and the length of the show make it the most economic option, but obviously you won't be alone in the showroom. They are both really good options. It is just a matter of what you want and how much you want to spend.
Unlike Real Roulette, Camingle Isn't a Gamble
I like the site and have had many fun times there. But what makes it even easier to recommend is the fact that there's really nothing to lose by checking it out. Enjoy the fun, random roulette action, or forget about leaving things to chance and select the specific girl you want to play with.
Once you've found a girl you like and have decided you want to take things to the next – and very naughty – level, only then do you have to register and spend any cash. And I'm sure you will enjoy it when you do. I know I sure have!
Click Here To Visit Website
Similar 🔀 Sex Roulette Sites

New roulette experience with girls! Click NEXT and connect to a brand new girl next door each time. Cam2cam/Roulette with 100% girl matches.

Looking to chat with sexy, random strangers from around the world? Welcome to Flingster! You can meet nearly 500,000 people for free adult video chat. Getting started takes seconds!
Sign Up and Get Exclusive Email Offers
Put your fate in my hands and you're bound to get lucky!

This simple roulette-style cam site brings you one hot live babe after another, looking to have fun. Sex Roulette doesn't have guys to deal with, so naked girls can be your focus.

Let the Camingle roulette pick random babes for you to chat with, or select the perfect girl for you. Either way you're a click away from a hottie getting naked on live cam!

The Omexxx "random" feature acts like a roulette. It's free to go one-by-one through all the sexy girls on the site and chat with them. You'll also see many of them fully naked.

You never know who you're going to meet on Chat Random. Connect and chat with random strangers from around the world, all waiting to talk with you and go cam2cam!

Meet random people from around the world on Shagle, a completely free site where you can connect with others and have live cam2cam chats with thousands of strangers.

ChatSpin is an incredibly easy-to-use app designed for smartphones. It lets you connect with strangers from around the world for a random chat, all in the palm of your hands!

On LuckyCrush, enjoy a private video chat with a random opposite-sex partner within 10 seconds. Guys are randomly connected with girls, and girls with guys. And access is free!

Bazoocam is a webcam based social media site, where you can randomly chat with people from around the world with the single click of a button. You never know who you might meet!