This is my all-time favorite sex cam site: Rabbits Cams. There's thousands of hot girls, HD streams and loads of sexy performances with cheap rates. Email me if I missed something.

Pros
Lots of models online at all times.
Almost all the cams are HD/high-quality.
Multiple show options, from privates to very economical Gold Shows.
Bottom Line
This is one of the best sex cam sites out there. Plenty of girls online at all times, nice variety (so finding multiple babes that fit your mood should never be a problem) and with all the show and price options there is something for everyone's budget. Oh, and let us not forget that pretty much every babe is offering herself up on an HD-quality cam!
My Full Rabbits Cams Review
Hands-Down One of the Best Cam Sites Ever!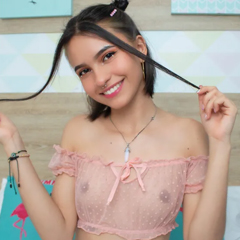 One of the better live cam sites out there, Rabbits Cams gives you pretty much everything you would want. Loads of hot models in all variety of looks and styles. Almost every cam is HD and there are multiple price and show options for whatever your mood and wallet can handle. It is free to check it out and do a little browsing and chatting so there is no excuse not to check it out!
It's So Much More than Your Typical Cam Site
Okay, I am going to be honest with all of you right now. This review has taken me a lot longer to write than it should have. You see, I know Rabbits Cams pretty well (having spent plenty of quality time on it in the past), but when I sat down to write this review I decided that I needed to look at the site again. So, I did. And so, here I am two private chats and one gold show later finally getting to writing this review.
So, I guess you can gather, from just that opening paragraph, that I quite like this site. And you would be correct. But what do I like about it?
From College Coeds to Busty MILFS and Everything in Between
Well, how about we start with the girls on the cams? From college coed hotties to busty MILFs and pretty much everything in between, Rabbits Cams offers up thousands of models. And when I was just on there were over 600 live and looking for fun. Now, I could have just headed over to me favorite girls - the ones I have played with in the past. But I decided to spread my wings and check out performers I had never chatted with.
I was also a little hungry, so as I headed into the kitchen to grab a snack I started my search using the mobile site on my phone. The mobile site looks good. It is a little more simple and basic than the non-mobile site, but I was able to search and browse and chat and the cams looked good and fluid. After my snack I headed back to my desktop and continued my search.
Use the Category List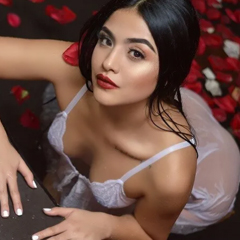 Initially, I just browsed the main page of online models, but then I had a hankering for a Latina babe so I selected that category from the nice category list along the left-hand side of the page and boom! There appeared all the Latina babes currently online. Then I did the same for BBW performers and found multiple big babes that struck my fancy and I ended up taking one of them for a very hot private chat (I chatted her up in private first to make sure she was open to things I wanted to see and she sure was!!).
I used the simple category filter for my browsing on this day, but you can also head into the "search" section and there you can get much more precise in your searches with the ability to select age ranges, hair colors, build, eye color, breast size, amount of pubic hair and body art to name a few. Are you looking for a 31-4 year old redhead with a hairy pussy who speaks French? Well, you can find more than one on RabbitsCams.
Love that Cam Preview Feature
Also, the site design is really nice and clean and one of the most handy features is the cam preview. Just hover your mouse over the girls preview image and a little pop up window appears. Press the play button and you will see the live cam feed. This is so smooth and so much better than having to click in to each girl's room to see what she is doing.
This is also a nice quick way to see what she really looks like live, if she is amateur or pro and if she does her shows from a studio or from her home (these are things that some people have definite preferences for or against). And of course, it gives you a quick look at the quality of their cam, which is a very, very important aspect of any live cam site experience.
I remember just a few years ago it was a big deal when a site offered HD cams, because it was still relatively new. However, these days most of us expect HD and that is exactly what you get at Rabbits Cams. Now, I didn't check out every single girl on the site, but every single cam I checked out was HD and when I sorted the cams by "HD" I didn't really see any difference - which means that pretty much every performer you come across will be providing an HD, or at least a high-quality, image.
Private Rates Vary Wildly
As far as pricing goes, it depends on the girl. Some of them will charge a couple bucks per minute and others could be asking $5/minute. However, another great option is the Gold Shows that many performers run. In a Gold Show the model puts a goal that she is trying to reach and a minimum amount you would need to "donate" to get in on the show.
Yes, you won't be private with her, but the cost/minute usually ends up being very much in your favor with these type of shows. And remember that, as with most live cam sites, it is free to sign up and browse around the site and chat with the babes in their free rooms.
One of the Hottest Cam Sites Ever!
Okay, I think that about sums it up. High-quality babes and cams. Great site features and multiple show and price options. Now, I have to go check out this 20-25 year old, black-haired babe with tattoos and a totally shaved pussy that I have had my eye on.
Click Here To Visit Website
Similar 🏆 Top Cam Sites