When one thinks of live cams one usually imagines a girl on her webcam chatting, stripping and masturbating. But the live cam world is massive and there are many cool things happening right now, like couples having sex, lesbians getting each other off, girls using remote vibes that are activated when people tip her, and a variety of fetishes from feet, Dommes, submissives, goth beauties, squirting, pregnant performers and more.
However, I'm on live cam sites pretty much every single day and beyond all the things I just mentioned, there are a few shows that have stood out from the rest. These are niches you might not be aware of and they could be hard to find unless you're specifically looking for them. So, I felt it was my duty to point them out and highlight them for you.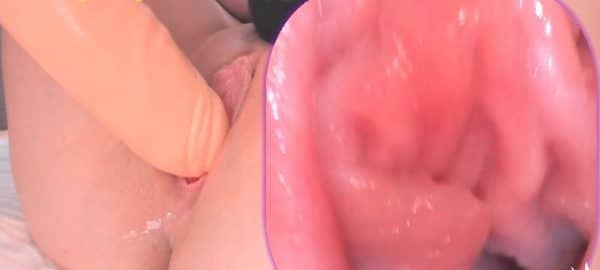 Lots of cam girls use dildos, but I can't remember the last time I came across a girl using a dildo with a camera on the end of it as PinkRose does. I was browsing on Chaturbate the other day when I saw her preview image and the inside-view of her pussy caught my eye. Sure enough, there she was sliding a toy in and out of her pretty pinkness and in the picture-in-picture box I got a live look inside her.
She calls it a "cock eye view" – and that's exactly what it is. I've seen this technology used on porn sites, but it's rare that I come across it on live cams, so this was an exciting day. I obviously can't guarantee that she'll be using the dildo-cam every time she's online, but it's worth checking out her room to see if she is! And if she isn't, ask her about it.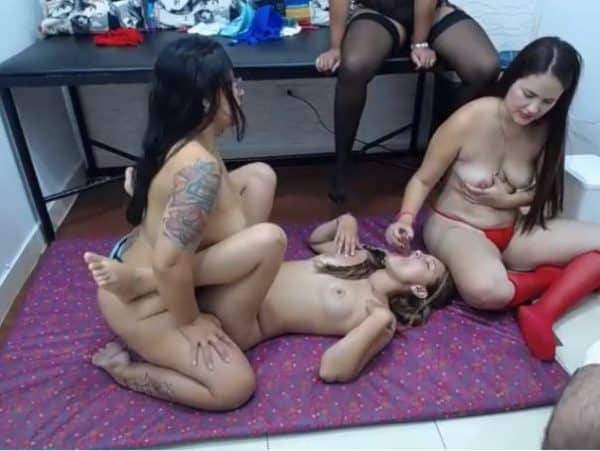 You may have chatted and played with a couple on cam before, but when's the last time you got five for the price of one? And with four of the five being sexy Latin girls? Fetishcouples is a group from Columbia that consists of one chubby man and four babes. You can find them doing their thing on Chaturbate.
I've checked out this crew a few times and seen different configurations. Sometimes just the girls are playing with each other while the guy watches. Other times the guy will go one-on-one in a hardcore session or take his turn with all the babes at once (blowjobs, anal, they do it all). There are also times when a few of them will take a break and leave one of the girls to play in the room alone.
They do seem to understand English – at least enough to chat and understand what people are asking of them. But this room is much more about their group and the shows and I wouldn't expect to come in and have long meaningful conversations. Instead, just sit back, tip a little and enjoy the group action!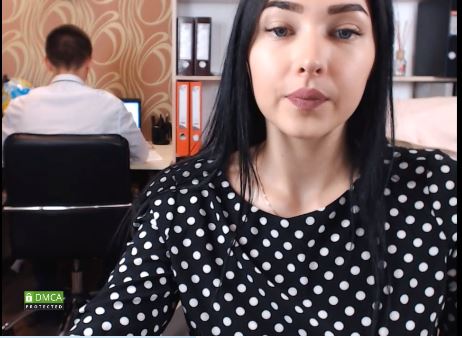 Public live camming became big news a few years back when Kendra Sutherland was caught doing shows from the Oregon State Library. It made this coed one of the most popular cam girls in the world and launched her adult career. Which in turn launched a bunch of copycats trying to cash in on the camming-in-public phenomenon.
However, most of them aren't as ballsy as Kendra and are either too shy to actually do it in a public place or too scared of the idea of getting caught and arrested. So, out of that fear I have seen the birth of fake "in-public" cam girls. So much so that I would call it a full-blown niche. One that sexy Polina (Office_Online) is a part of.
Polina is a beautiful dark-haired Eastern European who cams from a room set up to look like an actual office. There are shelves with books and papers and behind her is a desk where her boss sits with his back to her. While he's busy working she's live camming and showing off without him seeing.
My favorite part of Polina's show is the remote-controlled dildo she wears that gets activated by tips. The vibrations inside her are strong and you can see her reacting to them, but she's also trying not to let her boss know what's happening. Sometimes her boss will be talking to her and a bunch of members will tip right at that moment and she'll be trying to hold back her orgasm.
Like I said, it's obviously fake. She isn't actually in an office setting and the guy isn't really her boss. But as with all reality scenarios, the fact that they act as though it's real is what matters and it's what lets you lose yourself in the fantasy.
Something Different From the Ordinary
Well, there you have it. A fun collection of three cam rooms doing something you may not have seen before. We all love the more typical live cam experience and since every girl has her own distinct style and personality, even they are different experiences from one another. And while those three rooms might not be what you're looking for every day, I do enjoy a change of pace every now and again. If you try any of them, let me know what you think in the comments!