While there's a lot you can do on cam sites for free, ultimately you'll want to open your wallet to make the most out of your experience. Some shows can become overly expensive, but you can still enjoy them even if you're on a budget. Here's a quick guide on various ways to spend your sex cam dollars.
What are Tokens (or Credits or Coins)?
The most common currency on nearly all cam sites is tokens, which is your digital cash for purchasing private time, tipping the girls, buying their recorded videos and more. Some sites have different names for them, like credits or coins, but they all mainly work the same. You'll usually use your credit card or PayPal account to buy a package of them. Depending on how much you want to spend, they can range from as low as 10 tokens for a specific amount to as high as 1000 tokens or more. In some cases, you just pay per minute, usually charged directly from a credit card you have on file. One such site that operates like this is Super Trip.
Spending Your Tokens on Different Shows
So, now that you have those tokens, what are you going to do with them? I'll detail some of the main ways you'll be spending them!
Private Shows: It's just you and her! This is probably the most common type of show you can pay for on sites including RabbitsCams or CamRabbit. It's sort of like walking into the back of a strip club and getting a performance from your favorite stripper, except she's a cam girl and she'll probably be doing a lot more than just dancing and stripping!
Group Shows: Sort of like a private show, but you won't be the only watching her. These are shared shows with other users where you'll all contribute a few tokens. Some girls like to have a little fun and might have a specific theme happening, play games, or give users each a turn to dictate the action. Chaturbate and My Free Cams are known for these types of shows.
Spy Shows: Do you ever wish you could spy on someone else's cam show? It's sort of like being a fly-on-the-wall in a couple's bedroom when they have sex. Well, that's what spy shows are. You pay per minute, but you won't get to chat, only watch. The cost per minute is cheaper than a private show and are also available on sites likeRabbits Cams and Chaturbate.
Exclusive 1-on-1 Shows: If you don't like the idea of having someone spy on you, many sites will let you pay extra for an exclusive show, meaning no one else can look. These are always more expensive and in some cases can be downright pricey!
Remember that all these shows will vary in price. Usually, it's up to the babe to decide what she'll charge. But you'll always be able to see how much before you start.
How Will It Appear on My Credit Card?
One concern I hear often is how a charge appears on your credit card. After all, who wants to have "BIG SEXY CAM SITE XXX $20 PURCHASE" listed on your bill, especially if you have a significant other taking a peek at your purchases. Thankfully, cam sites are aware of this. If a site is using a third-party merchant, such as Epoch or CCbill, the charge usually shows up looking something like this: Merchant name – Amount Spent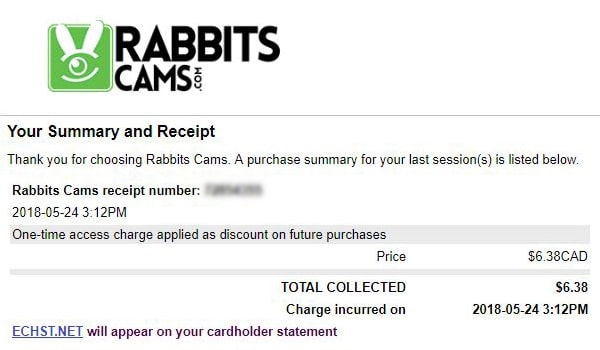 An example of what a typical billing email looks like.
But if a site takes care of its own billing, like Chaturbate, it'll be listed a little differently, and while they still try to remain inconspicuous, it could be a bit more obvious. For example, when you buy tokens on Chaturbate, it shows up as "Chaturbill," which could be noticeable to someone.
Types of Payments Accepted
The standard payment accepted on most sites are credit cards. However, many are offering alternative payment options nowadays including PayPal, Debit, Gift cards, Bitcoins (and other cryptocurrencies) and Wire Transfers.
Other Ways to Spend Your Cash
Whenever one of my favorite girls is offline, I don't get bummed out. You know why? Because I dig into the collection of recorded videos I've purchased from her and watch those! That's right; spending isn't just limited to live shows. It's very common for cam girls to sell things, like past performances. But it doesn't stop there! Some let you buy their SnapChat, Kik or WhatsApp usernames, or even purchase their used panties! These are great options to extend your experience with them outside of the site.
Take Advantage of Packages and Discounts
When you buy tokens, you should always consider buying more than necessary. It's sort of like buying items in bulk. Whenever you need them, you'll have them at your disposal and won't have to waste time buying more when you run out. Also, many sites charge a processing fee – no matter how big or small the number of tokens you buy. So, instead of paying the fee multiple times, invest in a bigger package. Plus, sites usually give discounted prices and bonus tokens as incentives when you go with a larger package, so why not take advantage? They also often run specials during holidays.
Checking Out the Inexpensive Sites
On average, private shows can range from $4 to $10/minute, depending on the site you're on and the girl. However, there are some, like DX Live, Live Pimpin (all cams here are $0.99/minute) and Live Strip, where going private is pretty cheap. These are cool to check out if you're looking to spend a little less, but keep in mind there's usually a trade-off. For example, DXLive has no HD cams, and LiveStrip doesn't give you free chat and also doesn't have many HD cams.
Save Cash By Earning Rewards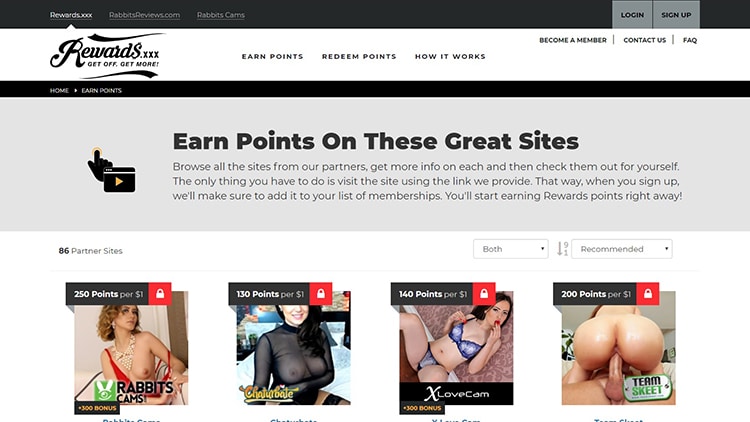 Earn free tokens and minutes from Rewards.xxx
I've always been a fan of rewards programs and wished one existed for cam sites. So, when I discovered Rewards.xxx, I was a pretty happy camper. Better late than never, right? Rewards.xxx is where you can earn points and redeem them for tokens and free minutes on cam sites. It's as impressive as it sounds. Some of the ones you can earn points from include RabbitsCams, XLoveCam and Chaturbate.
Have any other questions or concerns? Feel free to hit me up with an email!