Omexxx has loads of hot amateur live models performing hot XXX shows and it's all completely free. Plus the cams are high quality, so you'll need for nothing else. Email me your comments.

Pros
Can enjoy everything for free
Generally good-quality cams and sexy amateur performers
Lots of online performers
Cons
Not a true amateur roulette site
No advanced search engine
Bottom Line
The site's "random" feature makes it a viable entry for the Sex Roulette category, but that's the least interesting aspect of the site and it should really be thought of as a free cam site with loads of performers playing and chatting and getting very naughty for anyone watching. Those expecting a classic chat roulette experience won't find it here.
My Full Omexxx Review
Spin That Wheel!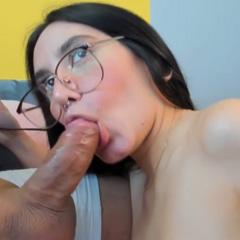 While most of the sites in the Sex Roulette section are pretty much the same, Omexxx is a little different from the rest. Now, is it different in a good way or a bad way? Well, that's what I'm here to discuss with all of you. So, let's get to it, shall we?
One way in which Omexxx is different from the standard roulette site is that it doesn't have the interface I'm used to with those types of sites. You know, the one that has two cam windows (one for my cam and one for the random cams of strangers from around the world) and a simple chat window beside them. However, as most of you know (or have read in my reviews of the more standard roulette sites) almost all the people on those random cams are men, so it can take awhile to find a female (if that's what you're looking for).
It's Mostly Ladies Behind the Cams!
Well, that isn't the case at Omexxx. You see, their "random chat" feature is filled with amateur live cam folks looking to make some cash – and when that's the case you know you're going to find a lot more chicks.
Click on the "random chat" button and you'll get a live cam window and a chat window next to it. In the cam window you might see a guy, but most of the time it will be a female or a couple and with a simple click on the "next" button you can jump to another random cam (as I write this I'm watching two beauties showering, with their webcam set up on the floor looking right up at them as they wash each other and show off their bodies).
It Can Get Pretty Explicit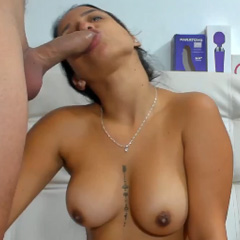 I clicked "next" and what appeared was a gorgeous blonde babe sucking off some lucky guy. "Next" again and I was watching some hottie tied up, with an OhMiBod vibrator inside her pussy that went off whenever someone tipped her, which leads me to the money part of this review.
As I mentioned before, the reason there are so many chicks on the site is because they're looking to make some cash. And they do that by setting goals and things they will do for tips. The good news is that as long as some people are tipping in the room you can be the beneficiary of watching all the naughtiness those tips provide. Also, it looks like some performers get naked to try and get folks to tip, so even with no one tipping I saw plenty of nudity.
Use the Category Buttons
Basically, Omexxx is a free sex cam site with some "roulette" tendencies. Although, should you want to forgo the roulette randomness, there are some category buttons (teen cams, cam couples, sex cams, etc.) that you can use to browse everyone online and pick the ones you want to watch.
So while this site isn't a stop on my list when I'm in the mood for a true amateur roulette cam experience, I do visit Omexxx when I want to watch amateur webcam performers naked and naughty for free (yes, I actually did buy tokens and I do tip sometimes, but other times I just sit back and enjoy all the horniness without spending a dime). It's a nice option to have.
Click Here To Visit Website
Similar Sex Roulette Sites

Let the Camingle roulette pick random babes for you to chat with, or select the perfect girl for you. Either way you're a click away from a hottie getting naked on live cam!

The Omexxx "random" feature acts like a roulette. It's free to go one-by-one through all the sexy girls on the site and chat with them. You'll also see many of them fully naked.
Sign Up and Get Exclusive Email Offers
Put your fate in my hands and you're sure to get lucky!


Lots of adult things happen on this Dirty Roulette XXX chat site. And it's completely free! You can also turn on your webcam so the girls can see you too.

This simple roulette-style cam site brings you one hot live babe after another, looking to have fun. Sex Roulette doesn't have guys to deal with, so naked girls can be your focus.