Cam sites can feel a little overwhelming if you're new to them, especially if it's a site with thousands of performers, dozens of choices and a large number of features. But there's nothing to fear. Take a deep breath and relax. Here a few starter tips to help ease you into that first experience.
1. Be Open to New Experiences
There's nothing wrong with having a "type," whether it's blondes, BBWs, etc. But by opening yourself up to new experiences and trying new things, you might be surprised by what you'll find. Honestly, the sky's the limit! I cannot stress this enough: cam sites are your opportunity to explore all those fantasies that you might have been too afraid or shy to express in the past – and you won't get judged for them.
An excellent place to start is by visiting some free cam sites, where you can explore the different categories and start talking to the hotties. I recommend checking out My Free Cams, Cam Rabbit and Rabbits Cams.
2. Create a Free Account (If Available)
Most sites will let you create an account for free, so you should take advantage of that option. Some ask that you do it before you're even allowed to chat with the babes. In some cases, you may need to create a full profile, but often all you'll need is an email to sign up, and the account is there within seconds!
3. Browse Live Rooms and Performer Profiles
This might seem obvious, but if a girl interests you, just enter her live room. It usually only takes a few seconds to pick up on their vibe. You'll get a good idea of their style and personality by seeing how they talk with other users. You can often check out their profile while you're there, too. Some girls get personal and give you all sorts of details about themselves. Some even have free XXX photos to check out!
4. Try Out Different Shows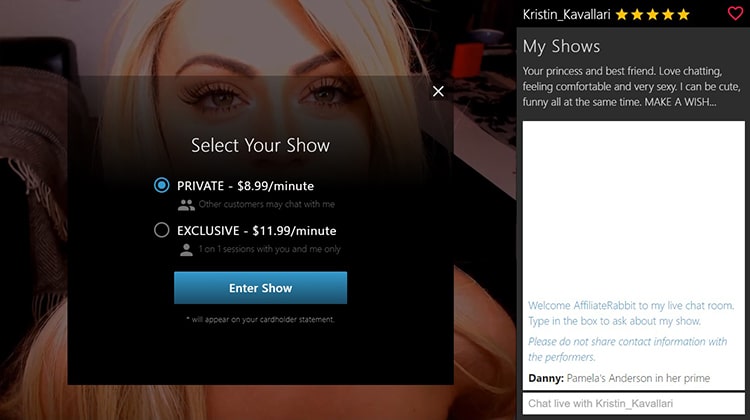 A performer offers private and exclusive shows.
You'll find a variety of shows, depending on the site, but generally, you'll come across four types, or variations of them.
Private: This is a one-on-one show with the babe of your choice. It'll cost a specific amount per minute, paid for with tokens or credits. Other people can usually pay to spy on these shows. This is the standard type on sites like Jasmin.com
Exclusive Private: Same as above, but others cannot spy on you. It costs more per minute than a private show.
Group: Like private, but multiple users can participate. Everyone usually has to contribute tokens or credits to be a part of the show. This is the standard type on sites like Chaturbate and My Free Cams.
Spy: This is where you can spy on another user's private show. Usually, you won't be able to chat. The point is to watch without the other user knowing you're there. The girls will be aware of your presence, however. You can find shows like this on XLoveCam.
Group and spy shows have their advantages, even though you're not one-on-one with a girl. For starters, both are usually a bit cheaper than private shows, so you'll save money. Group shows are also a lot of fun, and everyone gets to contribute and make suggestions. Games are sometimes played, too, like a spinning wheel of sex acts and some users even win prizes! Spy shows, on the other hand, let you fulfill your voyeuristic fantasies. It's a huge turn-on to watch a babe strip and pleasure herself without the other user knowing you're there.
5. Take Advantage of a Site's Features
Sifting through thousands of babes until you find one who piques your interest is a long and tedious way to find a cam girl. Luckily, most sites offer several features that are worth taking advantage of. They vary from site to site, but on average you'll be able to use:
Sorting options ranging from alphabetical to most popular, top rated, etc.
Basic and advanced search engines
Filters to find performers by region or language
Categories ranging from teens to MILFs
Notifications when the girl comes online
Private messaging
Online communities (big on MyFreeCams)
Using any of these features will help you find a cam girl who's perfect for you and will save you a ton of time, too!
6. Chat with Amateurs and Pornstars
There are benefits to chatting with both pornstars and amateurs.
Talking with a pornstar in private is probably going to be expensive, but every minute will be worth it. It's like having a personalized relationship with a movie star! Except, they do porn (duh)! And trust me when I say they're just as sexual and horny on webcam as they are on film. Being able to say that you're online friends with someone like Jessica Rayne (who often appears on RabbitsCams), for example, is a lot of fun.
Amateurs are girls you probably won't recognize, so in that sense, it can be fun to meet someone new and see how the two of you connect. These are girls you'll never see in porn. You may even come across someone you know! And just because they're amateurs doesn't mean that's the type of show they'll provide. They can be as wild as any starlet out there.
7. Watch Live Cams More Than Porn
I often get asked why I bother visiting cam sites and spending money when I could just watch porn for free. After all, aren't cams just porn, but live? Wrong, my friends. Sure, there's some truth to the fact that cams are similar to live porn, but it's so much more than that.
With live cams, you can create a scenario from your deepest fantasies and have them reenacted in front of your eyes. A sexy babe will call you by your name while she pleasures herself. Also, you can become good friends (and maybe more) by establishing a trustful, honest relationship. And while you can probably find recorded cam videos, they don't feel the same because there's no interaction. To me, it's like watching a private show that's tailored to someone else's desires.
8. Make a List of Your Favorites and Become a Regular
It's inevitable that after spending time on live cams, you're going to encounter one or two hotties you like – and this is your chance to bring your experience to the next level. First, make sure to add them to your favorites (most sites have this feature), so you can keep track of their availability. You can usually set up email or phone notifications at the same time, ensuring you never miss a show! Whenever they're online, visit their room, chat with them, tip them and go private.
Eventually, they'll consider you a regular, which establishes trust and familiarity between the two of you and creates a strong bond. There's nothing more thrilling than seeing your favorite cam girl's eyes light up when she sees your name appear on her screen.
9. Take Time to Chat With Non-English-Speaking Performers
While finding girls who speak English is never a problem, you're going to encounter performers whom you're attracted to but don't communicate in your language very well. Luckily, interacting with them is not an issue. Most of them are using translators that help them decipher what you're saying. But, even then, it's best to keep your language simple. Say hi, make sure your questions are easy to understand and be direct.
Also, I cannot stress how exciting it is to connect with exotic women from around the world. In a small way, it's like traveling the globe and experiencing new types of cuisine. But instead of food, you get to chat with hotties from different parts of the planet!
10. Make Sure it Doesn't Affect Your Real-Life Relationships
I'm of the opinion that camming is not cheating, as long as you don't take the relationship offline and into the real world. However, it's crucial that you recognize if camming starts getting in the way of your real-life relationships, be it with your significant other, your friends, or your family. I love spending time chatting with girls online and the experience is always rewarding, but only because I know when to limit myself and I make sure it never gets in the way of spending time with friends and family.
If you're comfortable enough, you can even use it as a tool to enhance your sex life with your partner. Nothing sets the mood more than chatting with cam performer along with your partner. And, if need be, you can use it to experience things your partner may not be comfortable with.
Got any other tips you want to hear, or think I should add something else? Shoot me a quick email!