Real Life Cam features over 20 apartments and more than 200 live cams streaming any goings-on 24/7. Be a voyeur and observe hot girls watch TV, sleep and have sex. Email me your thoughts.

Pros
High-quality HD streams
Browse some cams for free
Nice design and navigation
Cons
No information about the people in the apartments
Premium membership is pricey
Bottom Line
The voyeur experience is different from your typical sex cam site. Real Life Cam lets you check out the site for free to decide if you like being a voyeur as girls and couples go about their lives in over 20 different apartments. From making breakfast to having sex, this is real life 24/7.
My Full Real Life Cam Review
Let Your Peeping Tom Flag Fly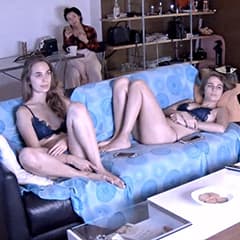 The Real Life Cam tagline is: "The private life of other people in live 24/7." Putting aside the poor English grammar, you get the idea. These are live cams streaming 24 hours a day, 7 days a week and you can bring your voyeur tendencies and desires to the site at any time to see what's going on.
Not a Typical Sex Cam Experience
Of all the different categories on my site, the voyeur section is the most unique. Our standard expectations with sex cam sites is to find a number of performers you can chat with and, either through tipping or private chat, watch them get naked and naughty. Even when there's no nudity, the girl's attention is on her viewers in an effort to tease them and draw them into giving tips and going private. Not on RealLifeCams. Instead, these are real voyeur experiences wherein you're watching, but the people on cam are going about their business without any regard for you or the cameras around them.
Two Girls in Bras and Panties Making Breakfast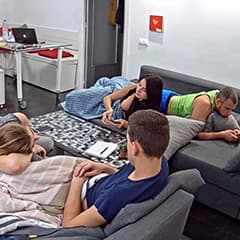 Eastern European girls in their bra and panties making oatmeal. They aren't making out or looking at the camera and trying to entice anyone who happens to be watching. They're just making breakfast and talking and laughing at something on their phone. Now, there are also times when these girls could be getting changed, taking a shower, having sex in their bedroom, etc. So, yes, things can get just as hot and heavy as with more typical cam sites. But it's all done within the voyeur experience.
A Couple Membership Options
With a completely free membership (no need to even create an account) you can browse the 20+ apartments at any time and check out about 1-3 cameras throughout. With the free version, the cams are generally limited to living rooms and kitchens. To unlock the bedroom and bathroom cams – where most of the naughty action happens - you need to get a paid membership.
Real Life Cams offers a standard and premium membership. With the standard one you get seven different apartments, all the cams therein and you can stream up to three cams at the same time. The premium membership is about 50% more expensive, but you get 21 apartments, five simultaneous streams and a bunch of other features including motion detection, full-screen mode, previews of popular cams and more. Those extras are nice, but I would probably start with a standard membership for a month and see how things go and then you can upgrade if you feel it's worth it.
The site has a nice, clean design and is easy to navigate and figure out what you're doing. The cams in each apartment are clearly listed beside the streaming window and on the other side are all the different apartments listed by the names of the couples or girls. The streams themselves are really sharp and high-quality HD and I have never had any issues with them in all my visits.
Check it Out!
Given that it's free to visit you really should head over and see what this voyeur cam thing is all about. You probably won't see any nudity or sex with the free membership, but you will get an idea of what it's like to just sit and spy on couples and hot babes as they hang out. From there you can decide if adding nudity and sex to that experience is worth the monthly expense. For me, it has been worth it. And I have no doubt that it will be for some of you as well.
Click Here To Visit Website
Similar Voyeur Cams

Imagine a house where sexy girls live, filled with hidden cameras in every room so that you can see what's going on 24/7. Well, you don't have to imagine it with Voyeur House!
Camarads cams are streaming 24/7. Check them out anytime and you might see a girl making dinner, folding laundry, taking a shower, or having sex. You never know!
Get Exclusive Email Offers
Deals, free tokens & minutes for the best voyeur cams!

Check out Voyeur House, a place where you can watch real life cams featuring sexy, young couples in their homes. Watch them lounge around the house or have sex with each other, 24/7.

Take a look at these Real Life Cams and see what's going on in kitchens, living rooms, bedrooms and bathrooms, where sexy girls are just going about their day.

In the Voyeur Villa, hot girls hang out, relax, go on their phones and have lots of sex and origes. Lucky for us, the villa has cameras throughout, streaming it all in real time.