Real Life Cam features over 20 apartments and more than 200 live cams streaming 24/7. Be a voyeur and observe hot girls and couples watch TV, sleep and fuck. Email me your thoughts!

Pros
HD quality streams
Some free rooms
20+ apartments to spy on
Cons
Premium membership is pricey
No nudity in the free rooms
Bottom Line
The voyeur experience is different from your typical live sex cam site as girls and couples go about their lives in over 20 different apartments. From making breakfast to having sex, this is real life 24/7. You can spy on all the apartments for free, but the rooms with nudity and sex (like the bathroom and the bedroom) are locked and require a paid membership.
My Full Real Life Cam Review
What is Real Life Cam?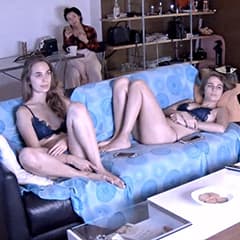 Have you ever wanted to spy on couples as they go about their daily lives and potentially even have sex in the privacy of their bedroom? If so, you'll love Real Life Cam. Over 25 different European couples and groups of friends have had their apartments outfitted with live webcams that are streaming 24/7 so you can pop in and watch them whenever you want!
Spy on Different Apartments
RealLifeCam has over 25 apartments, each outfitted with about 20 cams throughout the living room, bedroom, bathroom and kitchen, letting you see every room from a different angle. When you click on an apartment, you'll see an interactive map showing you the layout of the home. From there, you can select what you want to spy on first.
You'll see everything from couples just hanging out and watching TV to cooking dinner and getting dressed. Of course, you might get lucky and catch a couple fucking. Or better yet, getting wild in a threesome or a foursome. When I visited, I saw a couple playing a game of strip poker! I couldn't tell who was winning, but it certainly wasn't the girl because they were almost completely nude by the time I started watching!
A Variety of Membership Options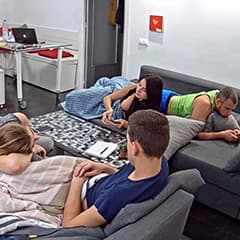 You'll get to watch a few voyeur sex cams for free without even needing an account. But you're limited. You'll be able to check out all the apartments, but the webcams in rooms like the bedroom and bathroom (where all the sex and nudity happen, of course) will be locked. At the very least, you need to purchase a standard monthly membership at $20/month to unlock them. But a standard membership still gives you the bare minimum.
Get yourself a premium membership for a whopping $45/month if you want the following extras:
Up to 5 simultaneous streams
Full-screen mode
Motion detection
Auto follow feature to display popular cams first
And more…
Now, say you missed something and want to watch a replay. You can do that, but it's going to require tokens and as of right now, only premium members are allowed to buy them. So, as you can see, the potential for an expensive voyeur cam experience is high.
Watch HD Quality Webcams
You're going to want to see all this voyeur sex happen as clearly as possible, so you'll be happy that the webcams in these apartments are in HD. They must also be fitted with pretty strong microphones because I was able to hear everything clearly. I saw one couple watching an episode of Game of Thrones and I honestly felt like I was in the room watching it with them.
Easy to Navigate
The layout of RealLifeCam is user-friendly. You have a list of all the apartments you can check out on the left, the webcam display in the middle, and the list of rooms on the right. You can play around with a few different viewing options (this is only available for standard and premium members though) and even watch all the action on your smartphone or tablet thanks to their mobile-friendly design.
Become a Voyeur Today
It's great that you're able to get a small taste of these spy cams for free, then if you want, you can decide how far to take the experience with either a standard or premium membership. If you want to see nudity and sex, then one of those paid options is a necessity. And honestly, after some of the sex I saw taking place in the bedrooms, I would definitely say it's worthwhile to get one!
Click Here To Visit Website
Similar 👀 Voyeur Cams

Imagine a house where sexy girls live, filled with hidden cameras in every room so that you can see what's going on 24/7. Well, you don't have to imagine it with Voyeur House!

Pop open this can of CamSoda to enjoy lots of free nudity. You can join this live sex site at no cost and watch beautiful nude girls getting very naughty on webcam.
Get Exclusive Email Offers
Deals, free tokens & minutes on the top voyeur cam sites!

Check out Voyeur House, a place where you can watch real life cams featuring sexy, young couples in their homes. Watch them lounge around the house or have sex with each other, 24/7.
Camarads cams are streaming 24/7. Check them out anytime and you might see a girl making dinner, folding laundry, taking a shower, or having sex. You never know!

Take a look at these Real Life Cams and see what's going on in kitchens, living rooms, bedrooms and bathrooms, where sexy girls are just going about their day.

In the Voyeur Villa, you can chat with 1,500+ sexy cam girls from all over the world. Whether you're looking for a mature babe or a sexy teen, these performers are as hot as they come!