As with anything done online, there's always a question of security. Is my information protected? Are there websites I should avoid? Am I going to get scammed? These are all legitimate concerns and part of my job is to ease your worries.
Let me start by dispelling the myth that many live cam girls are scammers. This is the furthest thing from the truth. In fact, encountering a girl trying to scam you will likely never happen. The more significant risks are the sites themselves, but, don't worry, I'll tell you how to spot those in this guide. It will ensure that you're as protected as possible and have peace of mind.
1. Avoid Token Generators
There are indeed scams out there, but rarely do they come from the actual cam sites. Instead, there are sites out there with promises of free tokens in exchange for answering a short survey, or going through a "human verification process," or downloading a program. I promise you; there's no quicker way to get yourself hacked and have your real accounts compromised. And in the case of downloading a program, you can almost guarantee you're getting malware that will give hackers a backdoor to your computer. Now, that's not to delegitimize sites that run real promotions. It can happen from time to time, but it usually involves something less invasive, like signing up for their newsletter.
2. Feel Free to Use Your Home PC
Most sites go through a rigorous security process that ensures your information is always secure. This includes various encryption technology and verification steps to keep everything locked and loaded! When it comes to the girls themselves, all legitimate sites go through a screening process to make sure that they're 18 years of age or older, so you can rest assured that you won't be taking part in any illegal activities.
3. Create a Strong, Secure Password
This one should be obvious, but it's one that many of us skip over. When you're signing up for an account on a cam site, you should create a password that's long, contains both capital and lowercase letters, as well as numbers and symbols. It should be hard for even you to remember. Also, your password should not be one that you use for other accounts like any emails.
4. Stay Anonymous
If you want to stay anonymous during your webcam chat, do the following:
Create a username that has no relation to your real name
Use a fake name when you're asked what your real name is
Create an email separate from a business or personal one
Do not use cam2cam
But before you make yourself anonymous, I want to discourage you from doing so. Hear me out! Part of having a fantastic experience on any cam site involves letting a girl get to know you a little. So you may want to divulge at least some information. Remember, they take their jobs as webcam performers very seriously and part of that means respecting people's privacy. They won't share any personal tidbits you give them.
5. Hide Your Camming Activities
Understandably, some of you might want to keep your camming habits away from certain people like a friend, family member, coworker or significant other. So, for starters, you should avoid using a shared computer, whether it's a work or personal computer. But if this isn't possible your best bet is to use a browser like Brave that's built on privacy, anonymity and protection of user information. Or, at the very least, make sure to clear your history! These same principles apply if you're using your smartphone. Use private browsing when available and always erase your history and cookies, or browse using the Brave mobile app.
6. Look for Signs of Legitimacy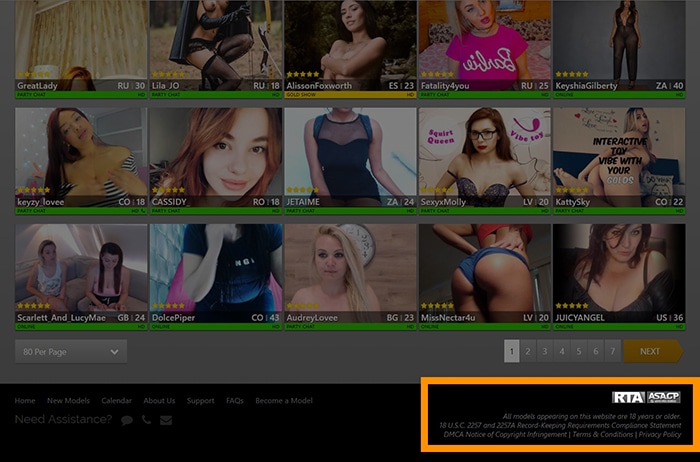 Legally binding statements, highlighted above, are usually found at the bottom of the page.
While scam sites in the cam industry are incredibly rare, sadly they do exist. But spotting them is easy. If the layout or design is ugly or cluttered, that's already a bad sign. Check to make sure a site has an "18 U.S.C. 2257 and 2257A Record-Keeping Requirements Compliance Statement," which is a legally binding statement ensuring that they're using 18+ performers. There should be multiple, legitimate ways to contact customer support including by email, phone or live chat. Many scam sites will only give you a phone number or a WhatsApp number to get in touch. Not a good sign.
Be wary of these sites, even if it looks like the girls are legitimate. In the case of some free roulette sites, there have been reports of users having their webcams and conversations recorded. Often, these sites also have underage girls. It's partly why I created My Fav Sex Cams, to help people like yourself have a convenient list of sites that you know are safe and secure. Stick to the ones there and you'll never have to worry.
7. Cover Your Webcam When Not in Use
This is more of a precautionary measure than anything else, but still one I would recommend if you want to be extra cautious. When you're not using your webcam, unplug it. In the case of ones that can't be removed, such as those on a laptop, cover them with black tape or a webcam shutter, which are cost-effective and easy ways to hide the camera lens whenever you want.
8. Use a VPN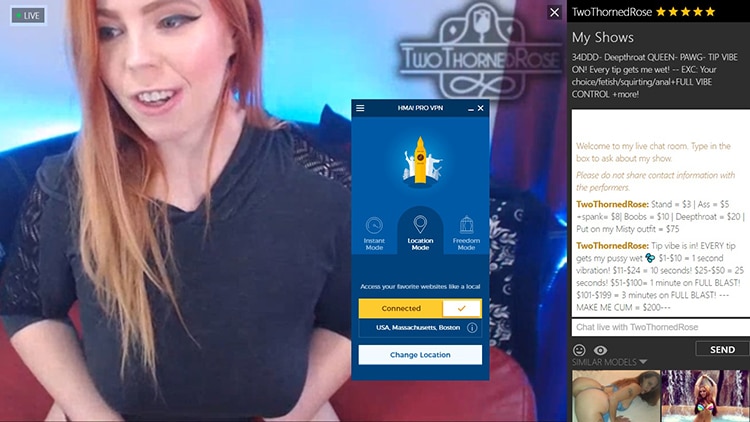 The VPN program NordVPN is active to ensure anonymity.
VPN is short for Virtual Private Network and is the best way to get maximum privacy online. When you connect to a network via a VPN, your data is encrypted and secured. It also gives you anonymity by changing your IP address and it essentially hides your location by making it look like you're located somewhere else. Good VPNs will usually cost you, but it's worth the investment.
Think I missed a tip, or have a comment you want to make? Feel free to shoot me an email. I love collaborating and hearing from my users.