On a regular cam site, it's about more than just watching a hot girl perform live, because you also get to chat with her and make a connection. You can tell her what you want to see, tip her and even get on cam yourself for a face-to-face chat. It's all about being interactive. But on a voyeur cam site, it's a completely different story. Here you're like a fly on the wall who gets to watch everything they do, from the exciting (sex) to the everyday (dishes) – and something about that is very titillating.
A Cam Show That Never Ends
Voyeur House is one of the best in the voyeur cam world. You get to watch real couples living their normal lives every day. They cook, they clean, they hang out and watch TV, just like you. The girls will lounge around watching TV with no panties on, spend time doing some topless cooking (and who doesn't love to watch girls cooking naked?) and they aren't just limited to a quick bedroom fuck either. These couples will bang in the kitchen, living room and bathroom. There's even a map of the house telling you where all the cameras are, so you won't miss out on anything.
The difference between Voyeur House and other live cam sites, like Chaturbate or Live Jasmin, is that it's more than just a sexy cam show. Sure, I love the feeling of going one-on-one with a charming girl and getting to know her, but on voyeur cams, that hidden cam home sex experience is thrilling. It's like being a Peeping Tom, staring into a hot babe's window, but less creepy and from the comfort of your own home! Another difference is the cameras on VoyeurHouse are located around their apartments, capturing both the mundane and horny moments 24/7. It's not just a one-time show, but an ongoing feed.
Some Pros and Cons to Joining
The perk of having a live voyeur webcam streaming all day and night is that you never know what you're going to get! If you're lucky, you might experience a hidden cam shower sex session. Even better, if you miss anything, you can go back and watch the video, because all of the hottest moments are saved, with over 42,000 archived videos. Score! The webcams are in HD and you get pretty clear audio, too. Just because they're going for an authentic voyeur experience doesn't mean you have to settle for low quality.
But with the good comes the bad. One thing I've noticed is that none of the couples speak English and since it's all live, that means no subtitles for us foreigners. The archived videos are also streaming-only. Another small issue is that even though the cams usually look great, sometimes they're a little dark and it's hard to see what's going on, which takes you out of the moment. There's also the high price if you want access to everything.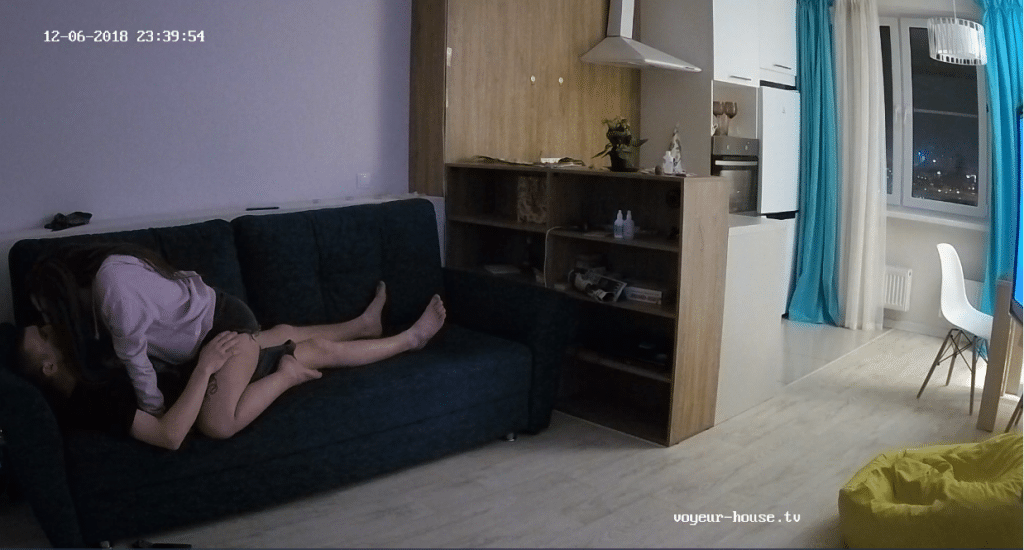 HD Quality Streams, Archives and More
A premium membership to Voyeur House (at $40/month) gives you access to all the cameras, the hottest moments in the archives, timeline playback for the last 24 hours and HD quality streams. The standard membership is a bit cheaper at $30/month, but that membership only gives you access to all the cameras, with no archives. Plus, they accept credit cards, Bitcoin and PayPal!
You don't have to be a member to get a taste of the action, either, as some of the cams are free. You can usually access the kitchen and living room feeds, and you might catch a glimpse of something sexy, like one of the babes watching TV in the buff, but if you really want to get that authentic experience, you'll have to sign up!
Join Now to Start Peeping
You won't want to miss out on all the voyeuristic fun you'll encounter on Voyeur House. It's like your new favorite reality show, except totally uncensored. Sign up now and sneak a peek into the lives of these horny couples!