Multiple apartments, each with a different couple or solo girl, make their lives available to viewers 24/7 with cameras streaming live from every room. Whatever they're doing, you can watch. Email your thoughts!

Pros
Sharp, HD streams
Some cams are free to browse
10 apartments with multiple cams throughout
Cons
Lacks user features
No info about participants
Bottom Line
On Camarads, Russian couples and single girls live their lives in apartments set up with cameras in every room, streaming what's happening to the world 24/7. Watch them eat, sleep, watch TV, shower, change, fuck, party… You get the idea. It's free to check out a few cameras in every apartment before deciding if you want to dive deeper into the voyeur experience.
My Full Camarads Review
Exhibitionists Online 24/7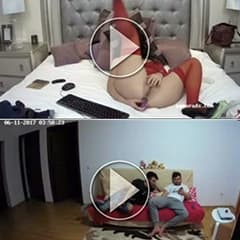 For us to be able to fulfill our voyeuristic desires to watch people in their homes, live on cam, there have to be exhibitionists willing to be surrounded by cameras in their homes 24/7. Camarads is another voyeur site on my list and, like the others, it consists of various apartments (10 at this point), each with a different couple residing in it – there are also a few solo residences and lesbian couples. Every room in their apartment has cameras streaming live 24/7. If you head over right now, you can see what they're up to at this very second.
Check Out Some Free Live Streams
You don't even have to create an account. Free/non-members can browse each apartment and check out 1-3 unlocked cameras in each. This obviously leaves out other views of the house, but it's a great way to experience the voyeur cam thing. That's how I started. After spending so much time on typical sex cam sites and interacting with the performers, I wasn't sure the whole "voyeur" thing would be interesting enough. Well, it didn't take me long to realize that it definitely was. From watching a girl in a T-shirt and panties making breakfast to a couple have a good hardcore romp before bed, I liked it all. I can easily lose track of time on Camarads, browsing all the cams of people just living their lives.
A Paid Membership Gets You All the Cams and More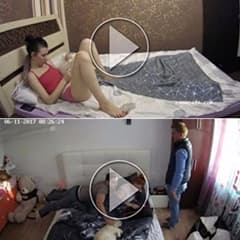 So, when I realized I liked being a voyeur I went and got myself a paid monthly membership to Camarads, which opened up everything to me. All the cams in all the apartments as well as the 24hr replay feature that provides recordings from all the cameras for the past 24 hours. The interface is simple and provides previews of everything. At first it looked a little busy, but I got used to it as I spent more time on the site. I'm very visual and seeing screen grabs gives me a quick idea of what's happening in the room.
Sexy Russian Babes and HD Cams
In case the sitename's play on the word "comrades" didn't give it away, the participants seem to be Russian, or at least Eastern European. And based on the languages I've heard them speaking (not that I understand anything) that seems to hold true. Although the site does have a "models wanted" signup form that anyone can fill out and there doesn't seem to be any country restrictions, so maybe, eventually, there will be Camarads all over the world.
Wherever they're from, the quality of the streams is top-notch. These HD images are sharp and crisp and the motion is fluid, whether they're sitting around talking, taking a shower or fucking on the couch. I wish I could tell you more about the girls and the couples, but there's really no info. The FAQ does allude to their communities and discussions boards, but I didn't see links for anything. Also, the site is lacking features. Some of the other voyeur cam sites I've spent time on offer motion detection, auto-follow and the ability to record live cams. None of those things are on Camarads
There's No Reason to Not Check It Out
It won't cost you anything but some of your time and you could discover a strong voyeuristic desire in yourself that you never knew existed. And if you already know that you love being a legal Peeping Tom, then Camarads is a great place to do some peeping for free and then move on to the paid peeping when you see how good it can be.
Click Here To Visit Website
Similar 👀 Voyeur Cams

Imagine a house where sexy girls live, filled with hidden cameras in every room so that you can see what's going on 24/7. Well, you don't have to imagine it with Voyeur House!

Pop open this can of CamSoda to enjoy lots of free nudity. You can join this live sex site at no cost and watch beautiful nude girls getting very naughty on webcam.
Get Exclusive Email Offers
Deals, free tokens & minutes on the top voyeur cam sites!

Check out Voyeur House, a place where you can watch real life cams featuring sexy, young couples in their homes. Watch them lounge around the house or have sex with each other, 24/7.
Camarads cams are streaming 24/7. Check them out anytime and you might see a girl making dinner, folding laundry, taking a shower, or having sex. You never know!

Take a look at these Real Life Cams and see what's going on in kitchens, living rooms, bedrooms and bathrooms, where sexy girls are just going about their day.

In the Voyeur Villa, you can chat with 1,500+ sexy cam girls from all over the world. Whether you're looking for a mature babe or a sexy teen, these performers are as hot as they come!