If you find yourself confused with some of the technical aspects of camming, here's a quick look at some of the things you should know. Don't worry – it's much more straightforward than it sounds.
Mobile vs Desktop Browsing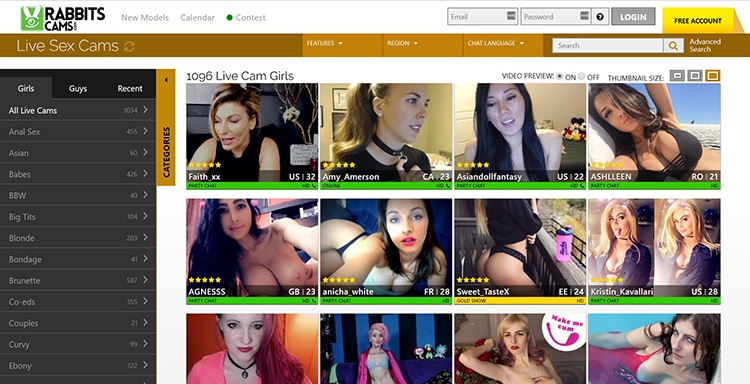 Desktop version of RabbitsCams.sex
Mobile version of RabbitsCams.sex
While camming was done mostly on desktops in the past, we can't ignore the fact that you probably like to use your smartphone a lot. That's why sites have specifically designed mobile interfaces to let you seamlessly browse on your iPhone or Android.
The most significant upside to desktop browsing is that you usually have access to a more expansive version of the site. Specific features, like changing the font color or size, or full-screen cam viewing, aren't always available on mobile versions. You've also got a much broader screen. But if you're using a family-shared computer, it's better not to use it, which is why the next option might be more suitable.
Smartphones, on the other hand, have that convenience factor. If you don't have access to your desktop and suddenly find yourself in the mood to chat with your favorite cam girl, you can whip out your phone and access her live room within seconds. Smartphones are also like having your webcam on the go, so you can even cam2cam with your favorites (not available on iPhones right now, unfortunately).
One thing to keep in mind about mobile streaming is that they usually use slower networks and you may experience subpar quality. Two exceptions are RabbitsCams and CamRabbit, where the cams look flawless whether you're on your desktop or smartphone.
The Importance of a Fast Internet Connection
It should be obvious, but a stable internet connection is needed to ensure an optimal experience. I recommended you have, at the very least, cable, DSL or fiber optic internet. The norm these days is high-speed HD webcams that practically make it feel as though the girl is right there in the room with you, so that is going to require an internet connection strong enough to handle that output.
Getting Ready for Cam2Cam
Cam2cam is an exciting feature where you get to turn on your webcam and let the person on the other end see you. Most of them come equipped with mics, so you can just talk and put away your keyboard. It's usually accessible by a button displayed somewhere on your screen. Before you start, though, make sure you do the following:
Ensure your room is correctly lit (as in light, for those out there who think I mean partying).
Lock the door if you don't live alone to ensure privacy.
Set your webcam in a favorable position – for most of us, this means the higher you place it, the better.
Make sure it's steady – no one wants to see a wobbly cam.
Avoid using overly dramatic filters – let them see you as naturally as possible.
Pick a Webcam That Works for You
There are generally four types of webcams:
Integrated: meaning built-in (most laptops have them)
Standalone: mostly phased out by now, but these are old models that don't have audio
With Microphones
Network: runs wirelessly through your wifi
Depending on how you plan on using your webcam, make sure you buy the right one. For example, if you plan on making full use of cam2cam features, you want a one with a microphone so the girls can hear you. There are also many different makes and models. Do some research to see which ones are compatible with your computer.
Virtual Reality and Camming
The future is now and that includes camming! And a relatively new technology is virtual reality webcams. As of now, there are only a handful of sites, like CamSoda and Cam4, that utilize them. You'll need to equip yourself with a proper VR headset, along with a keyboard to chat. Similar to when you're watching a virtual video, the girl and the room she's in are in 3D and you'll get a 180° or 360° view. There are, however, some disadvantages. For starters, you can't cam2cam. But the biggest issue is that there aren't many sites currently offering this and the ones that do usually have few girls online.
Flash vs. HTML5
Most of you are probably familiar with Flash. Whenever you watch an embedded video on a website, chances are its running in Flash. The same is true of webcam streams. HTML5 is an alternative to Flash, but both exist to display video and audio on a site. So, what's better?
This is an endless debate. Some would argue that Flash looks better, but HTML5 is the only format currently supported on mobile devices. Flash, on the other hand, performs better and is generally a little faster and also includes DRM support, which ensures that nobody can record and distribute a girl's performance.
Teledildonics: What Is It?
Teledildonics is the newest revolution to hit the cam industry. These are interactive "smart" sex toys that you can control remotely on your end using your desktop or mobile device. How it works is simple. A girl will have the toy pre-inserted (vaginal or anal, depending). Then with the click of a button, and with your tips, it'll vibrate and give her pleasure. The more you tip, the stronger the vibrations. Some of the more popular toys girls are using these days include the Lush, Lovense and Kiiro.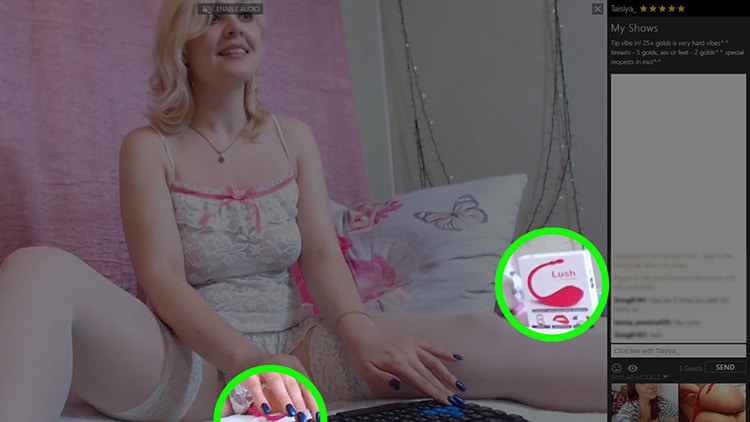 This performer is using Lush, one of several teledildonic brands.
And that's all, folks! As you can see, my tech tips aren't overly complicated, which is one of the great things about sex cams. Of course, if you have any questions or concerns, don't be shy to shoot an email my way!