You're going to love Play With Me. This cam site features a variety of chicks and most cams are in HD. Not so many user features but there's plenty of live sex shows to keep you happy and busy. Share your thoughts via email.

Pros
Mostly HD cams
Some nudity in free rooms
Pretty good number of performers online
Cons
Lack of user features
Registration is required in order to access everything
No performer status prior to entering the room
Bottom Line
Play With Me has a good number of hot chicks looking to play. There's a nice variety of looks and locations and with most offering HD cams you'll be happy when you find one you want to watch play. However, the site has some work to do if it wants to improve the user experience. You can catch some free nudity if you catch a babe trying to use her body to get tips, but that isn't the norm here as most save that for after they get tips and take the shows into private group areas.
My Full PlayWithMe Review
These Gals Wanna Play!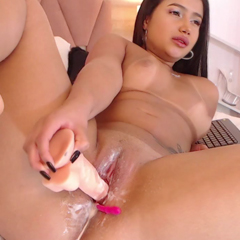 You'd think that with all the sex cam sites I've reviewed I wouldn't have time in my life for more. But if you thought that then you obviously don't know me very well, because there's always time for more sex cam sites. So, when I discovered Play With Me I was more than willing to make room for it on my cam site rotation. But I don't see it getting a prime spot. In this case I think the best way to tell you about the site is to give you a rundown of my initial experience…
When I first landed on PlayWithMe I thought it looked good. It has a very standard live cam design, but I have no problem with that. It's clean and simple to understand. However, I had some initial frustration right off the bat. I was using Chrome and I kept having issues with blank pages and glitches. I switched to IE and things were fine after that, but these days I think sites should work on all browsers equally so that was disappointing.
You Gotta Register, But It's Free
Also, I had to register in order to check out the site. Now, it's free to do so, but I'm used to so many other sites letting me at least browse the free chat rooms without registering and it was an extra step (of course I was going to register in the end, but I like to browse around before making that kind of commitment – even if it is completely free). After all that, I was able to really start to check out the site and I noticed it was lacking in features.
You see, the first thing I like to do on a live cam site visit is hover over a preview image and see if I get a sneak peak at the live cam. I didn't here. Then I like to test out the advanced search engine. However, Play With Me doesn't have one. They only offer a search box. So, I decided to just click on one of the performers and get started, but the first five I randomly clicked on were all doing nude shows and I could only join the fun if I used some of my credits.
50 - 100 Babes Online at Anytime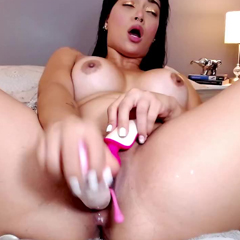 I have no problem that they were doing nude shows. I want to see naked chicks so that's all good, but my issue is that I didn't know they were in nude shows until I clicked through to their rooms. There's no indication on their thumbnails as to whether they're in a fee chat or paid chat, so I did a lot of clicking in and out of rooms, which got kind of annoying and frustrating. The good news is that there were between 50-100 babes online so I had a decent amount to pick from and eventually found multiple girls in their free rooms - and most looked to be using HD cams.
What I found when I finally got into some of the free chat rooms was that the performers were generally working for tips and looking to reach a tip goal to start a show. There's no option to take the girl for a private one-on-one chat – or at least I didn't see any. What I like about that is that when girls are trying to get tips they'll sometimes get naked in the free room to entice the tippers. However, I saw very little of that here.
They've Got Some Great Girls Here
Eventually I bought some credits and jumped in on a few nude shows and was quite happy with what I saw. The girls I chose were friendly and sexy and put on great performances, but the general experience I had with the site to get to that point wasn't great. I will be back to see some of the girls I've gotten to know and enjoy, but PlayWithMe won't be a site I visit when I just want to browse and am not sure what I'm in the mood for.
Click Here To Visit Website
Similar 🏆 Top Cam Sites