GoAdultCams' site design and hot babes keep bringing me back, but the show quality is pretty sweet too. The per-minute pricing feels a little high but I'm not complaining. Let me know by email what you think

Pros
Nice design
Hot, willing performers.
Mobile-friendly site
Cons
A little expensive
No advanced search
HD cams don't always look as high in quality as you'd expect
Bottom Line
If you were on Go Adult Cams a few years ago, well, now's the time to give it a second look. The first thing you'll notice is how much better it looks now and how pleasant it is to navigate. You may also notice that there are some HD cams, but not all of them look like true high-definition. Also, the per-minute price isn't cheap. But I can say it's definitely worth a look and then decide if you want to drop a few bucks for private time.
My Full Go Adult Cams Review
It's New & Improved!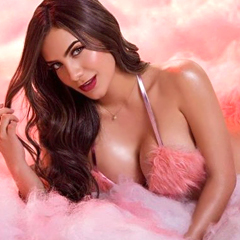 GoAdultCams.com is another one of those sex cam sites that has gone through a bunch of changes in the years I've been visiting it. At one point back in the day, the site was one of the go-to cam sites for pornstars, but over the years those adult stars have mostly moved to Streamate. There are still some who perform here, but it isn't like it used to be.
Honestly, I love pornstars, but I also love hot amateurs and semi-pros, so the exodus of big-name talent didn't keep me from spending time on the site. That had more to do with its design and features. But after some time away I recently checked out the site again and was pleasantly surprised by what I saw.
Modern Design & Large Chat Windows Are Always Appreciated
It looks really good these days, with nice, modern design esthetic and good features, like the ability to hover over a performer's thumbnail and get a glimpse into her live room (which, for people who know me, know that it's a feature I always look for). The cam chat area is also nice, with a large video window and the chat window right beside it, with quick access to the girl's profile, photos and other info/features.
They're lacking an advanced search, which sucks, but at least there's a category list that also tells you how many live cams are currently online fitting that category. They also have a mobile-friendly site that looks good and is easy to use. So, on the surface, my return to GoAdultCams was looking pretty good. But then it was time to dig a little deeper.
So-So Cam Quality Though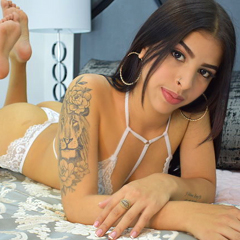 Cam Quality: Well, this was good, but not great. First off it sucked that the girls with HD cams didn't have any kind of indicator on their preview image. In fact, there was no indicator when you got into her live room either. There's an "HD Webcams" category that you can use to filter just those cams, but I shouldn't have to do that. Also, some of the cams in the "HD Webcam" category didn't look that awesome when I made the cam window bigger. Motion was nice and fluid, but the actual quality could have been better at times.
And So-So Rates as Well
Price: Many performers offer multi-viewer and private shows and, of course, the private show is the more expensive one since it will be just you and the performer. The site works on a credit system and every chick I went private with this time around was charging 60 credits/minute. How much is that?
Well, with their best credit package I got 415 credits for $25. So, I'll do that math for you - that comes out to $25 for about 7 minutes, which equals about $3.50/minute (multi-viewer shows will cost you 40 credits/minute). It isn't the most expensive site I've been to, but it sure ain't the cheapest either.
VIP Membership has it's Values
Now, you can also get a VIP membership that gets you access to archived shows and other vids and photos, but that will cost you $39.95/month and you still have to pay per-minute for regular private time with the girls. Personally, I wouldn't spend that money for a VIP membership, but some of you might feel that it's good value.
I was very happy to see the new site design and I think Go Adult Cams is much better than it used to be, which is why it's made the jump to the "top cam sites" list. Now, just give me an advanced search, more HD cams (and better-indicated ones) and maybe even some lower-cost options.
The best thing to do is head on over to the site and browse for free. Check out the girls, check out how the cams look on your computer and then decide if they're worth the per-minute price.
Click Here To Visit Website
Similar 🏆 Top Cam Sites