Hijab Chat features Muslim live models are range from beautiful and friendly to horny and outgoing. The cam quality is great and the private chat prices are good. Let me know what you think by email.

Pros
Free to browse and check out the cams
HD cams
Average price in the $2-$3/minute range
Cons
Sometimes very few models online
Lacking search and filter options
Bottom Line
There are lots of good things about Hijab Chat. First off is the fact that it is focusing on Muslim women who are very hard to find on cam sites. Also, the cams are HD and it is free to browse the site and chat with the performers. On the downside, there is a lack of search and filter options and at times there are almost no performers online. But it is free to check out, so go and do that and if there isn't anything there, go back another time (it won't cost you anything so why not).
My Full Hijab Chat Review
Sexy Muslim Models!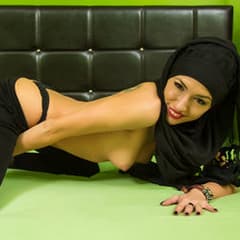 Most sex cam sites feature a variety of performers and I like that. I like all types of women so seeing Latin chicks, babes from Eastern Europe, black girls and Asian hotties at my fingertips is a real pleasure. However, you may have noticed that on most sites, while there are lots of different categories of women to choose from, there is usually no "Arab" category. For obvious reasons those women are hard to find on live cam sites, so when I landed on Hijab Chat I was definitely intrigued. I mean, a whole site dedicated to Arab women? Known for being more timid and introverted, the beautiful chicks on this site are bucking that stereotype one cam show at a time.
The site has a very clean and simple design, which I like, but there is a lack of search and/or filter features. There is a basic search box, but that is it. There is no advanced search. There aren't even any category lists. So, all you can do is just scroll through the pages of models and see what you find. Thankfully the preview images are good and you can hover over an image and get a live look at their cam without having to click into their chat room.
You Don't Have to Register - Just Start Chatting!
More good news is that if you want to click into their chat room you can do so at no charge. In fact, you don't even have to register to spend time in the free chat room of any beauty who is online. Although, sometimes that is a problem in itself. You see, I have visited the site a few different times throughout the day and while there are hundreds of registered performers on the site, there are times when I have visited and found less than five online. Now, these are truly beautiful and sexy women so even when there have been only 2-3 online I have always found one who really entices me, but low numbers like that are still a big negative.
They'll Take It All Off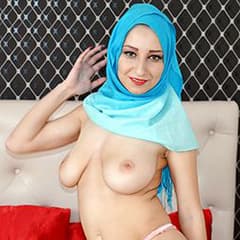 If you are reading this and thinking how taboo it sounds, well, you are right. It feels very taboo even being on the site. The sitename is pretty accurate as well, as most of the performers do wear hijabs while on cam and while some are more shy and looking to maybe just chat and tease you with softcore flashing, there are some I have talked to who stripped naked in private chat and stuffed their ass with a butt plug. So, read her profile and talk to her before you go private, but you should be able to find what you are looking for.
Sexy & Affordable
And speaking of private, the prices do vary a little, but based on the ones I talked to I have been paying $2-3/minute for private chats, which is a pretty good price. Especially given that most of the women are using HD cams so image and motion quality are great. Look, there aren't a lot of places you can go to see Muslim women get this naughty, so HijabChat has the advantage right off the bat. Also, the quality of the performers and cams is great. It would be nice if they added some features to improve the user experience and if there were more models online at any given time. But it is free to check it out so if you go and there aren't enough babes online then just come back another time – it won't cost you anything.
Click Here To Visit Website
Similar 🏆 Top Cam Sites