On HeCams the performers don't waste time and private chats cost $0.99 per minute. This is one hot gay cam site plus it's mobile-friendly. Send your comments via email.
Pros
All private chats are $0.99/minute
Performers are accommodating and don't waste time
Mobile-friendly interface
Cons
Cam quality is average at best
Not a lot of performers online
Lack of features (especially an advanced search)
Bottom Line
HeCams is filled with some very cute and sexy chicks who really want to get naked for you. And for only $0.99 per minute they'll do exactly that. Where things fall short is with the lack of user features and the not-so-good-quality live cams. That price can be hard to pass up sometimes, though.
My Full HeCams Review
Live Chats at a Great Price!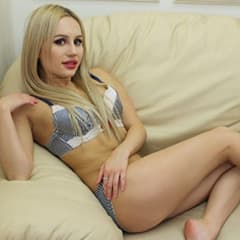 The first time I heard about He Cams, my initial thought was that it was a site filled with live dudes. But as I learned when I actually visited the site, HeCams is for "He," not filled with "He." The next thing I learned (because it is written in large font right on the tour), is that all live chats are only $0.99 per minute. Well, that's all I needed to know in order to check it out! Okay, who are we kidding? I would've checked it out anyway, but knowing that all chats were that inexpensive had me registering even faster.
East European Amateurs are Hot!
While we are on the subject of the low live-cam price, I figure why not continue with the good points, like the girls themselves. The chicks are all amateurs, mostly Eastern European and Russian, and they work out of studio rooms. They're definitely cute and, based on all the ones I chatted with, very accommodating.
… And they're Eager!
Sure, some of them won't do certain things, but that's the case on every live cam site. Why I really like these girls is because most of them are open to most things and, even better than that, they get right to the action in private. The ones I dealt with said hello and asked how I was doing, but after that they were already taking off their clothes and showing me what I wanted to see.
The site offers a countdown timer that shows your balance dropping as you private chat and my personal experience has been that the performer is always at least half-naked by the time the second $0.99 is taken from my account. So, the girls and the price are what I like about the site. But what don't I like? Well, actually, quite a bit.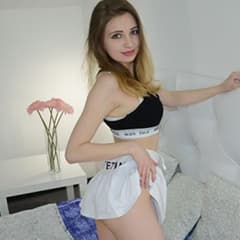 First off, while the site has a somewhat modern cam design, it's lacking in features, especially an advanced search, which should really be standard on all sex cam sites. All you get here is a basic search where you can find performers by their screen names as well as a category dropdown with basic options including "women alone," "lesbians," "mature," "fetish," etc.
Maybe they figured you don't need an advanced search because there are so few performers online at any given time. Of course it could be time-specific, but personally I've never been on the site and seen more than 40 live cams.
Not The Best Cam Quality Though
Now, even with not a lot of cams I have always been able to find multiple girls to play with so that isn't the biggest negative. If I had to pick the biggest problem with the site – and you might have assumed this already given the low price-per-minute – it's the cam quality.
Yup, unfortunately, all of you who are of the mindset that you have to pay more for quality will feel vindicated when you see just how average the cams are here. Sure, some look better than others, but that's just because most of them look really crappy.
Also, it doesn't help that the default live cam window is huge, which just makes any picture issues even worse. The only way to make it smaller is by literally making your browser window smaller. There's no cam control option to make just the cam window smaller (yet another simple feature they don't offer).
I Really Liked This Site!
So, just to let you know where I stand on HeCams, I like the girls and the price is great, so yes I do still visit sometimes. However, it's a lot less often than I normally would because I just can't overlook the multitude of cons, cam quality being the biggest.
Click Here To Visit Website
Similar 🏆 Top Cam Sites