The 3rd annual Xbiz Cam Awards were held at the upscale Faena Forum in Miami Beach, Florida, this past weekend. Their red carpet arrivals rivaled those of any Hollywood event, but unlike many mainstream awards show, this one didn't end up going into overtime. It's amazing considering how many categories of cam and clip performers they covered, but probably people were anxious for the afterparty to start!
Today, I wanted to give a shout-out to those winners who've become some of my new fav cam girls!
Best Female Cam Model – Hannah James
So how do you become the best female cam model? Obviously, it doesn't hurt to be attractive – and HannahJames710 is 22-year-old all-natural beauty. She's slim with a nice round bum, tiny waist and small perky breasts – a girl-next-door type who can also glam it up. But what sets her apart is that she lets you know exactly what she has to offer her fans with her tip menu. Check out my blog Get The Most Out Of Tipping to find out how you can impress her.
Best Cosplay Cam Model – Elise Laurenne
I thought I was psychic when I first glanced at the winners, but I was talking about a different Elise on My 5 Fav Cosplay Cam Girls blog a couple of weeks ago. My Elise was at least a nominee, but it turns out that EliseLaurenne was the winner. And since she was also one of the cohosts, she clearly knows how to please a crowd! Checking out her Amazon wishlist with its anime toys and Star Wars action figures reveals what a hot nerd she is!
Best Inked Cam Model – Melissa Dawson  
I'm not going to lie – I was a bit bummed that none of the hotties on my Top 5 Tattooed Cam Models blog were even nominated this year. But after I thought about it, it dawned on me that now I had the chance to appreciate an inked-up babe I had somehow overlooked before. Winner Melissa Dawson has an incredible sleeve tattoo that includes a portrait of Marilyn Monroe. She's also a gorgeous 40-year-old MILF!
Best MILF Cam Model – Alena Croft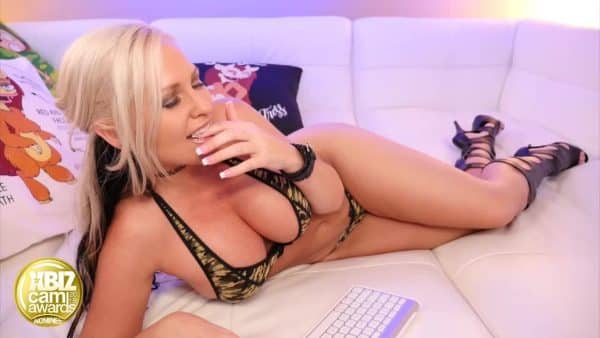 Melissa Dawson was a nominee in this category too, but AlenaCroft was named the winner. Now, even though she didn't make it onto My Top 5 MILF Cam Girls list, I can't deny that she deserves such an award. At 34, she's a bit younger than some of the other nominees, but this blonde bombshell is incredible. I like that she explains in her profile that if you take your time with her, the buildup can make her squirt!
Discover All the Winners
If you're curious to know who else won an Xbiz Cam Award this year, you can check out all of the winners here. I also suggest browsing their even longer list of finalist nominees because it's a terrific way to get turned on to some exceptional performers!