Girls with tattoos are sexy. There's something about a beautiful chick putting beautiful art on her skin that takes her to a whole new level of gorgeous – when the tats are done right, of course. It's even sexier when a babe is wearing a revealing outfit and you can see her tattoos peeking out. It makes you wonder, how high up does that thing go? If you agree, then I have a crop of cam girls you'll love. These five ladies will make even the biggest ink haters fall head over heels! 
CocoaInk
If you're looking for hot nude girls with tattoos, CocoaInk is definitely someone you need to know. This Rabbits Cams performer loves to show off her ink, with tattoos all over her arms, legs and even her chest. Sometimes, a chest tattoo makes for perfect target practice. (I'm just saying…)
Cocoa isn't just tatted up, she also has piercings to complete her whole sexy punk look. From her short jet-black hair to her bold red lips, this babe is exactly what I think of when I'm picturing these types of chicks. If all that ink didn't give you any indication, she's definitely not shy. She loves to give slow, messy blowjobs with lots of deepthroat action and she loves to play with toys. She's just as naughty as she looks! 
AbbyPlays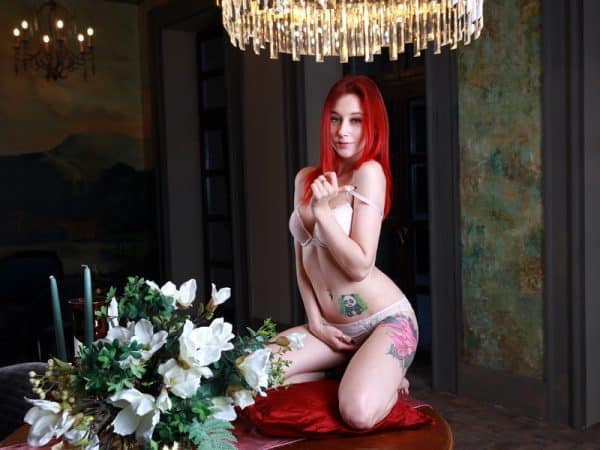 They say redheads are crazy, but I think they're crazy hot! Throw some tattoos into the mix and you get AbbyPlays, the gorgeous crimson-hair cam girl who's covered in beautiful body art. She may not be as inked up as CocoaInk or some of the other girls on this list, but with a beautiful, intricate piece on her thigh, I couldn't leave her out. She's got some smaller ones on her ankle and hip, but I like the big one on her back. Her art is all vibrant and colorful, much like her hair and personality, which is a must for a cam performer. 
Midsashi
Part of the reason why a tattooed cam girl is so intriguing is that there are so many different styles of body art a girl can have, so you never know what you're going to get. Midsashi is more of a fan of black and grey tattoos instead of brightly colored ones like Abby, but they're just as impressive. 
Midsashi is still pretty new to the live cam world and this self-proclaimed "guardian" of our sexual dreams is very kinky. She can play an obedient kitty one minute or a sexy panther the next. You can use your tokens to get her to flash her tits, give you a sexy striptease or even watch her squirt. I guess she's as wild as that dragon she has inked on her side!
Harliequinnx
When a camgirl names herself after a legendary comic book villain like Harley Quinn, she'd better not be some plain Jane with no personality. Thankfully, Harliequinnx is part of the sexy girls with sexy tattoos club, so she's far from boring. She's got ink all over her body and you'll need to spend some tokens on Chaturbate if you want to see them all. 
If this tattooed vixen caught your eye, she gives you a lot of different ways to interact with her. You can get private videos, buy her panties and she sells her own merchandise, like shot glasses and signed photos. You can even buy homemade cookies! Tats, beauty and baked goods? Sign me up! 
JessStarXX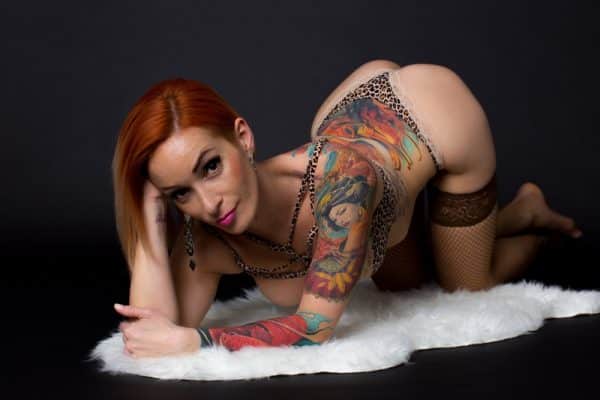 If I'm looking for beautiful naked girls with tattoos, I don't want someone with something small on her wrist or hidden behind her ear. I want a girl like JessStarXX who's covered in bright, artistic tattoos from her sleeve to her huge back piece. This ginger loves to dominate men and is turned on by roleplay, cuckolding, feet and anal, so she's definitely very kinky. Tattoos don't always mean a girl is bad, but when it comes to this babe, she definitely lives up to the stereotype in the best way. 
Explore the Wonderful World of Tattooed Cam Girls
If these girls lit a fire under you, browse RabbitsCams to find even more inked-up ladies who will be more than happy to chat live. They may even convince you to get some tattoos of your own, but I'm not responsible for any you might be inspired to put on your body permanently. If you're interested in other types of performers, you should definitely see what I have to say about cam girls with torpedo tits!