Few things are as divisive when it comes to cam girls – or porn chicks in general – as tattoos. Looking at many of the comments and emails I receive and talking to friends – both male and female – people either love women with tattoos or hate them. Most people seem to fall into those two extremes with only a few landing in the "tattoos are okay" no-strong-opinion realm.
Given the title of this post I assume that any tattoo haters have already left,, which leaves just us lovers of girls with tattoos. So, come with me as I highlight my top 5 inked cam babes. Maybe I'll even introduce you to some new cam hotties you haven't experienced yet!
I am not a submissive guy, but I can certainly appreciate a strong woman and I do sometimes like to submit myself to a Domme who really knows how to take control and put me in my place. Well, one day when I was browsing for a Mistress to cam with, I came across AmaliaMoney and was immediately drawn to her.
She is very pretty of course, but she also has this large upper-chest tattoo of an owl that drew me in. Then as I checked her out even more I saw the very cool profile figures on her legs and there's a pikachu on one of her arms too.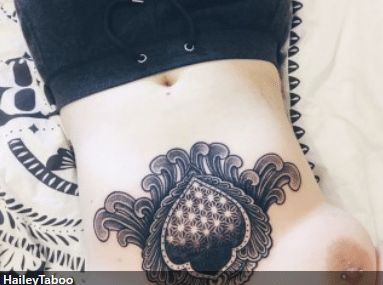 When I first discovered HaileyTaboo her profile picture was just an image of her chest and stomach and the huge black and white heart tattoo. Well, the tattoo had me intrigued and then I clicked on her image and saw that her profile described her as "Britains Deepthroat Teen." HELLO!
This girl has a British accent, is a deepthroat expert and is rockin' full black and white sleeves of tattoos on both arms,  along with the heart on her chest. Those are three of my favorite things so how could HaileyTaboo not be one of my favs!
I'm afraid of snakes! Why am I telling you this? Well, because GravesSarah has a large tattoo of snakes on the right side of her body. The snakes wind their way to the middle of her stomach and one of them has its head right between her tits with its tongue sticking out. So, how did she make the list, you ask?
Well, for this pornstar-looking babe, with large fake tits, plump lips and curvy body, I was able to overcome my fear! She also has big tattoos on her legs and almost full sleeves on each arm. Oh, and she also puts on a damn good cam show! I have enjoyed a striptease and hardcore play with toys on multiple occasions and will be back to see her again for sure.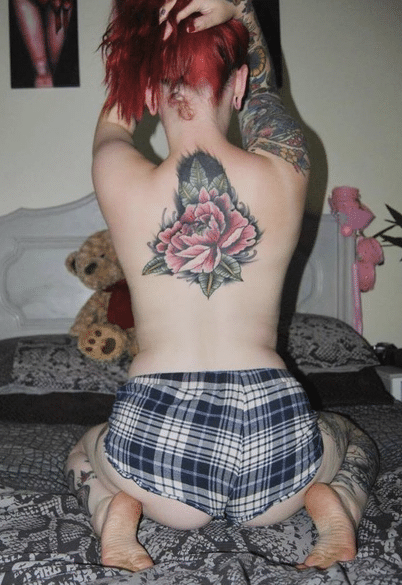 Did I mention that I love girls with a British accent? Well, in case you missed that part in my discussion of HaileyTaboo (you might have been too focused on her designation as "Britains Deepthroat Teen") I do have a huge soft spot for a babe with a British accent (or should I say a "hard spot"). So, right away that is a point for MamaPlugs. Point two is the red hair. (Yes, it is very fake red, but I don't care. I like it a lot.) And then there are the tattoos.
On her right leg you will find a black and white dreamcatcher. On her upper back is a huge flower. And her right arm is pretty well covered with some very nice colored ink. There is a crow and a clock and some flowers and a bear and it all works as one piece with the same color and style to the art. Throw in her soft curves, her great cam shows and the fact that she does anal in her private shows and the only question you need to ask yourself is, should I read about the next girl or just go check out MamaPlugs right now?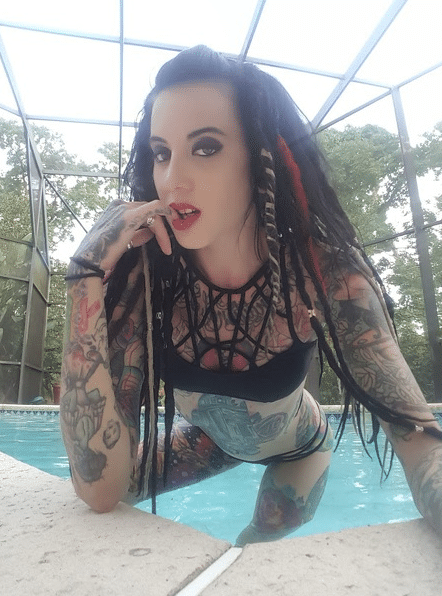 I wouldn't blame you if you had left to go check out any of the inked beauties I have mentioned thus far – as they are all hot, tattooed and excellent performers. But if you are still reading then you are in for an inked treat. Lizziehomewrecker is the most tattooed babe on this list. Full sleeves, most of both legs, her back her chest, one ass cheek and – for all you Star Wars nerds out there, get ready to cum in your pants right now – a large R2D2 on her stomach!
As you probably guessed from her screen name, lizziehomewrecker isn't a sweet, innocent, softcore kind of girl. This dark-haired beauty has a definite dominant and goth side to her. She describes herself in her profile as a "dirty domme with a darkside to show you." And all I can say after having had multiple private shows with her is… let her show you!