I'm a bit of a nerd and have been to a few comic and sci-fi conventions in my time. If you've never been to one, let me tell you that what gets the nerds in a frenzy are the cosplay babes. But you don't have to go to a comicon to see one – 23-year-old purple_bitch is my fav sexy cosplay cam girl who's often active on Chaturbate.
She goes by the name Taty and she does in fact have many tattoos, including a full sleeve with a fantasy theme. And various parts of her body, including her nipples and clit, are pierced. She's a busty but petite girl at only 5'3″, weighing in at a mere 93 lbs. and boasting 34C cosplay tits. Oh, and in case you're wondering, her feet are a U.S. size 6, but she's not into licking her toes on cam!
Want to See Daenerys Targaryen Nude?
I stumbled across purple_bitch while researching my blog Who's That Blue-Haired Cam Girl? It's Kitikat3! One look at her as a naked Khaleesi from Game of Thrones gave me a boner as hard as Valyrian steel! And every time I've checked her out since, I've been impressed by the quality of not only her nude Daenerys cosplay, but of all her live shows and videos. She's got terrific costumes and gets creative on cam!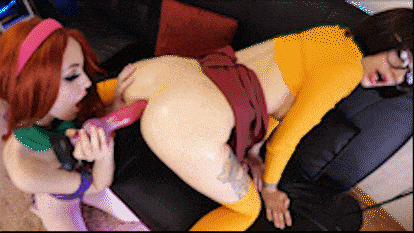 There's a preview of one of her nude cosplay videos where she appears dressed as Velma from Scooby Doo along with fellow performer Sia_siberia who plays the role of Daphne. I always fantasized that these two characters were lesbian lovers so it's a dream come true to see Daphne look at Velma's tight butthole with a magnifying glass. And it only gets hotter as she penetrates Velma's ass with sex toys. You can buy it offline or ask her about it on chat.
Follow purple_bitch on Chaturbate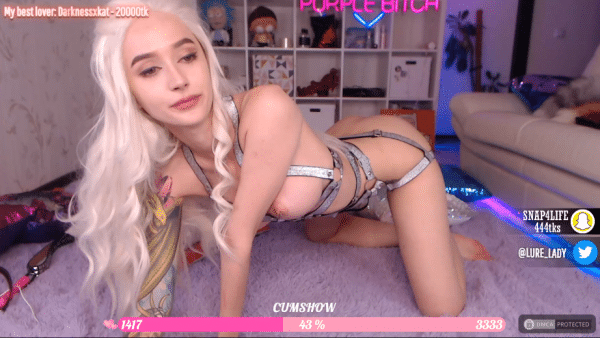 One thing I've found when checking out various performers, like I did for my Chaturbate Girls: From Small Tits to Huge Boobs, is that not all of them like to go private. And that's the case with Taty, as she's disabled private and group shows, so she's all about those tips! She's got a detailed tip menu that includes everything from flashing parts of her body to fingering herself and simulating sex acts, like blowjobs and footjobs!
If you want to see her take her naked cosplay to the next level, you should check out her videos. You can unlock five of them by giving her a 900-credits tip, but these appear to be of a more softcore nature. The ones she offers for sale though have extreme insertions, lesbian action, including strapon sex, plus simulated and real hardcore encounters!
Check Out Other Cosplay Babes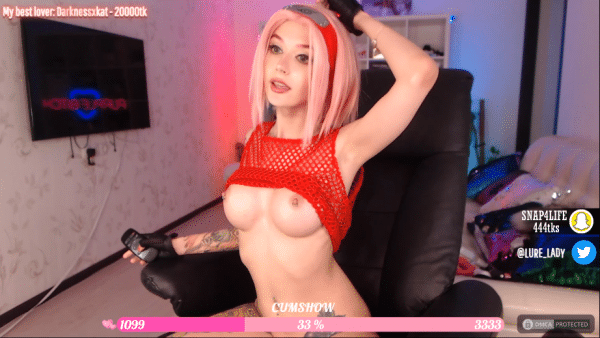 I already reminded you that I'm a nerd at heart, so it shouldn't come as a surprise that cosplay cams are something I've written about before. So I invite you to take a look at My Top 5 Cosplay Cam Girls – Summer 2019, which I posted last month, and also my blog The Phenomenon of Twitch Girls on Chaturbate for some sexy gaming nerds. Enjoy!