Hey guys, are you into leather-clad Dommes who boss you around without mercy? You might be wondering where you can find such delightful pleasures on such short notice. Lucky for you, I have put together this list of the best live cam sites where you can find babes who specialize in all sorts of devilishly delectable kinky BDSM acts. When you do a search for fetish, humiliation, domination, cuckolding or whatever strikes your fancy, you'll find various profiles that will hook you up with the perfect Mistress. Let's have a look.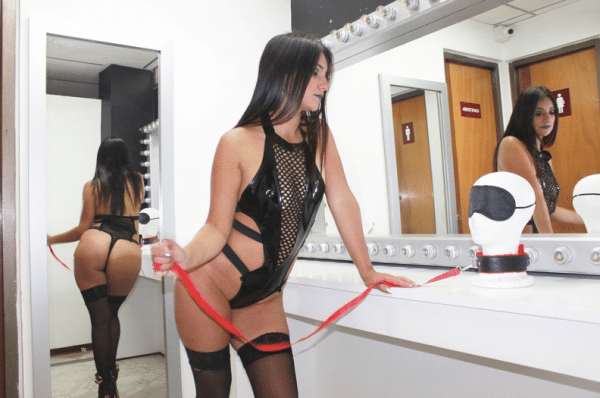 I liked RabbitsCams the most because of the well-organized category menu. For example, Feet Fetish has 800+ girls who love showing them off, and Bondage has 50+. But you also have the option of narrowing your search even more. I entered keywords like "BDSM" and "Mistress" into the basic engine and found 1,400+ Dommes online ready to discipline you. What's also great about this site is that the ladies have bios and detailed descriptions of the acts they'll perform in their shows. So whether you're looking for roleplay or tease and denial, you can check out what she's into beforehand. You're also able to leave comments on her profile, which also have a section with her ratings from other users. I watched a sexy show where a couple did rope bondage and used rubber, nipple clamps and wax.
2. Chaturbate
I was able to locate over 5,000 Mistresses online when I logged in, but the site doesn't have any categories. What you need to do is use the tags along the top. I was able to find 980+ babes under BDSM, 560+ under Femdom and 3,140+ under Fetish. There's also an advanced search engine if you want to filter the models by a specific location, or prioritize the HD cams. A model's page lets you see the type of acts she's into and some also have detailed bios giving you insight into their history. There are cam girls who demand financial domination and you can consult their wishlist so that you spoil your favorite Domme. I watched a show where two babes took turns spanking and whipping each other and another where a lady tied herself to a chair and used a smart sex toy so users could control her pleasure.
CamRabbit has more specific niches compared to the other two sites, like Dominatrix, Fetish and Roleplay. In total I found 240+ girls who are into BDSM. Plus, their profile thumbs are large, so you get a good preview. Their profile pages are detailed and you can even comment on her "wall." You can read their bios and find out their "willingness," which are the kinky acts she'll perform and these are linked, so you can find more of the same. You also get to find out what turns her on and what turns her off, which saves you from saying or doing the wrong thing. You wouldn't want to piss off a Mistress… Or would you?
4. X Love Cam
XLoveCams doesn't have as many Dommes as the others and I only found around 20 online when I logged in this week. They're listed in the Fetish Female category, but if you do a basic search using "BDSM," it will bring up more performers. I also appreciated the way the profiles are set up because they were very detailed. The girls list their fantasies and most contain detailed information on what types of kinky acts she'll perform during her show.
5. Live Jasmin
On LiveJasmin they have a Fetish category, but they also have a Willingness category and there I found Dominant and Submissive subcats. Doing a search for "BDSM" brought up 500+ performers, so you'll definitely have your pick of girls. I saw shows with couples as well as solo models doing rope play and using dildos and ball gags. The only issue I had with this site is that the girls don't always list the types of acts they'll perform in their shows. They do have short bios though and sometimes you'll find tidbits there. The profiles also show you any awards they've won.
And there you have it, folks, my top choices for BDSM cam sites. Let me know what you think in the comments below and if there are any other sites that you think should be on this list, feel free to hit me up in an email!