It's no secret that these days, we do practically everything on our phones. Ordering pizza, buying food, booking appointments, talking to friends, listening to music and everything in between. So, why would it be any different when it comes to sex cams? Well, it's not and in fact, I've been visiting several sites over my phone in the last few weeks in preparation for this blog. You see, while there's certainly a convenience factor, it has its pros and cons.
PROS
Get it Anytime, Anywhere
"…the fact is, with a smartphone you can access any sex cam you want at any time."
This is probably the most obvious pro, but the fact is, with a smartphone you can access any sex cam you want at any time. Now, I'm not one to check out cams when I'm out with friends, but I won't lie, curiosity has gotten the better of me and I have had moments where I wanted to check-in on some of my favorite girls, so I did exactly that with my phone. And while I didn't necessarily go for a full private show, I did easily chat with them for a bit.
Pop-Up Alerts Directly on Your Phone
A couple of sites have a feature that sends a notification to your phone whenever one of your favorite performers gets online. This is especially great if you want to make sure you never miss the show of your favorite babe. Trust me, it's often happened where I've been sitting on my couch at home and completely forgot that someone was scheduled to perform. The notification on my phone saved me quite a few times.
Built-In Webcam (Android Only)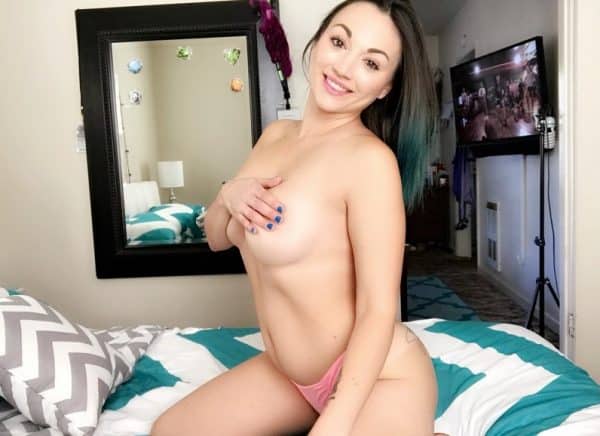 Cam2cam is probably one of the most fun aspects of sex cams. Turning on your webcam to let a babe see you while she performs always enhances the experience (in my opinion). Well, what do you do if you don't have a webcam? Well, if you have an Android phone, your camera doubles as a webcam too. This isn't available for iPhones just yet, but hopefully, it will be in the near future.
CONS
Limited Screen Visibility
The first con is probably the most obvious, but no matter the type of smartphone or tablet you're using, it's not going to be as big a computer screen. When I'm really feeling a girl's performance, I like to put the image to full-screen and immerse myself in her show. You lose that feeling a little on a smartphone.
Viewing One Girl at a Time
So, you know how you can open multiple windows on a browser and switch back and forth between them? Well, you can't really do that on a smartphone. Yes, you can have multiple tabs open, but it's not nearly as seamless. On a desktop, you can keep several windows open and chat with as many girls as you can keep up with. So, if you want to watch multiple girls at the same time, you're better off sticking to your computer.
Some Sites Aren't Mobile-Friendly Yet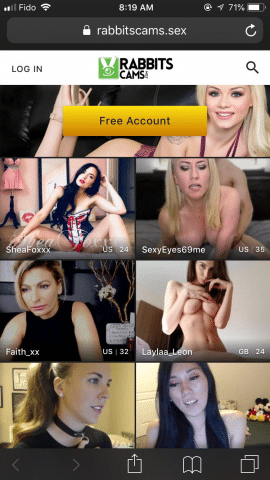 This isn't an issue you'll have to worry about when it comes to popular sites like RabbitsCams, Chaturbate, MyFreeCams, etc. However, not every site has created a mobile-friendly interface. Trying to browse a site that wasn't designed for smartphones or tablets is not impossible, but it's a nuisance.
Potential Battery Killer
Obviously, the more you use your phone or tablet, the faster your battery drains. Depending on the type of device you're using, it could drain exceptionally fast when you're camming. This downright sucks, especially if you're in a position where you can't charge your phone right away.
Smartphone Camming is a Great Alternative
There are probably dozens of other pros and cons I could list about camming with your smartphone, but I think these cover the most critical points. Ultimately, it's up to you to decide. I probably lean a bit more towards camming on my desktop, but checking out sex cams on your smartphone is easily a good alternative.