My Free Cams might not seem like much what with their amateur design and lack of user features. But all the live XXX action you watch for free and the HD webcam feeds more than makes up for it all. Shoot me an email sometime.

Pros
Can actually see naked performers for free
Mostly good to HD-quality cams
A real engaged and active community
Cons
Private chats are expensive
Site design is a little amateur and dated
No advanced search
Bottom Line
Getting a membership and purchasing some tokens allows you to take fuller advantage of the site, but starting off just enjoying all the free T&A sure isn't a bad thing. Site design is a little amateur and there is no advanced search. But video quality is generally good or better, there are tons of chicks online at all times and plenty of them are willing to get down and dirty and fulfill your desires (depending on your desires you are going to have to drop some cash on them of course).
My Full My Free Cams Review
My Free Cams are Your Free Cams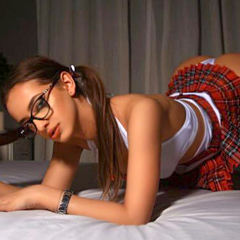 Whoever said that nothing good ever came for free has obviously never checked out My Free Cams! Yes, you can by tokens and top the girls and take some of them for private shows, but you can also check out plenty of live cams where the girls are showing off the goods right there in the public chat. Sure, usually it is for tips from people, but you don't have to tip in order to watch.
Okay, so you put the word "free" in there and I am at the same time intrigued and skeptical - which pretty accurately describes my feelings as I checked out My Free Cams for the first time a few years back. I was excited by the prospect of "free" but the skeptic in me expected it to be some kind of bait and switch. But it wasn't!!
There's No Catch, It Really is Free!
I will admit that when I first found this site I spent a week, checking it out every single day without paying a cent. And not only that, but I saw quite a bit of free booty since many girls spend all their time in the public rooms and plenty of them show their goodies for tips. So, I just sat back and let other people tip and my eyes reaped the benefits.
So, if you just want to jump around from cam to cam and find free nakedness (sometimes more) you can do that and maybe that keeps you very happy - I mean, right now I haven't even signed into the site yet and I have already watched one girl deep throat a dildo in her car and watched a different girl finger her pussy while doing the splits.
However, maybe you are like me and after a little while of doing that you want more. So, after that first week I went ahead and made myself a membership and bought some tokens.
You Can Look, But You Can't Chat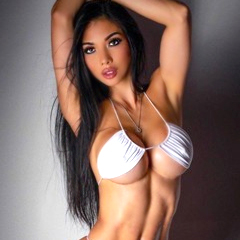 Ya, in case I wasn't clear, you can enjoy the free stuff without even making a membership. However, all you can do then is look, as most girls block non-members from even chatting in the chat room. So, if you want to do some chatting at least get yourself a free membership.
Now, I had a membership and tokens and I really started getting into it. The community on this site is like no other I have ever seen on a live cam site. The chat rooms are often bustling with conversations and comments and you can even message other members, befriend them and even cam2cam with them. Now, you don't need to go that far, but getting at least a free membership is worth it to really start to take advantage of the site.
Site design isn't their strong suite. The site is very busy and with all the different font colors it feels pretty amateur and dated. But to be fair, it is easy to navigate and there are some nice little features like very complete model profiles, the ability to resize the cam window, a suggestion engine and there is a little camera icon in the top right-hand corner of the preview images which pops up a live snapshot image from the girl's cam at that moment. Although, there is no advanced search, which is something I think every live cam site should have!
They've Got An Excellent Mobile Version
Also, they do now have a mobile version of their site and I will say that it is a pretty good experience. They might be trying to fit a little too much into the mobile site, but in general I found it pretty easy to find performers, watch cams, chat and the like.
Another thing that differentiates MyFreeCams from other sites is how many of the performers prefer to stay in the main "free" group chat room rather than go private because they do great business getting tips in the group room in order to show things or sometimes just to chat. You, there are some really popular performers who have built up a string fan base who just do lots of talking and playing around with the members while raking in the tips.
I Like a Little 1-on-1 Time, Don't You ?
This is something that makes the site very mood-dependant for me since I generally prefer to spend my time with cam girls just 1-on-1 rather than with a whole bunch of other members chatting and asking her for things, etc. But, it is also nice sometimes to be able to see naughtiness for free or for a few tips here and there (I don't do as much free watching these days as I feel like it is right to tip the girls that really appeal to me and make an effort to engage with the members and put on a show).
Now, there are performers that are very happy to go for some private time and based on the various token packages and what the performers are charging, I would say that you are looking at around $5.45/minute. Ya, that is a little on the high-end, but there are a few girls I have come to really like on the site and for them I have no problem spending that cash.
They're Adding More HD Cams Everyday
A few other things I want to mention are that the quality of the cams is really dependant on the performer and what kind of cam and connection she is working with. There aren't as many HD cams as on some of the other sites I frequent, but they look to be adding more HD cams these days and overall the cams look good. And remember it is free to browse around so you don't have to pay for private until you find a girl you like with a cam that you like as well.
If you have never tried My Free Cams before than I highly recommend you check it out. Being able to do, and see, as much for free as you can here is pretty awesome and after that you can decide what, for you, is worth paying for.
Click Here To Visit Website
Links of interest
So just like with Chaturbate, the net is littered with MFC token scams. Don't bother, they don't work. You can only get tokens if someone sends you some or if you pay. The site is free after all, so you can enjoy most action without tokens. There are also a ton of recorded videos which are being sold on various file sharing sites. Don't pay for those. You can find a ton of videos on free tubes, like
Xvideos,
Xnxx,
YouPorn. MFC was widely reviewed, with great scores, on
RabbitsReviews 84/100,
TopCamSites 4/5 and
TopChats. They are active on social media and you can check out their profile on
Wikipedia,
Twitter,
Instagram,
Facebook or an official video channel on
Vimeo. Have something you want to add in here? email.
Similar 💰 Free Cam Sites

Pop open this can of CamSoda to enjoy lots of free nudity. You can join this live sex site at no cost and watch beautiful nude girls getting very naughty on webcam.

Yes, these are FREE live cams! There are so many hot and naked girls online and it won't cost you a thing to watch them strip and play with themselves.
Get Exclusive Email Offers
Save more on your favorite FREE cam sites!

There are lots of sites online with a variety of girls, couples and lesbians. Without spending a dime, you can watch live naked chicks and XXX shows on Chaturbate right now.

You can experience a lot on Strip Chat for free, including live shows with beautiful babes. The cam quality is generally high, so there's no reason not to check it out right now.

You'll want to explore GoXXXCams if you like naked girls live and your cam shows free. There's so much nudity to enjoy here and the site is mobile-friendly too.

If you want to see or talk to naked girls, visit Chatly.sex for 100s of live sex shows every day, at all hours. Win 50 free tokens in their giveaway and find your favorite cam girl.

Cam4 has everything you want in a sex cam site. There are lots of girls online, many HD webcams and you can watch performers getting naked in live shows for free.

Chat Orgasm is a hub for webcams from a number of different sites. Some you have to pay for, but others are completely free, so watch naked girls and live XXX shows right now.