If you're like me, you're often faced with a dilemma while on a live cam site. What do you do if you want to chat with your favorite camgirl, but maybe you want to get other work done at the same time, or even just browse other babes? Well, I have a solution for you and it's called Picture-in-Picture Mode.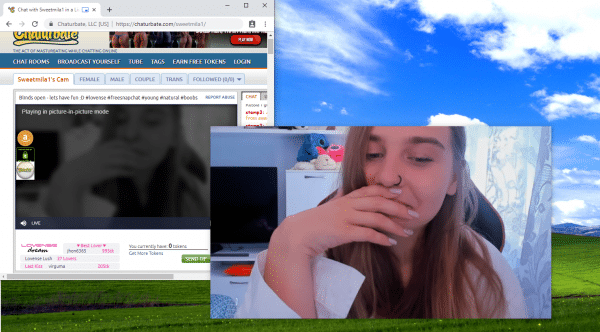 What is Picture-in-Picture Mode?
Picture-in-picture mode is a browser option that lets you play a video in a floating, minimized window anywhere on your screen while browsing other sites. So imagine how great of a feature it is when camming! You can watch a hottie strip and pleasure herself while checking out your Facebook feed. That's just an example, but I think you get the point.
Now, something to keep in mind is that it doesn't work on all sites, unfortunately. But thankfully, two of the most popular ones, like Chaturbate and My Free Cams, let you use it.
How Do I Use It?
It's really easy, and that's the beauty of it! If you're using the newest version of Chrome or Firefox, the feature should already be built-in. Just right-click on a video and select "picture in picture" mode and – boom! If you're using something like Internet Explorer or Microsoft Edge, you should be able to find and download an add-on.
You can control the size and placement of the floating video too. Just left-click and hold while dragging it to any spot. Hover over the edges to resize it. What I like to do is make it big enough so that I can have it open on the bottom-right of my screen while I take a look at who else is online. I've actually written many of these blogs while peaking at my favorite cam babes in the corner. Just a head's up, the tab your video is originating from needs to remain open. If you close it, the video disappears.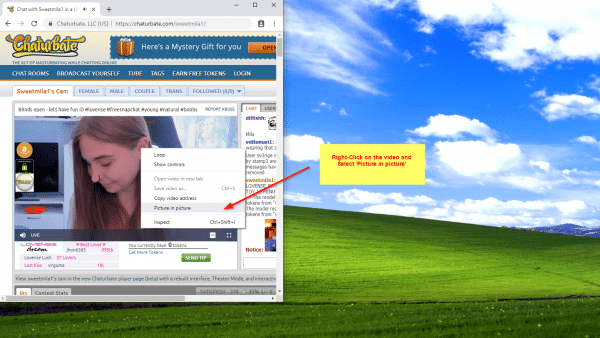 Try It Out & Browse Multiple Cam Girls
Want to give it a shot and see if it's a feature you'd enjoy? Well, I wrote a blog not too long ago about my five favorite new Chaturbate girl and you'll definitely find some fun babes on that list. And in the meantime, if you're looking for more tips, don't forget to check out The Ultimate Sex Cam User Guide where I break down the full cam experience for you.