SexCamsTube is a tube site with many different kinds of pre-recorded XXX cam shows. What's more is that there's new uploads on a daily basis, so you'll always have something new to watch. Email me your comments.

Pros
Multiple Daily Updates
Variety of Niches
Cons
Small Collection
Clips Aren't Very High in Quality
Very Little Model Diversity
Bottom Line
Sex Cams Tube brings you recorded cam shows in a variety of different niches including striptease, blonde, sexy toy play and lesbian. The site is fairly easy to navigate and for a free site the content they provide is super sexy, especially if you like blondes. For zero investment this site is definitely worth checking out, though in the end the collection will only keep you entertained for so long.
My Full Sex Cams Tube Review
Let's Get Right Down to Business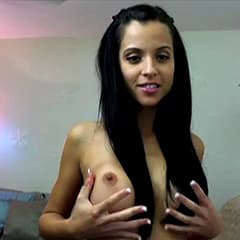 This no-frills site lets you get right down to business. If blonde girls are what you like, there are a couple models that will surely catch your eye on this tube site. Sex Cams Tube specializes in recorded cam shows and though there's a small collection the content is still quite exciting. I would definitely recommend this site because what's not to love about good content that's free!
Entering Sex Cam Tube, it's fairly easy to navigate. The site is laid out with thumbnails of the models in "recently added videos" even though it happens to be all the videos on the site. Each thumbnail shows you the model's rating and number of views.
Easy to Use and Lots of Categories
The site is then separated into seven different sections including new videos, Asian sex cam, ass sex cams, blonde sex cam, cam videos, lesbian sex cam, and sex cams tube. Though all of them are in the new video section, most of the videos also fit under the blonde sex cam section.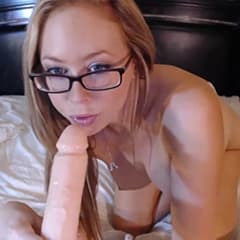 If blondes are what get you hot and bothered, then this site is great, otherwise you won't find a lot of diversity on the site. It would be nice to see different types of models. Most of them are white, though I spotted one Asian.
There are 42 videos on the site, which is miniscule compared to other tube sites as well small with the site standing on its own. The videos are about 5 minutes each so you could easily get through them in a night. There are no logs or dates on any of the videos, so there's no way to tell how often the site updates, but it appears to be quite infrequently, which is unfortunate.
There's a Few Hot Videos on This Site
A lot of the videos have very little action, with either the model just talking or sometimes dancing, but no nudity or solo play. There's some hardcore content including lesbian action, hidden camera fun, couples fucking and sex toy play, though not a lot. Overall, for how few videos are on the site, there's very little hardcore action, which is disappointing. It would nice to see more videos filled with sex or even more enticing softcore action as opposed to just talking.
The whole site takes recorded clips from a cam site called RabbitsCams. All the videos are recorded from there and there are ads on the side and bottom of page linking to this site. RabbitsCams has such a plethora of different niches as well as a variety of models that it would be nice to see this in the recorded cam shows here as well.
Leaving Comments is Always Appreciated
There's not a lot of community interaction although you can post comments on the videos. It's a nice feature and there are a decent amount of comments already posted, which is great. There doesn't seem to be anywhere you can upload videos, though, which seems weird given that it's such a small site. The mobile experience is fairly identical. Though it does load a little slower and is obviously formatted to a mobile as opposed to a computer.
Come and Get It While It's Hot
Overall this site has got some steamy content, but not very much of it. Some of the content is a little lackluster, but the models are gorgeous (although mostly blondes). If blondes are your thing it's hard to argue with this free tube site, though you'll probably want to move on after a night of fun.
Click Here To Visit Website
Similar Live Cam Tubes

Everyone knows Pornhub, the biggest and most popular tube site in the world. But did you know that they have tons of recorded live cam shows? You can enjoy everything for free!

Don't let the funny sitename fool you. XHamster is a huge tube site. Among the variety of videos are thousands of recorded live cam shows. Watch sexy girls get naked and naughty.
Sign Up and Get First Dibs
Exclusive updates and offers on the best cam show recordings online!

There's so much porn to check out on XVideos, plus thousands of recorded live cam shows featuring all kinds of sexy nude girls. And it's FREE!

Have you been hunting for sex cams? On CamGirlsHunter these shows were pre-recorded and are presented to you for free. Check out the variety of niches and performers.

The recorded cam shows on Big Cam Tube cover a wide range of categories, from lesbians to BDSM and everything in between. Enjoy this huge collection and get it absolutely free!

You'll have no problem navigating Recorded Cams. Enjoy thousands of hot webcam shows that have been recorded and made available to you completely free of charge!

The site provides a great user experience and there's a lot to check out. The collection is absolutely free and features recorded cam shows with nudity and very sexy performers.

These shows aren't live anymore, but they were at some point. There are many niches on Sex Cam Tubes and with daily updates, there's always something new to watch for free.

The recorded cam shows on AyChatin show a wide range of cam girls pleasuring themselves and getting it on with their partners. The collection is massive and easy to navigate.