Missed a live show from Chaturbate or other live cam sites? Worry not, because there's a good chance it was recorded and uploaded to CamBay. Check it out and share your thoughts via email!

Pros
100% free recorded cam shows
New content uploaded daily
Browsing tools for easy navigation
Bottom Line
With hundreds of live cam shows happening on sites like Chaturbate and MyFreeCams, it's impossible to watch them all. Until now. CamBay.tv is a free tube site with thousands of recorded shows taken from the biggest sites online. It's unclear who exactly is uploading them - mostly users I imagine - but one thing is for sure: hundreds of fresh recordings are added daily. It's free, but you will have to deal with lots of ads that occasionally interrupt your experience.
My Full CamBay.tv Review
Watch Recorded Shows on CamBay.tv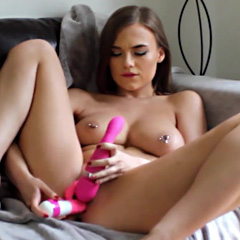 Every time I see the word "bay" at the end of a site name, I get worried it might have something to do with Pirate Bay, an illegal file-sharing index. But I can assure you that nothing illegal is happening on CamBay. You can browse the site worry-free and cost-free for as long as you want, taking in all the recorded webcam shows from Chaturbate, MyFreeCams and others.
An Endless Supply of Recorded Cams
I tried to get an official count, but it was tough because there's no way to instantly jump to the last page of content. I made it to page 200 before I gave up. Suffice it to say, there are thousands of videos available because every time I visited, there were hundreds of newly uploaded ones to check out.
Are the videos being uploaded by random users or the people at CamBay? There's no way to know for sure. Usually, tube sites let users upload content, but it doesn't seem like that's even an option here. You can't create an account either.
Some videos looked more like amateur porn videos. It's possible that these are the ones the cam girls sometimes have on their profile, either for free or for purchase. In one, a girl was masturbating in a car and in another, a teen was taking sexy Snapchat selfies.
Every Type of Cam Show Imaginable
Everything you see on a live cam site, you can see here. I watched a two-hour session of a PAWG fingering her asshole, a quick video of a couple fucking, a heavily tattooed girl giving herself an orgasm, and a mature babe double-fisting her pussy. And this was just the stuff on the first page!
The usability is good. They have a bunch of categories (none for isolating those amateur videos though), tags, sorting options and an advanced search. If you look up "blonde cam girl" for example, not only will you get relevant results but also tag suggestions like "Asian blonde" and "big tit blonde." For those of you with a smartphone or tablet, you can take advantage of all the same features on their mobile interface, which runs smoothly and has a burger menu to access some of those sorting options and categories.
Watch Out For All the Ads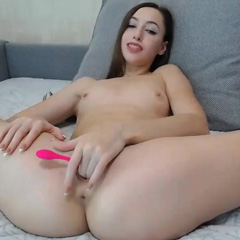 Ads on a free tube site are to be expected. After all, they have to be getting their revenue from somewhere. But on CamBay.tv, to call it excessive would be an understatement. Everything you do involves an ad. Click play? You get a pop-up. Click a tag or category? Pop-up. They even have a bunch of thumbnails that are made to look like they're part of the collection, but once again, just ads.
I was even duped by something I thought would be a fun feature. There is a "random cam girl" button, so naturally, I thought it would pull up a random video for me. Nope, what it does is open up yet another pop-up. And this one might have been the most intrusive because it actually closed the window. This also happens if you're on the mobile site.
Enjoy a Large, Free Cam Tube Site
I'll give props where props are due and getting such a huge collection of recorded cam shows without having to pay for any of it is definitely one of them. You have nothing to lose by coming here and spending some time exploring everything they have on offer. But those ads are definitely a lot to deal with.
Click Here To Visit Website
Similar Live Cam Tubes

Everyone knows Pornhub, the biggest and most popular tube site in the world. But did you know that they have tons of recorded live cam shows? You can enjoy everything for free!

Don't let the funny sitename fool you. XHamster is a huge tube site. Among the variety of videos are thousands of recorded live cam shows. Watch sexy girls get naked and naughty.
Sign Up and Get First Dibs
Exclusive updates and offers on the best cam show recordings online!

There's so much porn to check out on XVideos, plus thousands of recorded live cam shows featuring all kinds of sexy nude girls. And it's FREE!

Missed a live show on Chaturbate? No problem! Head over to Recurbate to find a massive archive of recordings taken from thousands of live cam performances.

If you're looking for an archive of recorded cam shows, head over to Cam Whores Bay to watch hundreds of them, including a solid collection of hardcore porn videos, too.

Want to see what cam girls are doing during a private show? Cam Bay has 100s of recordings to check out and even links you to the site the girls perform on.

Like the site name implies, Cam Archive contains a huge collection of free live cam show recordings, grabbed from various cam girls on Chaturbate.

Whether these girls are having sex with their partners or getting naked on cam, CamClips has hundreds of pre-recorded live shows and amateur videos to watch for free.

You'll never have to miss a performance from a cam girl on Chaturbate again. Cloudbate captures recordings of webcam shows, some up to 2 hours long, and posts them here every day.

Have you been hunting for sex cams? On CamGirlsHunter these shows were pre-recorded and are presented to you for free. Check out the variety of niches and performers.

The recorded cam shows on Big Cam Tube cover a wide range of categories, from lesbians to BDSM and everything in between. Enjoy this huge collection and get it absolutely free!

You'll have no problem navigating Recorded Cams. Enjoy thousands of hot webcam shows that have been recorded and made available to you completely free of charge!

The site provides a great user experience and there's a lot to check out. The collection is absolutely free and features recorded cam shows with nudity and very sexy performers.

These shows aren't live anymore, but they were at some point. There are many niches on Sex Cam Tubes and with daily updates, there's always something new to watch for free.