On Recorded Cams you can check out thousands of pre-recorded XXX cam shows without ever having to pay a penny. Quality varies wildly between each clip, but did I mention that it was free? Send your comments via {email.}

Pros
1000s of Recorded Shows
Multiple Daily Updates
Easy to Navigate
Cons
Quality Varies
Annoying Banner Ads
No Extras or Community Interaction
Bottom Line
While the site does boast great recorded live shows, it would have been nice to see better quality material, as well as scene info and a model index. However there are some navigation features such as content categories, a search bar, as well as the possibility to sort by newest, random, top rated, most viewed and longest. Overall it's a fairly standard tube site although with the amount of content it's hard to complain, especially when it's free.
My Full Recorded Cams Review
Hot Recorded Cam Action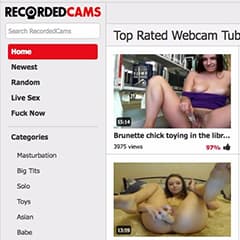 Recorded Cams provides free pre-recorded cam shows for you to enjoy at any time of the day. Be prepared to drool at the site of these sexy cam girls and the hot videos featured on this site. With an easy to use platform and a plethora of categories you should easily be able to find what you're looking for at Recorded Cams.
What brings people together from all over the world? Sex and voyeurism. Cam sites are the epitome of the two. But sometimes I want to get right to the juice while still experiencing that real life quality of cam sites. Recorded Cams is the perfect balance between this. It's a free tube site featuring recorded clips from live cam shows.
Over 3,000 Videos
Recorded Cams boasts all sorts of content including amateur, teens, sex toys, masturbation, solo, girl on guy, fingering, anal, hairy, MILF, lesbian and BBW. With over 3000 pre-recorded videos there are tons of opportunities for you to find that performer that sparks desire in your eyes.
The site is completely free and membership allows you to save and upload videos, as well as leave comments. You can easily stream all the videos although some definitely look better than others. To download the videos you have to share them on social media first which is not ideal. If you like to share your porn then this might not bother you, but personally I like to be a little more discrete so it's unfortunate that you have to share the videos on Twitter or Google+ in order to download them.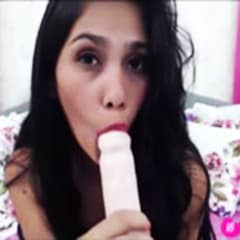 Super Easy to Use & Browse
The site is fairly easy to navigate and you can browse the ladies with ease. They are all laid out in thumbnails with their ratings and number of views. If you want to cut straight to the chase you can browse the categories on the side of the page to find exactly what you're looking for. That means no endless scrolling so you can get right down to business. There is also a search bar and you can browse by newest, random, most viewed and longest.
The content is great, there is no doubt about that, however the quality varies between videos. Most of the recordings are fairly blurry although there are some higher quality videos as well. The videos are each about ten minutes in length, although some are as short as one minute and others as long as an hour. There are also video updates on a daily basis with great new content. With a large amount of content and frequent updates it's hard to get bored on this site.
You Gotta Deal with some Ads
Unfortunately the site doesn't have any community features, no possibility to chat with other members or camgirls, no blog, or newsletter. There really aren't any extras to the site. The site also bombards you with unnecessary ads, which is rather annoying. There are banner ads on every page and when you pause a video there is another ad that pops up.
The Mobile Experience is Pretty Good
Now let's talk about cell phones, we all have them and sometimes you want to enjoy some smut on the go. The overall mobile experience of the site is practically equal to the site itself. There is not much difference although things load a little slower and there is about a five second buffer for each video you stream.
Overall this site is fairly standard for a free tube site but it does offer you a good variety of content and a very large collection.
Click Here To Visit Website
Similar Live Cam Tubes

Everyone knows Pornhub, the biggest and most popular tube site in the world. But did you know that they have tons of recorded live cam shows? You can enjoy everything for free!

Don't let the funny sitename fool you. XHamster is a huge tube site. Among the variety of videos are thousands of recorded live cam shows. Watch sexy girls get naked and naughty.
Sign Up and Get First Dibs
Exclusive updates and offers on the best cam show recordings online!

There's so much porn to check out on XVideos, plus thousands of recorded live cam shows featuring all kinds of sexy nude girls. And it's FREE!

Missed a live show on Chaturbate? No problem! Head over to Recurbate to find a massive archive of recordings taken from thousands of live cam performances.

If you're looking for an archive of recorded cam shows, head over to Cam Whores Bay to watch hundreds of them, including a solid collection of hardcore porn videos, too.

Want to see what cam girls are doing during a private show? Cam Bay has 100s of recordings to check out and even links you to the site the girls perform on.

Like the site name implies, Cam Archive contains a huge collection of free live cam show recordings, grabbed from various cam girls on Chaturbate.

Whether these girls are having sex with their partners or getting naked on cam, CamClips has hundreds of pre-recorded live shows and amateur videos to watch for free.

You'll never have to miss a performance from a cam girl on Chaturbate again. Cloudbate captures recordings of webcam shows, some up to 2 hours long, and posts them here every day.

Have you been hunting for sex cams? On CamGirlsHunter these shows were pre-recorded and are presented to you for free. Check out the variety of niches and performers.

The recorded cam shows on Big Cam Tube cover a wide range of categories, from lesbians to BDSM and everything in between. Enjoy this huge collection and get it absolutely free!

You'll have no problem navigating Recorded Cams. Enjoy thousands of hot webcam shows that have been recorded and made available to you completely free of charge!

The site provides a great user experience and there's a lot to check out. The collection is absolutely free and features recorded cam shows with nudity and very sexy performers.

These shows aren't live anymore, but they were at some point. There are many niches on Sex Cam Tubes and with daily updates, there's always something new to watch for free.