If you like the candid nature of live xxx cam shows but don't want to pay then may I suggest CamGirlsHunter. This is a livecam tube site full of some of the hottest pre recorded shows you'll ever see. Email me.

Pros
Large Collection
Variety of Niches & Models
Cons
Distracting Banner Ads
No Advanced Search Engine
Videos are Mostly Low in Quality
Bottom Line
My Full Cam Girls Hunter Review
Thousands upon Thousands of PreRecorded Cam Shows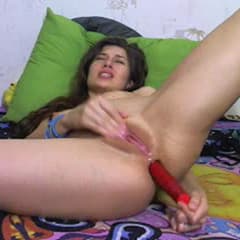 Cam Girls Hunter offers up a sweet and spicy collection of recorded cam shows. Jump into these shows offered by sexy performers who are sure to titillate. There are a variety of models and niches to choose from and with over 3,800 videos there's a little something for everyone. Overall this is a great site and there's plenty to see, so get in there and have some fun.
Cam Girls Hunter is a tube site featuring prerecorded cam shows for your visceral desires. For an extremely low price of free (yes you heard me right) you're getting a ton of great recorded action. Upon entering the site you're greeted with some banner ads, mostly for BDSM sites, and thumbnails of all the models laid out for you with their ratings and number of views.
Quality Varies from Video to Video
When you click on a thumbnail it takes you to a video of a recorded cam show which is fairly low in quality. They're okay to watch, though, and the quality does vary from video to video. Each video is about three minutes long, although there are some as short as one minute and others as long as 15. Still, for such short videos the models get straight to the good stuff and don't waste much time.
The site has a very basic design. There also aren't any community features for you to interact with. Even so, you can become a member of the site and upload videos as long as you follow the rules and regulations.
No Problem Finding Variety of Niches Here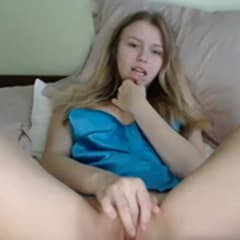 With 3,806 videos it's hard not to find what you're looking for on Cam Girls Hunter. The site is colossally large and infinitely interesting, with a plethora of different models in a ton of exciting niches. Some of them include masturbation, sex toys, spanking, Femdom, BDSM, feet, lesbian, cunninglingus, anal play and many more. You'll most likely be able to find something that gets you hot and bothered.
Videos Come Straight from Your Fav Live Cam Sites!
Most of the recordings come from Chaturbate although there are a couple other sites including Jasmin.com. There's also a free live cams section that provides connections to live cam sites with real models, usually Chaturbate.
The site used to add about one video every couple days, but hasn't updated since September 22, 2015. Hopefully they'll start updating frequently again, but for now you'll have to make do with what's here.
The mobile experience is on par with the site itself although you do need to download a Flash player to view the videos and they tend to load slower than on the site. Overall it's a pretty great mobile experience for when you want recorded cam shows on the go.
You're Gunna Love This Site
Aesthetically the site could use a bit of a boost, as well as some more easily accessible user and community features. However, for the amount of worthwhile content you're getting it's easy to entertain yourself perusing these invitingly provocative girls.
Click Here To Visit Website
Similar Live Cam Tubes

Everyone knows Pornhub, the biggest and most popular tube site in the world. But did you know that they have tons of recorded live cam shows? You can enjoy everything for free!

Don't let the funny sitename fool you. XHamster is a huge tube site. Among the variety of videos are thousands of recorded live cam shows. Watch sexy girls get naked and naughty.
Sign Up and Get First Dibs
Exclusive updates and offers on the best cam show recordings online!

There's so much porn to check out on XVideos, plus thousands of recorded live cam shows featuring all kinds of sexy nude girls. And it's FREE!

Have you been hunting for sex cams? On CamGirlsHunter these shows were pre-recorded and are presented to you for free. Check out the variety of niches and performers.

The recorded cam shows on Big Cam Tube cover a wide range of categories, from lesbians to BDSM and everything in between. Enjoy this huge collection and get it absolutely free!

You'll have no problem navigating Recorded Cams. Enjoy thousands of hot webcam shows that have been recorded and made available to you completely free of charge!

The site provides a great user experience and there's a lot to check out. The collection is absolutely free and features recorded cam shows with nudity and very sexy performers.

These shows aren't live anymore, but they were at some point. There are many niches on Sex Cam Tubes and with daily updates, there's always something new to watch for free.

The recorded cam shows on AyChatin show a wide range of cam girls pleasuring themselves and getting it on with their partners. The collection is massive and easy to navigate.