CamSoda basically has lots of Latin chicks and that you can watch plenty of XXX webcams for free without paying a cent and spending any tokens. Quality of feeds vary, but you get what you pay for or don't pay for that is. Email me

Pros
Mobile-friendly interface
Easy to access free nudity
Lots of Latina performers
Cons
Not a lot of live cams
No HD cams
Lack of user features
Bottom Line
The site lacks user features, doesn't have lots of live cams and the girls aren't offering HD cams. However, with just a free registration (no money) you can easily rest your eyes on some sexy chicks (many Latinas) showing off their tits and ass and even playing with their pink pussy.
My Full CamSoda Review
Cam Thirsty?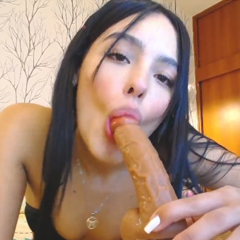 Over the last couple years I've made a conscious effort to drink less soda. I've been trying to eat healthier and soda was one of the items that had to go. But, thankfully, Cam Soda isn't bad for my health and with how much I can see for free, it isn't bad for my wallet either. However, it is competing for my time with other sites that provide free nudity so I needed to dig a little deeper to really decide its value. And here's what I've come up with after visiting the site on and off for the last few months.
You Gotta Register - But It's Free!
Starting off on a good note, every time I check out the site I'm seeing nudity within 30 seconds of signing in - yes, you need to at least register for free or you won't be able to do anything on the site. But at least you don't have to purchase tokens.
While some "free" live cam sites have girls who are very strict about not showing anything until they get a certain amount of tips, at Cam Soda I seem to always find at least a couple performers who are using their naked bodies in order to garner tips. And of course hanging out in a room and letting others throw in the tips is another way to get everything for free, although I do have a few purchased tokens and I use them to reward babes I really like and who put on really good shows - and so should you.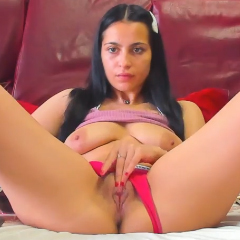 There's Never Enough Cam
So, that's the "free" part of the site, but what about all the other details? Well, it's there that things start to go downhill. First off, the amount of live cams isn't great. Obviously it changes depending on the time of day, etc., but I have visited multiple times and at somewhat different times of the day and generally I only see about 15-50 live cams available when I visit.
Honestly, What's Not to Like About Latin Women?
One thing I do like, though, is that most of the chicks on cam tend to be Latin from South America. I like all kinds of girls of course, but I can't remember seeing another sex-cam site that's been as Latina-focused as Cam Soda. There are other ethnicities, of course, but Latinas do seem to be the majority every time I'm there.
Okay, back to the not so good: Besides not having a lot of cams online, the cam quality isn't anything to write home about. The motion is fluid, but in general the video quality is average, maybe good, but definitely not HD as far as I could see. Obviously, with it being free to see their cams you aren't going to waste any money on a bad cam, but still, better quality overall would be much appreciated. As would more user features.
This is a very basic site in its design and in the features it offers - or lack thereof. In fact, not only is there no advanced search, but there also aren't any categories (well, besides selecting "women," "couple," "transsexual," etc.). Also, while there's place for a bio below every girl's cam window, most of them haven't filled it out, or have filled it out with the bare minimum.
Premium Memberships Has It's Upsides
Oh yeah, besides the free membership, they do also offer a premium one that will cost you $20/month. With it you can get rid of the ads (which is nice) and you also get a 200 token starting bonus. But that's pretty much all that's different from the basic membership (you can purchase 210 tokens for $20, so basically they're giving you one month free).
So, to summarize, this is what it comes down to with me and Cam Soda. When I want my fix of horny Latin chicks getting naughty I know I can head on over and see at least a few showing off their tits and ass and playing with their pussy. But with the lack of site features and the non-HD cams, I generally don't do much non-free activity here. And I definitely can't recommend getting that premium membership.
Click Here To Visit Website
Links of interest
CamSoda is still a new site as of today (March 2016), but already is creating some hype with its VR porn experience, you can read on
DailyStar.co.uk. It's quite active on social media, you can interact with them on
Twitter,
Faceboook,
Instagram, and on their Snapchat account: CamSodaLive. They recently added a Periscope account. They also have several official tube channels on
YouTube,
Xvideos,
PornHub and
Xnxx. They've also been reviewed by several sites with decent scores, namely:
RabbitsReviews 71/100,
ThePornDude 4/5 and LiveCamDeals 4.9/5. Email me if I missed a cool link.
Similar 💰 Free Cam Sites

Pop open this can of CamSoda to enjoy lots of free nudity. You can join this live sex site at no cost and watch beautiful nude girls getting very naughty on webcam.

If you want to see or talk to naked girls, visit Chatfly.sex for 100s of live sex shows every day, at all hours. Win 50 free tokens in their giveaway and find your favorite cam girl.
Get Exclusive Email Offers
Save more on your favorite FREE cam sites!

There are lots of sites online with a variety of girls, couples and lesbians. Without spending a dime, you can watch live naked chicks and XXX shows on Chaturbate right now.

Yes, these are FREE live cams! There are so many hot and naked girls online and it won't cost you a thing to watch them strip and play with themselves.

You can experience a lot on Strip Chat for free, including live shows with beautiful babes. The cam quality is generally high, so there's no reason not to check it out right now.

You'll want to explore GoXXXCams if you like naked girls live and your cam shows free. There's so much nudity to enjoy here and the site is mobile-friendly too.

Cam4 has everything you want in a sex cam site. There are lots of girls online, many HD webcams and you can watch performers getting naked in live shows for free.

Chat Orgasm is a hub for webcams from a number of different sites. Some you have to pay for, but others are completely free, so watch naked girls and live XXX shows right now.