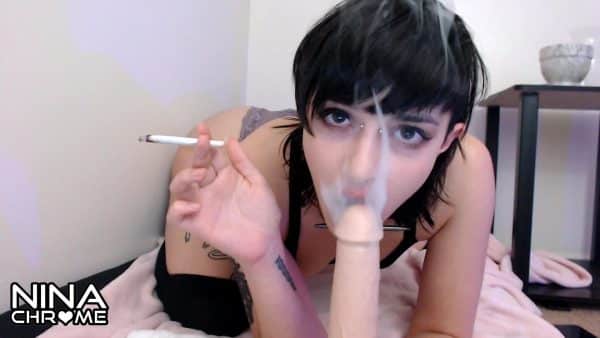 Move over Easter, there's only one important holiday this weekend and it's 420! Yes, April 20 is just around the corner and that means it's the national day of sparking up and indulging in some of that good herb. You might be able to tell from my outdated slang that I'm not the biggest pothead, but I do like to smoke weed every now and then. What I love, though, is watching hot cam girls get high. They're the perfect smoking buddy when you don't feel like taking tokes all by yourself. I've talked about my Favorite 420-Friendly Cam Girls before, so in honor of this fine holiday, why not check out a few more ganja girls?
Nina Payne
If you're looking for girls smoking weed, you'll definitely love Nina Payne. This alternative beauty has tattoos and piercings and likes BDSM. Some of the kinkiest cam girls are the ones covered in ink. Plus this stoner girl loves smoking, so you'll often see her sparking up while she's camming. In fact, she's a fan of multitasking – watch her fuck herself with a sex toy and deepthroat a dildo while she envelops the room in sweet vapor.
I bet you anything that this is a girl who loves smoking weed and fucking at the same time, and something about that is so hot. She'll blow that smoke right into your mouth before going in for a kiss – a stoner's dream!
Gothh0ttie
Want to watch a teen riding cock and smoking weed naked? Gothh0ttie loves to wrap her lips around a bong as if it was a hard dick, which pretty much tells you everything you need to know about her! This sexy stoner is probably having sex while high all the time, but who can blame her? Sex and weed are both pretty addictive – and a great way to relax. Just ask my girlfriend, Isabelle.
Whether this cam hottie is straddling a dildo or fucking a guy, you can bet she probably had a few tokes beforehand. She does more than just get high on cam, though. She also loves to give blowjobs, play with her ass, masturbate and show off her naked body. No complaints here!
Naughtykitty710
A hot girl with her legs wide open and a bong in her hand? Sign me up! I know that some guys don't like the idea of girls smoking weed and I'll never understand why especially when you look at hot stoner girls like Naughtykitty710. Not only is she a total pothead, but she's also an anime lover and describes herself as "your favorite Waifu." For those of you who don't know anime, a waifu is like your animated wife. Can you imagine smoking a bunch of weed with Kat and watching anime while she blows you? Sounds like heaven to me!
Celebrate 420 with Sexy Girls Smoking Weed
If you feel like getting high this weekend to celebrate 420, you know exactly which girls you should be watching while you do it! Get your bong and favorite strain ready and check out one of these cam babes. You can strike up a conversation about your love of weed and if you're lucky, you might get to watch one of these girls smoking weed naked!