"Real time. Real lives." That's the tagline for Voyeur House and it's very accurate. Watch as real couples live their lives in homes filled with cameras filming them 24/7. Email me any questions or comments.

Pros
Premium voyeur experience
Amateurs, not actors
Live cams online 24/7
Cons
Membership option is pricey
Some locked rooms
Bottom Line
If you've ever wanted to become a voyeur, this is your chance. Voyeur House has amateur couples from Europe going about their daily lives and sometimes having sex, and we get to spy on all the action. You'll need a membership to see the rooms with nudity and sex, but sometimes couples get semi-nude in the free rooms. And you can stream everything live 24/7.
My Full Voyeur House Review
What is Voyeur House?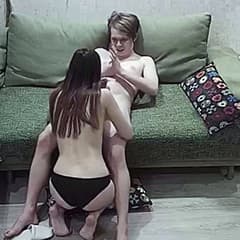 Voyeurism is "the practice of gaining sexual pleasure from watching others when they are naked or engaged in sexual activity." Sure, that definition might sound a little clinical, but that's exactly what it is. It's also illegal. But not on Voyeur House! This is a real-life voyeur cam site where sexy couples lounge around their homes all day. They'll do everyday things like cooking, cleaning, watching TV and doing the dishes, but half the time, they'll be nude and if they're in their bedroom or shower, there's a very good chance you'll see them having sex! Personally, I've always wanted to know what it was like to spy on someone else and see what their sex life was like and VoyeurHouse fulfilled that need.
Watch Real Amateurs Fucking
So I think it's safe to assume that as much as you might enjoy watching half-naked couples just chilling on the couch, you really want to see them getting it on! While the living room and kitchen are usually just for seeing them walking around naked, when they get into the bedroom, bathroom or lounge areas, don't be surprised if you see some cuddling that eventually turns into wild sex. I was lucky enough to watch a couple just hanging out with one of their female friends and, well, one thing led to another and before I knew it, I was watching a threesome!
How Much Does it Cost?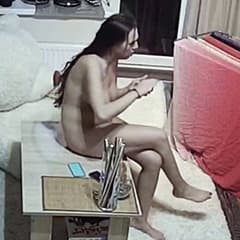 Voyeur House is completely free - with a catch. You can sign up for an account for free, then browse some of the spy cams without paying a dime. But bedrooms, bathrooms, showers and any other rooms where sex is likely to take place will be locked. To unlock those rooms, you need to buy a monthly membership at $30/month. It's pricey, but it could be a worthwhile investment because it also unlocks over 70,000 recorded videos of all the sex and nudity that's taken place on the site so far.
Spy on Different Couples
There are about 20 couples to watch on VoyeurHouse. The cams are running 24/7, so as long as they're home, you'll see what they're up to. Trust me, you never know when a couple is going to wake up in the middle of the night, feel frisky and start fucking right then and there. Good thing these cams are equipped with night vision!
When you click on one of the apartments, the default setting usually brings you to the living room. From there, you can pick a different room to watch in the house, like the bedroom, shower, kitchen, etc. You'll also see a detailed floor plan and where all the cameras are placed.
Fulfill Your Peeping Tom Fantasies Now
I actually couldn't believe how much fun it was to just watch a few girls in their underwear cooking breakfast and chit-chatting. I spent more time than I'd like to admit gawking at them. At some point, I knew it was time to take things further so I signed up for an account and immediately accessed those locked bathrooms and bedrooms. You can easily do the same and I highly recommend it. This is your chance to feel like a true voyeur with all the rewards and no risks.
Click Here To Visit Website
Similar 👀 Voyeur Cams

Imagine a house where sexy girls live, filled with hidden cameras in every room so that you can see what's going on 24/7. Well, you don't have to imagine it with Voyeur House!

Pop open this can of CamSoda to enjoy lots of free nudity. You can join this live sex site at no cost and watch beautiful nude girls getting very naughty on webcam.
Get Exclusive Email Offers
Deals, free tokens & minutes on the top voyeur cam sites!

Check out Voyeur House, a place where you can watch real life cams featuring sexy, young couples in their homes. Watch them lounge around the house or have sex with each other, 24/7.
Camarads cams are streaming 24/7. Check them out anytime and you might see a girl making dinner, folding laundry, taking a shower, or having sex. You never know!

Take a look at these Real Life Cams and see what's going on in kitchens, living rooms, bedrooms and bathrooms, where sexy girls are just going about their day.

In the Voyeur Villa, you can chat with 1,500+ sexy cam girls from all over the world. Whether you're looking for a mature babe or a sexy teen, these performers are as hot as they come!