"Real time. Real lives." That's the tagline for Voyeur House and it's very accurate. Watch as real couples live their lives in homes filled with cameras filming them 24/7. Email me any questions or comments.

Pros
Sharp, fluid HD cams and live streams
Free to browse a few cams in each house
Good design and navigation
Cons
Premium membership is pricey
Bottom Line
If you have always wanted to look in on the lives of real couples and hot girls, then this is a great place to do just that. Even if you've never thought of it before now, check it out anyway. It's free and you might find that you have a strong voyeur desire that you can now satisfy with all these houses streaming live video 24/7.
My Full Voyeur House Review
Choose From Many Homes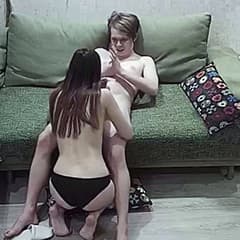 While the sitename is singular, there's actually multiple homes to check out and fulfill your voyeuristic desires. On the homepage you'll see a list of all the different ones to choose from, listed by the names of the people in the homes. Most are occupied by a guy/girl couple, but some have multiple girls or two couples and there are some gay couples as well.
Select a house and you'll see a live stream from one of the rooms. Then you can pick a different cam to watch in the house, generally indicated by the name of the room (living room, bedroom, shower, kitchen, etc.). You'll also see a floor plan and all the cameras.
Browse Some Rooms For Free
Now, if you head over right now you'll be able to get started without spending a penny or even creating a membership. However, you'll only get access to one or two cams in each house (usually the kitchen and living room). I found it a good way to get a feel for the site, especially when I was new to the whole voyeur cam experience and wasn't sure if it would interest me or not.
However, it didn't take me long to realize that I liked being a Peeping Tom. I wanted to see what was going on in all the other rooms, too, so I signed up for a monthly membership and that opened up every cam in every house. It's been a pretty fun time since.
Should you want even more, there's a premium membership option that adds archives to your account and allows you to go back and watch stuff that happened before – in case you missed it, or just want to watch it again. With all the cams being sharp and in HD, the images are crystal clear!
Watch Them Eat, Sleep and Fuck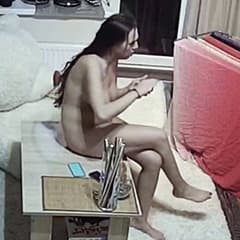 The three most important things in life are food, sleep and sex and that's what's happening throughout the VoyeurHouse homes. You'll also see people getting changed, watching TV, playing on their phones and just sitting around and talking.
Unlike regular sex cams where the performers are playing to the camera and interacting with you, on a voyeur site they're just going about their lives while you watch. They aren't looking at the camera or talking to the people watching. They're just doing what they do and you get to see it happen 24/7.
I'm pretty sure the site chooses couples with the understanding that they'll have sex fairly often, if not every day. And I did see a good amount of nudity and naughtiness. But there were also times when the most I would see was some girl in short shorts making tea and sitting on the couch talking on the phone.
But that's what makes the voyeur experience so different and original compared to all the other sex cam sites I spend time on. I actually sat there and watched that girl on the phone for 20 minutes even though there was really nothing going on. It can be a little hypnotizing – in a good way.
Go and Be a Voyeur
It is free to check it out and get a sense of what it's like to watch couples as they live their lives in real time. Then, if you like that, you will want to watch the naughty parts of their lives with a membership and get access all the houses, rooms and cams. Voyeur House is a good live cam voyeur site.
Click Here To Visit Website
Similar Voyeur Cams

Imagine a house where sexy girls live, filled with hidden cameras in every room so that you can see what's going on 24/7. Well, you don't have to imagine it with Voyeur House!
Camarads cams are streaming 24/7. Check them out anytime and you might see a girl making dinner, folding laundry, taking a shower, or having sex. You never know!
Get Exclusive Email Offers
Deals, free tokens & minutes for the best voyeur cams!

Check out Voyeur House, a place where you can watch real life cams featuring sexy, young couples in their homes. Watch them lounge around the house or have sex with each other, 24/7.

Take a look at these Real Life Cams and see what's going on in kitchens, living rooms, bedrooms and bathrooms, where sexy girls are just going about their day.

In the Voyeur Villa, hot girls hang out, relax, go on their phones and have lots of sex and origes. Lucky for us, the villa has cameras throughout, streaming it all in real time.