A few weeks ago, the new trailer for The Avengers: Infinity War dropped. For those of you who are comic book fans, it was everything you could've asked for in a trailer. Lots of action, all the superheroes and a spotlight on Thanos, the latest villain to enter the Marvel Cinematic Universe. But I have to be honest. My favorite parts were those small moments with Black Widow (Scarlett Johansson) and Scarlet Witch (Elizabeth Olsen) because… well… they're gorgeous!
Whenever trailers for big sci-fi movies drop, I always see a spike in interest in cam girls who like cosplay, so naturally my mind began to wander to them. So today I decided to take a look at some of my favorite cosplay performers.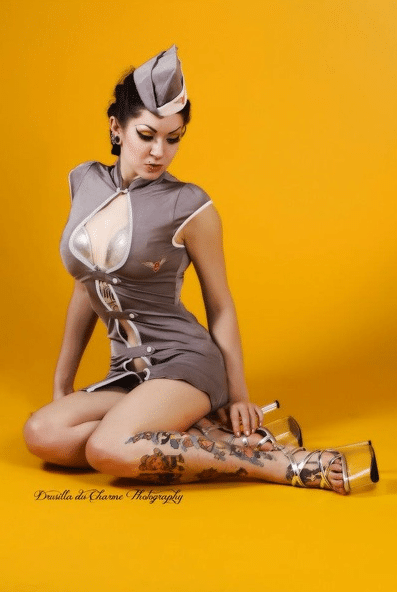 Heavily tattooed, pierced and with an incredible body, I knew I'd love Hentaidreamgirl the second I checked her out. She's young and loves everything from cosplay to BDSM to foot worship to playing with her interactive vibrator. One of the things I really enjoy is that she has a different look almost every single time she gets on cam. She has many wigs and outfits she plays around with, so you never know which version of her you're going to get. It makes for an exhilarating feeling when you can say to yourself, "I wonder what Hentaidreamgirl is going to be wearing today?"
---
Interestingly enough, when I first discovered Rebekah_Von_Kat, she wasn't even online. I just randomly stumbled on her profile and spent several minutes looking through her free photos. She has ones of herself dressed as multiple versions of Harley Quinn, Sailor Moon, an elf, a sexy cop, a ninja and a female version of The Punisher. Rebekah loves to be spoiled. She can be both dominant and submissive, depending on your preference. But she also has an amusing, charming personality and a great sense of humor. She's a genuine treat to chat with. She's open to trying new things, too. Before taking her private, just tell her what you like and what your fetishes are. Chances are she'll make it worth your while.
---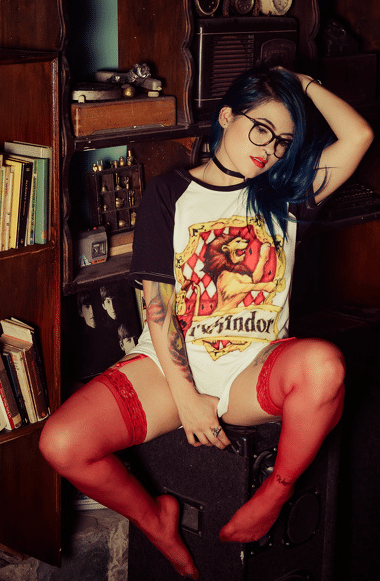 Alice is a bisexual Hispanic beauty with some of the hottest curves I've ever seen. It also helps that she's got that nerdy edge thanks to her love of Harry Potter, comic books, Star Wars and more. Alice also has a great sense of humor. She unknowingly had a nip slip going on when I checked her out for the first time and was having a good laugh about it. She was also dressed as a sexy kitty and looked amazing! I spent a good amount of time chatting with her and she was superflirty. It was really fun.
---
Anna's a young bisexual stoner chick (indicated by the giant marijuana leaf flag in her bedroom) from the U.S. who loves cosplay. She'll dress up as Batgirl, Tomb Raider, or a sexy samurai and have fun with colorful wigs and matching lingerie. One of the things I loved about Anna was how dirty she was! She totally knows how to talk dirty in live chat and refers to herself as a sex demon. She especially loves it when users have their own cam so they can have some cam2cam fun. I watched her for quite some time, and I have to say, she may just have one of the best genuine orgasms I've ever seen.
---
Jayne loves three things: Star Trek, nachos and a hard cock. Those are her own words and that's all I needed to hear to know I had to check her out. And I wasn't disappointed. Jayne is pretty wild. In private, she loves JOI, teasing, talking dirty and cam2cam. I mean, just look at that picture of her in that Star Trek uniform. How could you NOT love that? She put on one hell of a show when I was with her and she definitely left me wanting more.