Isabelle and I have a friend who quit smoking a few years ago after being a heavy smoker for years. We've been impressed with how he isn't tempted to take even one puff when someone else is having a cigarette. But he's admitted that there is one thing that makes the habit tempting again and that's watching nude women smoking! So I've found a trio of cam girls who would make anyone crave a cig!
Lucywants
According to her Chaturbate profile, this sexy redhead goes by the name Goddess Lucy and she loves playing Domme. She's into sissies and forced feminization, JOI, cuckolding and pegging. When it comes to roleplay, she'll gladly be your pimp, teacher, giantess or whatever other authority figure turns you on. She's also into a good hard fuck and she'll gladly show you what she means with one of her dildos. But what about her smoking in the nude? There's no info in her bio.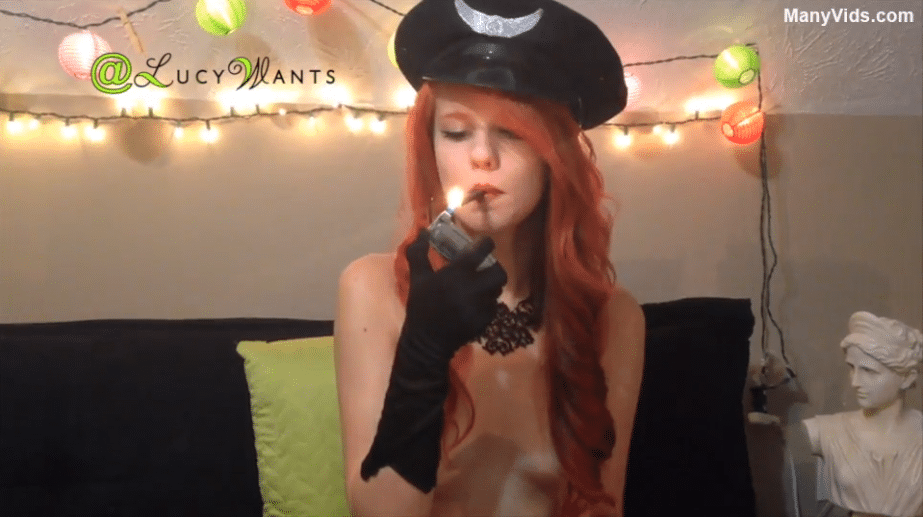 But this sexy smoking babe does have a ManyVids clip on her profile page called "Strapon Smoking" that'll set your imagination on fire. You'll see her seated topless on a futon wearing a black army officer's cap and a strapon, lighting up a cigarillo and taking a long hard drag of it as she stares intensely into the lens. Man, can this knockout ever deliver a one-two punch by combining her smoking fetish with a twist of Femdom!
Jade_Skyee
This 20-year-old hottie considers herself a "smol" princess (that's anime slang for "small) – and this petite camgirl is adorable. She likes to dye her hair different colors, like green or purple, and she has a few piercings, including her nose and lower lip. She's also a bit of a nerd and I love the fact that her Chaturbate tip menu has a Star Wars theme. It turns my lightsaber on! But she doesn't indicate how many tokens it takes to get her to indulge your smoking fetish.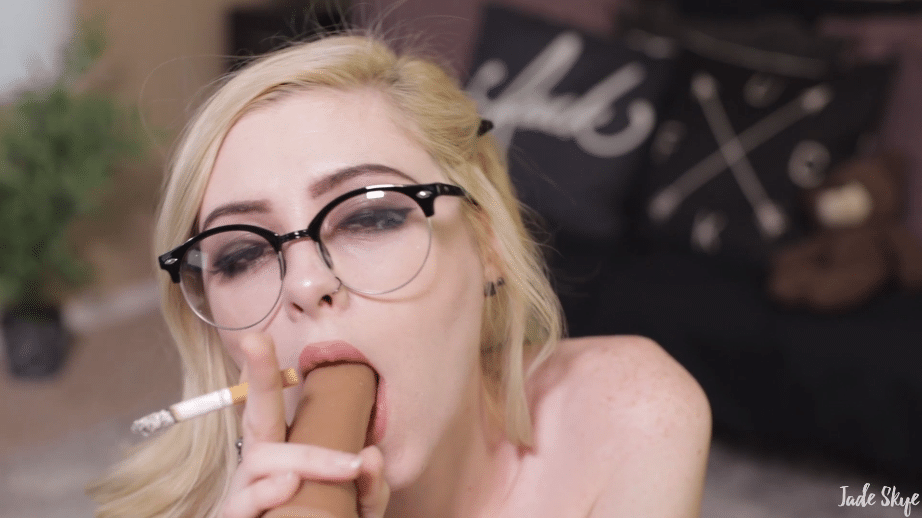 It's ManyVids to the rescue again because her profile there is tagged with "smoking" along with other sexy acts, like cosplay. Plus she mentions that you should read the descriptions before you buy because she's got videos with all kinds of action, including pissing and b/g hookups. There's a little window giving you a preview of her vids and that's where I got my pic of this hot blonde smoking during a dildo blowjob.
Audreysimone
Unlike the other two cam girls, Audrey Simone is upfront about her cigarette habit. She even calls herself a "nicotine queen" on her Chaturbate profile. It does get confusing though because she also calls herself a "smoking fetish princess." Maybe in the make-believe Kingdom of Smokers, girls can be princesses and queens at the same time? Either way, it's clear that this gal loves to smoke.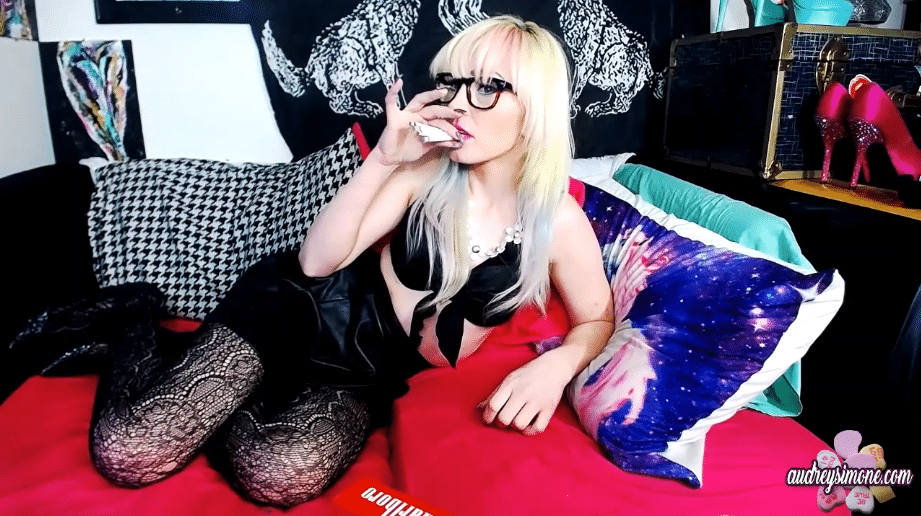 In her ManyVids clip "Darkside IV: Multiples and Messy Heels 5," Audrey does some stunt smoking. The scene focuses on her Darkside Diva persona, so she's wearing a black bra with pleather hotpants, lace stockings and high heels. Plus this blonde bombshell has on dark-rimmed glasses – a real dirty-nerdy turn on. And this sexy smoker doesn't just puff away on a ciggie, she also takes a drag on six Marlboro Reds at once! Is anything too big for her to suck on?
It's 4:20: High Time for a Tokin' Reference
You can't talk about smokers without mentioning those chill babes who partake of the whacky-tobacky on cam. So let me direct you to my Get High With Stoner Girls blog. Just be warned that even though some claim pot isn't addictive, these hotties might just turn you into a chronic masturbator!