The best part about Halloween is that it gives girls an excuse to put on revealing outfits in public and get away with it. I've attended numerous parties over the years and have seen my fair share of sexy fairies, goblins and witches, but nothing compares to the cam girls dressing up in sexy costumes for the annual Chaturbate Halloween Contest! Winners receive cash prizes and these ladies take their costuming very seriously. You're guaranteed to get turned on by their creative ensembles.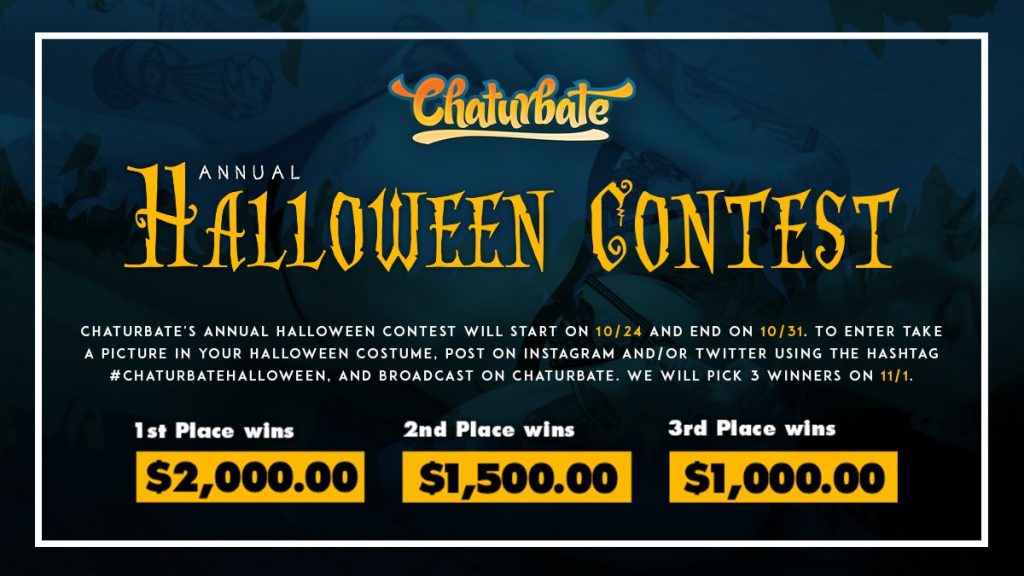 The way the contest works is that the girls post a picture on their social media accounts and you can vote for them there and also on their Chaturbate profiles. Already there are a bunch of chicks posting pics of themselves in their costumes on Twitter and I'm super excited to find out about this year's winner! This will no doubt be the sexiest Halloween yet! Here are some babes who definitely have my vote!
1. Kinky Maleficent, Mistress of Evil
I'm online❤️ join and let's fuck lol
👉🏻 https://t.co/IeauRhQB25 #chaturbatehalloween pic.twitter.com/kJy9hMzzWD

— Purple ♡ Bitch (@lure_lady) October 31, 2019
Angelina Jolie's portrayal of Disney's villain Maleficent may be considered sexy, but I really liked Purple Bitch's version that she shared on her Twitter page. She brought a kinky style to the character by wearing a leather studded belt bustier and a mesh cloak to cover her naked body. She has the horns and wings down to a T and I believe they're homemade – so kudos to her craftsmanship. Her makeup was the best part and I loved that she wore green contact lenses and lips painted the reddest shade! She wasn't online when I checked, but she'll be available in the coming days before the contest ends.
2. Sexy Rey from Star Wars
Come watch me use the force on @chaturbate !!#ChaturbateHalloween pic.twitter.com/H4RJS7sAMj

— 𝙴𝚟𝚒𝚎 🕸️ (@EvelynPiers) October 29, 2019
Star Wars is huge these days due to the revival of the franchise. The character Rey was introduced in Star Wars, Episode 7: The Force Awakens and she's become quite the popular costume. Evie's Twitter page has her dressed as the character and may I just say that she's done a fabulous job of making it super sexy. She has her ass on display and did an anal creampie scene, which was very hot. I liked how she did up her hair in a brown bun – she resembled the character a lot. There's more coming from this hottie as All Hallows Eve approaches, so stay tuned on Evie's Chaturbate page. 
3. League of Legends Hottie Ahri
New sale! My vids are lit! 10/8/19 Ahri Cosplay Recorded Show PT. 2 https://t.co/ShQV5qZsTP #MVSales #ManyVids pic.twitter.com/G6TtbsNQRB

— Luna (@LLunaTeen1) October 26, 2019
If you've never played League of Legends, I highly recommend you start. Isabelle and I have shared countless hours battling each other on this fast-paced, action-packed game. When I watched brunette hottie Luna dress up as Ahri from the game and masturbate with a giant dildo, I was so turned on I had to take a break and relieve myself, so to speak. Anyway, you can catch a clip of the show on Luna's Twitter page and she has my top vote for the Chaturbate contest! 
4. Horny Tifa from Final Fantasy 7
Dressed as Tifa tonight!!! https://t.co/l3Gtwf4uPu@chaturbate #ChaturbateHalloween pic.twitter.com/t1wfUkp1L8

— 🎃🕷️🕸️Kit Katterson🕸️🕷️🎃 (@TheKittyKatBar) October 27, 2019
Did you hear that they're rebooting the Final Fantasy 7 game for the PS4 console? I'm super excited for this game to come out, which is why I was impressed when I viewed Kit Katterson's cam profile and watched her give a sexy live show as the character Tifa from Final Fantasy. She has the most spectacular boobs for such a small girl and I was instantly in love with her smile and the way she showed off her body. She goes under the name The Kitty Kat Bar on Twitter and she's posted a few pics of herself in her costume. You can also vote for her AVN nomination for Favorite Cam Girl and Most Spectacular Boobs.
5. Big Pirate Booty
Shiver me timbers @chaturbate
Link: https://t.co/9XE1ZAdPVI 🏴‍☠️🦜#chaturbatehalloween pic.twitter.com/zEmnmMqSyF

— Caylin🎀🌸💐💕 (@Caylinlive) October 27, 2019
One of my favorite porn movies is the Pirates of the Carribean parody Pirates XXX, which made dressing up as swashbuckling pirate maids super hot! Long-haired cam girl Caylin is dressed as a sexy pirate wearing those low-cut blouses that squishes a girl's boobs to make them look even bigger. I wanted to rip off her shirt and bury my face in her busty chest. Check out Caylin's pirate costume on Twitter and be sure to vote for her in the Halloween contest by visiting her Chaturbate profile and watching Caylin live.
6. Wickedly Sexy Witch
Witch by me for @chaturbate Halloween🎃#chaturbatehalloween

RT for more pics😏 pic.twitter.com/KbJS1nGc1L

— kinky_ray (@RayKinky) October 27, 2019
I had a chat with redhead Kinky Ray about her sexy witch costume. We spoke about how witches were thought to put men under their spell and make them do all kinds of nasty things. I told her she could cast her curses on me any day…  She was wearing a cute purple witch's hat and a skimpy black outfit with knee-high socks. She posed in sexy positions that showed off her tight butt and teased me by sticking out her tongue. She's a super cute minx and can bubble me up in her cauldron any day! Visit Kinky Ray's Twitter to see photos of her sensual outfit and cast your vote! 
7. Sensational Spider-Gwen
I'm live for the first day of #chaturbatehalloween annual contest as spidergwen
see at https://t.co/yucAiQkPdr pic.twitter.com/ef0iRlLbg6

— Dawn Willow (@DawnWillow_) October 24, 2019
It took me a while to figure out Dawn Willows Halloween costume but if you're familiar with the Spider-Man Earth 65 series, you'll recognize it as Spider Gwen, Peter Parker's girlfriend from the comics. Dawn did an excellent job portraying the character and her spandex suit hugged her curvy body in all the right places. I was turned on not only by her unique choice of costume but also because of her well-versed knowledge of comic books. Check out cam girl Dawn's Twitter to see her pictures and perhaps pick her for the contest! 
Cast Your Vote for the Hottest Halloween Cam Babes
There's still time to vote for your favorite cam girl in the annual Chaturbate Halloween Contest! Visit the site to cast your vote and share your favorite picks on social media with the hashtag #chaturbatehalloween. I'll be tweeting about the contest as well and spending the night watching camgirls in live shows on Halloween while Isabelle gives out candy. There's nothing better than checking out babes dressed up as fantasy characters and doing sexy things in front of your eyes. Happy Halloween everyone!