What's going to be the biggest news story of the last year? Is it going to be the ongoing Brexit saga or the impeachment proceedings against Trump? Maybe it'll be the climate strikes taking place around the world or the recent protests in Hong Kong. But with New Year's just around the corner, I prefer to ask a more probing question: Who are Chaturbate's top five cam performers of 2019? Let's take a look at who made my list, which I'm presenting in no particular order.
1. Realhousewifexxx
My girlfriend, Isabelle, has to travel for work sometimes, but luckily, I've got an online wife named Stacey (her real name apparently). Just like the Real Housewives of reality TV, this busty blonde with 32DDD boobs might not be 100% natural. She insists that her massive tits are the only body parts she's enhanced and fake or not, they look incredible squeezed into the skintight dresses she models.
Her breasts look even better when she takes them out and puts them on display, especially when she masturbates! She's also got a few tattoos and piercings, including a bellybutton piercing. She's the type of girl you could take home to mom. She'd look as sweet as pie in your mother's eyes, but you'd know just what a freak she was between the sheets.
2. Purple_bitch
If seeing the name Purple_bitch is giving you a case of deja-vu, it's probably because I've written about her before – actually more than once. I highlighted her sexy Daenarys cosplay a while back when Game of Thrones was winding down (don't even get me started on the finale). Taty's (her real name) cosplay stands out so much that she's popping up again on my list. I like how creative she is when it comes to the characters she portrays.
Recently, she did some kinky Maleficent cosplay that I'd describe as magnificent! It's a brilliant choice for her because most of us have probably already fantasized about Angelina's character as a Domme after watching that movie. Taty is so committed to the role that even though she's a nonsmoker, she vapes to mimic the smoke that the sorcerer/dragon breaths. It looks so hot I'm almost tempted to add her to my list of smoking-fetish cam girls!
3. Vany_love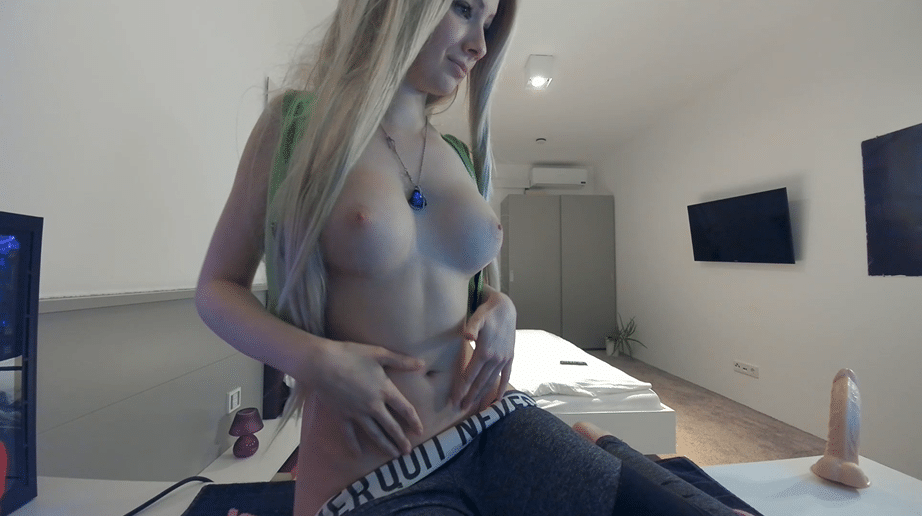 Even though I prefer a domestic beer like my blue-collar dad, my tastes can be more exotic when it comes to watching horny Europeans on voyeur cam. And the sexiest Euro babe for me is Vany_love from Berlin, a blonde with brown eyes, a bangin' body and a nice pair of all-natural boobs. I didn't add her specifically for her ass, but it looks damn good, too! Traditionally, French is known as the language of love, but her German makes me adore her even more. I'm pretty sure that when you hear this fraulein speak English, her accent is going to make you want to bust a nut, too.
She loves her sex toys and besides often masturbating upskirt, she also simulates oral sex with a hyperrealistic-looking dildo. She also has a remote-control vibrator that she lets her fans take charge of and I'm always down for teledildonics – find out how they work here. I love the idea that we can all get together and make this German cam girl orgasm. I guess you could say that teamwork makes the cream work!
4. Felicity_yours
I've got to include Felicity_yours for one very simple reason: this petite girl has the best booty by far. She definitely qualifies as a PAWG (phat ass white girl)! This shy babe who never shows her face puts her sexy butt on display a lot – turning her back to the cam is one of the ways she hides her identity. She's kind of like the singer Sia in that way. She also sometimes hides behind her long hair or angles her webcam so only her torso is visible. You'll never hear her say, "Hey buddy, my eyes are up here!"
She also positions her webcam for some incredible upskirt angles. And she loves showing off her long legs in an incredibly short schoolgirl kilt. I say "schoolgirl" but I'm not sure what school's dress code would allow a hem that high plus she's topless, so it's not the entire uniform. She models a lot of panties, too, mostly boy-cut shorts and thongs, which really do justice to her butt. My favorite part of her live shows is when she double-penetrates herself with a sex toy!
5. Daddyslittlegirl01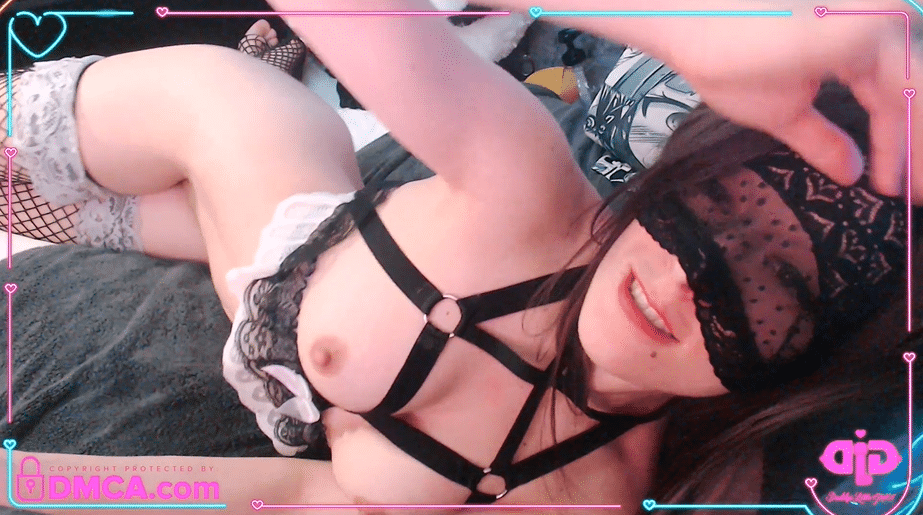 She calls herself Daddyslittlegirl01 and this sexy American babe has Latin and Asian heritage. She's only 5′ tall and 90 lbs., but this little sex kitten's measurements are 34-16-36, so her tiny frame has some impressive curves. It's not clear which side she gets her love of fetishes and S/M from, but she's a petite cutie who's into kinky sex! She's also down with cosplay, so she knows how to keep things interesting.
Just take a look at her tip menu and you'll find some tempting options, like asking her to play with her sexy feet, squirt for you or fuck her ass with a butt plug. Clearly, she's the kind of cam girl who could get a lot of daddies into trouble! She incorporates her Omibod vibrator in her shows with tips, getting herself wetter and wetter. She also gives prizes away to the top tippers each session, so she offers an interactive experience – even before you go private.
Have a Happy New Year!
If you think I've missed anyone who's worth mentioning or even if you have a site you'd like to see reviewed in the new year, be sure to email me with your suggestions. You can also follow me on Twitter or check out my feed on my homepage.