OK, so they aren't real cam performers, but SNL comediennes, Aidy Bryant and Cecily Strong, were quite the pair on cam as they satisfied their room regulars in last week's lineup of SNL sketches. The colors on the fake cam site were very reminiscent of a major cam broadcasting platform (cough, Chaturbate, cough) but I don't think you'll see these funny ladies performing on the real thing any time soon. Heck, that's one show I'd be first in line for!
The skit, titled Espionage, had eyepatch-wearing host Gal Gadot playing a European spy negotiating with law enforcement. They are speaking over video chat about payment for a flash drive containing sensitive information. The only problem is that the wires are getting crossed and her feed is constantly being interrupted by a boisterous live webcam broadcast.
As Gadot's hot accent fades out, we're introduced to Miss Vixen (Strong) and Kay (Bryant), a camming duo with a ton of Southern charm that are ready to please their online fans. We get glimpses of them chowing down on pickles (getting close to the camera since as the member wanted to hear the crunching), dancing with their male neighbor, played by Kyle Mooney, and even making each other dizzy, all for their members' enjoyment. Apparently, the day before saw Kate sitting on a cake. The animated tip jar fills as the ladies satisfy their horny member requests. The scene ends with the 40 million dollars that is supposed to go to Gadot being sent right to the models' tip jar!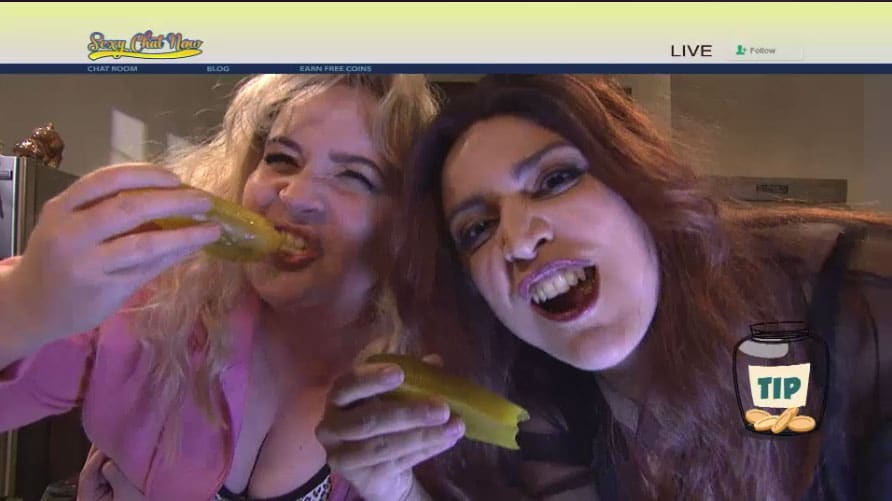 While some real life cam girls saw the humor in the parody, it seems others took to Twitter to express a different opinion. Did you see it? What were your thoughts? Watch it here!