Chat Random is one of the quickest and easiest ways to chat with random girls from all over the world. Did I miss something? Send me an email!

Pros
1000s of users online 24/7
Intuitive, free mobile app
Filters based on gender and location
Cons
Webcam must always be on
No favorites tracking
Bottom Line
It's not always easy to meet new people - unless you're on Chat Random! And it's 100% free too. Just click the Start button and you'll be on your way to chatting with babes from all over the world. Better yet, do it with their free app, where you can use your phone's camera like a webcam and have fun with face filters and use a gender and location filter. There's even a section to chat with professional webcam performers, but that part isn't free and requires an account.
My Full Chat Random Review
What is Chat Random?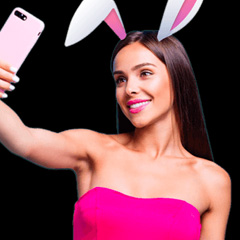 I'm a pretty outgoing person and generally, it's not hard for me to meet new people. But that doesn't mean I don't luck out sometimes. Well, thanks to technological advancements, it's easier than ever to meet people from around the world. And there's one particular site and app that has helped me do that called Chat Random.
Chat Random launched in 2011, and I have to be honest, it was off my radar for the longest time. I already had a few other random chat sites I was enjoying, but after a while, I decided to give this one a shot. The first thing I liked was how easy it was to get started. No account creation necessary. Just hit the Start button and boom - you're on your way to chatting with amateur girls. Just make sure your webcam is on though, otherwise, a prompt comes up telling you to turn it on.
Interact with 1000s of Users 24/7
The interface is pretty much like any other random chat site I've seen. There's the webcam window at the top where you'll see the girl you're chatting with, the one below it with your webcam and a big chat window to the right. Within seconds I was interacting with a hot babe. Sure, I had to sift through a few guys first, but with over 50,000 users online throughout the day, it wasn't too hard to find someone I liked. I also used the gender and location filters to find someone a little more specific. And if one person isn't enough, there's a cam4cam option that lets you chat with up to four people at a time! There's also a Girls Roulette and Gay Chat tab to interact with professional sex cam performers, but you'll need to create an account for that section.
Try Out Their Free Smartphone App
These days, I do a lot of camming on my smartphone, which I know a lot of you are doing too. That's when I noticed their free mobile app! Well, naturally, I had to try it and I think it may be the best way to experience the site. For starters, your phone's camera essentially becomes your webcam. The interface is sleek and it looks like it mostly pairs you with other users who are also using their smartphones. I got matched with a girl who was literally on a hike somewhere in California and we spoke for a solid 10 minutes as she took a run. Plus, with how advanced smartphones are these days, the picture and audio were super clear!
The app also works a little like Tinder, where you can swipe to go to the next girl. One of my favorite features was the face filters! Just like the ones you see on Snapchat or Instagram, you can apply filters to the camera to either make yourself look a little better with softer lighting, or add funny bunny ears to your face and other random things. I don't always like how I look on camera, so I definitely took advantage of them.
Meet Girls Easily on Chat Random
ChatRandom is a lot of fun - and free! I had a great time chatting with cute girls and honestly, I even spoke to a couple of guys about video games and music. I do wish there was a way to save your favorites though. After I spoke to that California chick, I realized I had no way of getting back in touch with her. But hey, maybe it was for the best. After all, part of the fun comes from meeting new people every time. And if that's something you're interested in, give it a try.
Click Here To Visit Website
Similar 🔀 Sex Roulette Sites

On LuckyCrush, enjoy a private video chat with a random opposite-sex partner within 10 seconds. Guys are randomly connected with girls, and girls with guys. And access is free!

Looking to chat with sexy, random strangers from around the world? Welcome to Flingster! You can meet nearly 500,000 people for free adult video chat. Getting started takes seconds!
Sign Up and Get Exclusive Email Offers
Put your fate in my hands and you're bound to get lucky!

This simple roulette-style cam site brings you one hot live babe after another, looking to have fun. Sex Roulette doesn't have guys to deal with, so naked girls can be your focus.

Let the Camingle roulette pick random babes for you to chat with, or select the perfect girl for you. Either way you're a click away from a hottie getting naked on live cam!

The Omexxx "random" feature acts like a roulette. It's free to go one-by-one through all the sexy girls on the site and chat with them. You'll also see many of them fully naked.

You never know who you're going to meet on Chat Random. Connect and chat with random strangers from around the world, all waiting to talk with you and go cam2cam!

Meet random people from around the world on Shagle, a completely free site where you can connect with others and have live cam2cam chats with thousands of strangers.

ChatSpin is an incredibly easy-to-use app designed for smartphones. It lets you connect with strangers from around the world for a random chat, all in the palm of your hands!

Bazoocam is a webcam based social media site, where you can randomly chat with people from around the world with the single click of a button. You never know who you might meet!