LuckyCrush makes it easier than ever to randomly meet girls on a chat roulette site - and avoid guys! Share your thoughts by email!

Pros
Chat with girls 24/7
Mobile-friendly interface
Avoid seeing guys on cam
Cons
No free chat
Requires the use of a webcam
Buying minutes can get expensive
Bottom Line
LuckyCrush is an interesting take on the roulette cam site. Instead of having to sift through dozens of guys, you'll get the opportunity to chat with girls only, who make cash for sticking around, so they're always motivated to interact with you. You can test the waters for a few minutes for free, but eventually, you'll need to buy minutes if you want to continue having conversations with them. But it's totally worth it! The girls are fun, friendly and you can have a great time flirting with teens and MILFs from all over the world and never worry about seeing naked dudes.
My Full LuckyCrush Review
What is Lucky Crush?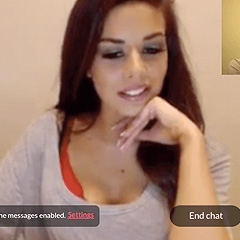 There's no doubt that roulette cam sites are popular. Sure, we all have a type of girl we like, but chatting with someone completely random could be a lot of fun too. You never know who you're going to meet! LuckyCrush is another roulette chat site, but unlike others in the category, this one guarantees to get you camming with girls quickly rather than having to sift through countless guys first. They do this by creating an incentive for female users, through a reward system that lets them earn cash.
Randomly Chat With Girls Within Seconds
Usually, on roulette chat sites, you get asked a few questions to help you find a good match, like your gender, sexual preference, age, location, etc. Well, LuckyCrush.live only asks you one question: your gender. If you're a guy, you get paired with girls and if you're a girl, with guys. There is no gay, lesbian or trans chat. After that, you have to create an account with your email, username and password.
Sure, the signup process is quick but don't get too excited yet. You only get to chat for free for a few minutes before you're asked to buy minutes, which are roughly $1.20 USD/min. It might sound affordable, but you'd be surprised how quickly it adds up. They offer a few packages with discounted rates though.
Purchase Minutes to Enhance Your Experience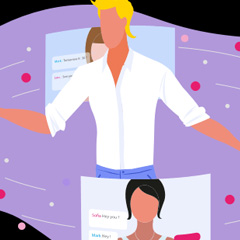 After signing up and buying minutes, I was ready to get started. I clicked Start Chatting but got a warning that said my webcam wasn't on. Looks like it always has to be on, so just be prepared to be on camera, though you can just show your torso if you want. Within seconds I was paired up with a sexy blonde teen. But I was in the mood for a MILF, so I hit Next and up popped an older woman showing off her big tits. We chatted for a few minutes, but just as things were starting to heat up, she hit Next on me. So yeah, be prepared for rejection!
Don't expect girls to get naked the second you start chatting though. Remember that incentive I told you about? Well, how it works is that the longer a woman chats with you, the more money she earns, so it's always in her best interest to keep you around for as long as possible. So, just be prepared to invest a little time (and money). They make it worthwhile though. All the babes I interacted with were fun, flirtatious and down for a sex chat after a few minutes.
Chat Translation Tool Available
You'll be navigating a simple and clean interface, whether you're on a desktop or mobile device. All the girls seem to be using HD webcams and there's even a chat translation tool to help you interact with any who don't speak English. It's not a perfect tool and the translations were a little off sometimes, but hey, it does the trick! It would be nice if they'd let you add a girl to your favorites though. I had a really good rapport going with this one chick, but when I left the site, I had no way of contacting her again.
Easier Than Ever to Chat With Girls Only
LuckyCrush is an interesting take on the random chat theme in that you're guaranteed to only get paired with people of the opposite gender. For any of you who have been on other chat roulette sites, you know how frustrating it can be to have to sift through endless cams with men until you finally land on a woman. You'll never have to worry about that here. Just don't come expecting free chat. You need to purchase minutes and your webcam has to be turned on. Yes, you can hide your face if you want to, but girls might have an easier time connecting with someone they can actually see. If you're good with that, you'll have a great time.
Click Here To Visit Website
Similar 🔀 Sex Roulette Sites

New roulette experience with girls! Click NEXT and connect to a brand new girl next door each time. Cam2cam/Roulette with 100% girl matches.

Looking to chat with sexy, random strangers from around the world? Welcome to Flingster! You can meet nearly 500,000 people for free adult video chat. Getting started takes seconds!
Sign Up and Get Exclusive Email Offers
Put your fate in my hands and you're bound to get lucky!

This simple roulette-style cam site brings you one hot live babe after another, looking to have fun. Sex Roulette doesn't have guys to deal with, so naked girls can be your focus.

Let the Camingle roulette pick random babes for you to chat with, or select the perfect girl for you. Either way you're a click away from a hottie getting naked on live cam!

The Omexxx "random" feature acts like a roulette. It's free to go one-by-one through all the sexy girls on the site and chat with them. You'll also see many of them fully naked.

You never know who you're going to meet on Chat Random. Connect and chat with random strangers from around the world, all waiting to talk with you and go cam2cam!

Meet random people from around the world on Shagle, a completely free site where you can connect with others and have live cam2cam chats with thousands of strangers.

ChatSpin is an incredibly easy-to-use app designed for smartphones. It lets you connect with strangers from around the world for a random chat, all in the palm of your hands!

On LuckyCrush, enjoy a private video chat with a random opposite-sex partner within 10 seconds. Guys are randomly connected with girls, and girls with guys. And access is free!

Bazoocam is a webcam based social media site, where you can randomly chat with people from around the world with the single click of a button. You never know who you might meet!