I'll never forget the first time I discovered the Dominatrix cam girl known as Goddess Jessicaa (yes, that's Jessica with two a's). She was wearing this incredibly tight latex dress with fishnet stockings, high heels and plump red lips. She was slowly puffing away on a cigarette while chatting with the users in her room, smiling and laughing the entire time. There was something intriguing about her and I knew I had to get to know her a little better. I quickly realized that she's a truly special female Domme so I decided to highlight her in today's blog and share with you all I know about her!
Who is Goddess Jessicaa?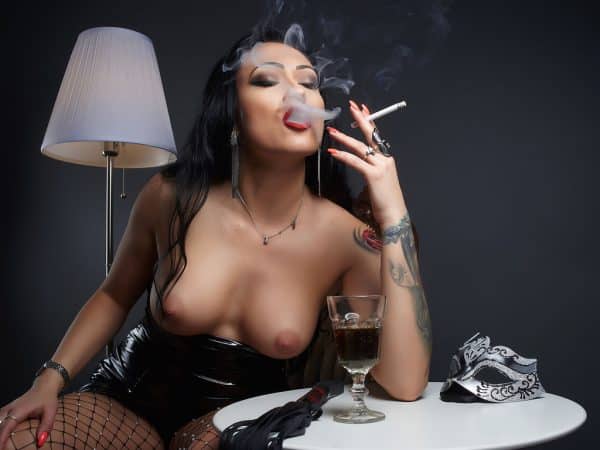 Jessicaa is about as classy as they come. She's a Romanian beauty with slender legs, a curvy figure and perfect tits. I also love a girl with ink and she has almost her entire left arm covered. Sometimes she wears glasses that make her look like a naughty librarian and – damn – is it ever hard to concentrate on anything else when she does that!
In her bio she says, "I'm here to enslave you with seduction, lure you with temptation until you lose control and you surrender to my beauty." Then she dares you to submit to her during one of her private shows. Well, submitting is something you won't mind doing for this incredible Domme. She'll indulge you in all your fantasies if you treat her right, including JOI, SPH and she'll make you her sissy for life.
Worship Her Beautiful Soles and Toes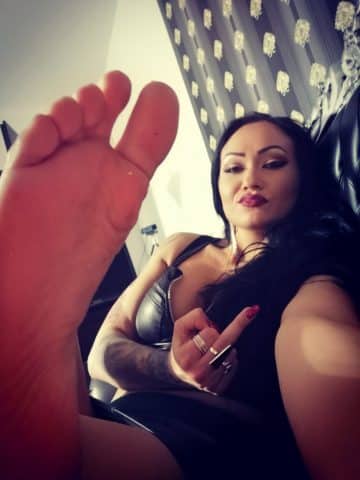 If you have a foot fetish, you're going to love this dominant cam girl. She has perfect feet that are practically begging to be adored. But this foot-fetish Mistress demands that you respect her and earn the right to do so. So show her how good you are at submitting and maybe, just maybe, she'll let you watch as she takes off her heels and dangles them on her toes. And if you're really lucky, she'll put her feet right up to her webcam.
She also has the most perfect set of lips, and even though I'm not much of a smoker myself, watching her puff away at her cigarette is incredibly hot. Every time she pulls it away, you can see the red lipstick stains she leaves on the end of it. I'm sure anyone with a fetish for smoking cam girls will really love it when she does that.
Submit to This Mistress Tonight

If you've read my blogs on the Top Dommes or the best BDSM Cam Sites, then you know I've dabbled as a sub with a few Mistress cam girls, but I have to say that Goddess Jessicaa has definitely become one of my favorites. It's not just the way she performs on camera, but also the way she's able to connect with her fans and always remain vibrant, fun and a true pleasure to chat with. So I highly recommend you give yourself the gift of a private show with this badass chick. If you do, let me know what your experience was like in the comments or shoot me an email! I want to hear why you love her. And trust me, you will!