A few months ago one of Isabelle's (my girlfriend) best friends got pregnant. This is a girl Isabelle and I hang out with quite a bit. She's already cute, but as her pregnancy has progressed, it's reminded me just how sexy pregnant women are. Each time she comes to visit I find myself more and more attracted to her. While I wouldn't recommend other guys telling their girlfriends how hot they find their pregnant friend, I did mention it to Isabelle the other day.
Thankfully, my girlfriend is super cool. No, she didn't say, "I'll ask her to have a threesome with us." But she did smile, said I could look at – but not touch – her friend and told me to check out pregnant girls on my favorite sex cam sites instead. Which is exactly what I did. Assuming there are other guys out there who have the same appreciation for pregnant women, I decided to write up a post about my favorite pregnant cam girls – right now. I said that because, obviously, depending on when you read this, they might not be pregnant anymore.
This blonde 20-year-old cutie was one of the first preggo girls I chatted with. The day after Isabelle encouraged me to cam with them I woke up early, jumped on Chaturbate and clicked the "pregnant" tag. Being that it was so early in the morning I wasn't sure what I would find, but up popped this preggo Aussie and my morning was set. I love a girl with an Australian accent and add that to her bulging belly and I was good to go.
I will say that when I first entered her room, she seemed a little bored and not very engaged. However, I think that could've just been because of the other members in the room who weren't really talking. Because once I said hello and started asking her questions, she put down her phone, smiled and we never looked back. I didn't even end up taking her private. Instead I – along with a few other guys – gave her some tokens and we all got a great show.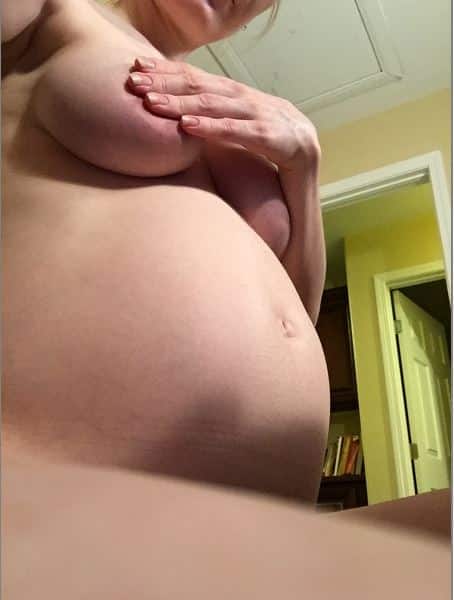 I also spent time looking for preggo beauties on Rabbits Cams and that's where I found Shortcake. While Dddeatheater brought together my love of preggo babes with my love of girls with Australian accents, Shortcake combined the pregnant fetish with my adoration for redheads.
She's a 24-year-old American with long red hair, pale skin and a beautiful body. Her profile page has pictures of her from before she was pregnant and she looks slim and fit and super sexy. But now, it's a whole other level of hot with her firm, bulging belly.
Shortcake doesn't like to use sex toys, but her fingers were all she needed in our exclusive one-on-one chat that included pussy and anal play and some fun role play that I suggested and she was excited to act out with me. It's been pointed out in her "member comments" that she's sexy, sweet and very friendly. Well, I have to say that I can't wait to visit her many more times throughout her pregnancy as her belly grows.
With a screen name like Huge_dairy_tits and a profile image like the one above, you know I was intruiged! I didn't do any kind of lactating play with the other girls I chatted with so when I saw this 20-year-old Russian advertising her milk-filled mammaries I jumped right on it and explored some milk-fetish fun.
Her English is good enough that we were able to communicate, but I didn't really try to have an in-depth conversation or anything. Her profile is all about promoting how horny and dirty she is and that's what I wanted – and what I got. Big lactating tits, a preggo belly, load moans and ass and pussy play were all on the table and I asked for them all. I'm not sure when she's due, but I hope you catch her online before she gives birth.
Discover More Beautiful Pregnant Girls on Cam
While these three babes won't always be pregnant, many live cam sites offer a Pregnant tag and/or category and there will always be bun-in-the-oven beauties just waiting to chat and play with you. Maybe in the future I'll do another preggo post and let you know about my favorite pregnant cam girls at that moment.