As you likely already know, I've visited a lot of live sex cam sites and talked to a lot of models. Over the years I've learned a few things about how to communicate with girls on cam and the proper etiquette I need to get me what I want and to have the best experience possible. So, I would like to share some of the wisdom I've gleaned over these years. And because I love lists I've broken it down into the top 3 sex cam etiquette rules.
Rule #1: Be Polite
This one should go without saying, but I've been in enough live sex chat rooms to know that it still needs to be said. Yes, we all know what the purpose of sex cams are and you and the girls both know what you want. But that still doesn't give you free reign to be a jerk!
Say hello. Ask them how they're doing. Don't call them names or insult them (yes, it happens way more often than you might think). Tell them they're beautiful and point out something about them that specifically appeals to you. You can compliment their body without treating them like a piece of meat.
I will admit that in the past I've had my own jerk moments with cam girls, talking to them like they were only there to serve my need to see tits and ass. I can tell you that those experiences never went well. If I didn't get banned from the performer's room, she just ignored me. But I've learned my lesson and I've even gone back and made a point to apologize to performers I was rude to, which actually led to some of the best cam shows I've ever had!
Rule #2: Be Original
We all want to believe that we're the most important person a cam model has talked to that day. However, we have to remember that she's probably already talked to dozens, if not hundreds, of other guys before you even got to her room and said hi. So, try to mix it up.
While I might think I'm just being polite and asking her name, age, where she's from, etc., she's probably already been asked those same questions 100 times just that day (not to mention the hundreds more times every other day she's been online). Plus, the answers to many of those basic questions can usually be found in her profile/bio, so always check that first.
So, how can you be original? Well, I often like to read her bio and then ask a question that relates to something there that shows her I've read it and am interested. Maybe I'll make a comment about her zodiac sign (which is often listed) and a personality trait related to that. Or I'll look around the room she's camming from and ask her about a poster on the wall  or one of her tattoos. Doing that often makes a live cam girl more at ease and makes you stand out from the crowd with the same old questions. And once you have her attention…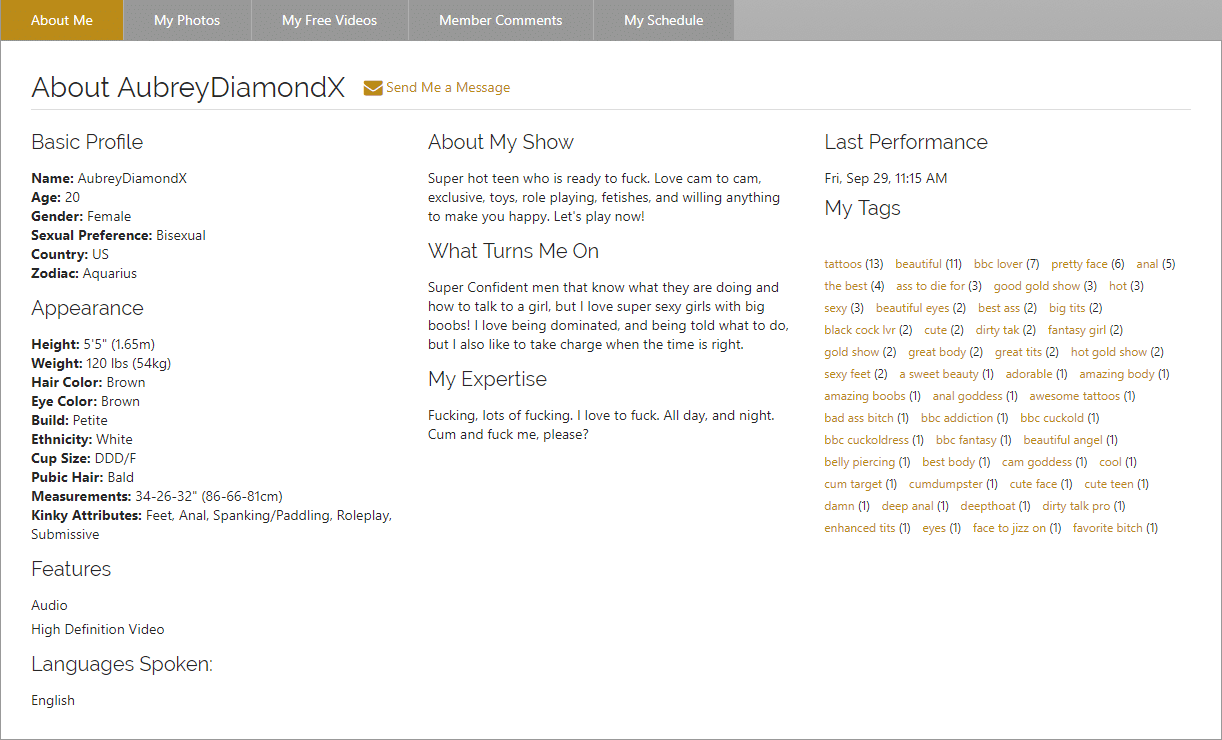 Rule #3: Don't Waste Her Time
Remember, this is their job. Yes, they're exhibitionists and, yes, they want you to be happy and satisfied, but their time is money and spending all day in the free chat room isn't going to pay their bills. These ladies ultimately want to do live private shows (or different variations thereof). If all you want to do is talk about their favorite movie (another of my favorite questions to ask), they'll eventually move on and find someone who actually wants to spend money. So, while you're being polite and original you also want to make it clear that you aren't just there to gawk and freeload.
I like to make sure she knows I'm attracted to her and turned on. Another reason to read her profile is to find out what she will do during her cam show. If she says she uses toys I'll ask what kind of toys and if I can see them. If she says she likes roleplay I might tell her what roles I like to act out and see if she'd be into that.
Remember my first rule, though. Don't demand that she stand up and show off her ass or tell her to flash her pussy and then you'll take her private. Also, if her profile mentions something she won't do, DON'T ASK HER IF SHE WILL DO IT! She won't and if you keep asking, it either shows her you didn't read her bio or you don't care, or both!
So, there you have it. Those are my top 3 rules for live sex cam etiquette. Follow these and the girls you chat with will be more interested in giving you a great show and not wasting your time, either.