UFC 229 is right around the corner and it might arguably be the most anticipated UFC fight in history. Connor McGregor is set to take on Khabib Nurmagomedov and it seems like everyone has an opinion on who will win and why. But I have a confession to make. Though I do look forward to this matchup, I also have another reason for enjoying MMA fights. The women. And I'm not just talking about the sexy Octagon Girls. I'm talking about badass MMA fighters who kick ass and take names.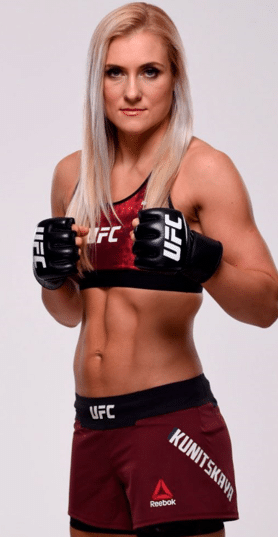 Yana Kunitskaya (pictured above) is scheduled to fight at UFC 229 and I have to admit, I have a huge crush on her. Then my girlfriend, Isabelle, came up with the idea of looking up muscular cam girls. And it didn't take long for me to find these fit ladies. 
This German-born beauty is all about living a luxurious lifestyle. And what a life it is! Trips around the world, getting naked on cam and working out every day. The results speak for themselves because Julie really is a goddess with an incredible body. She likes to flex her muscles on cam, show off her perfectly sculpted ass and wear stocking, leggings, pantyhose and boots. She loves to dominate and specializes in financial slavery, cuckolding, SPH, JOI, CEI and facesitting. I was practically exhausted (in the best way possible) after spending an evening camming with her.
I had one thought and one thought only when I met this woman (who never revealed her real name to me, but was okay with me calling her babe). I wanted her to crush me with those muscular legs. Just look at them. This is one lady who never skips a leg day. She can be fun and flirtatious one second and a lustful nymphomaniac the next. Her biggest turn-ons are roleplay and talking dirty, so don't be afraid to reveal your innermost desires, especially if you happen to be a fan of cuckolding. It's one of her favorite activities and gets her incredibly aroused.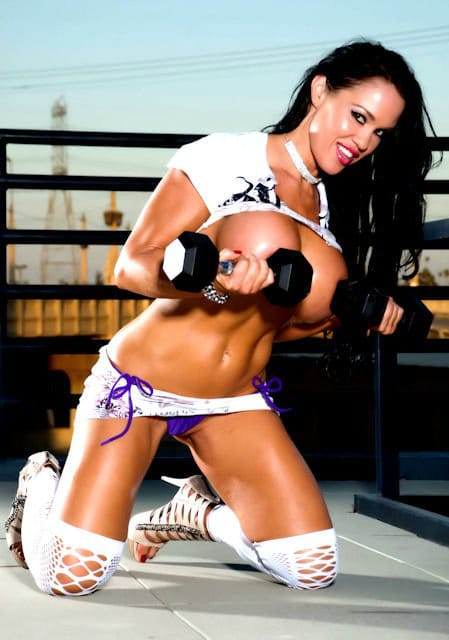 If you recognize Samantha it might be because she's an established fitness model who's made a name for herself in the fitness industry. That, or maybe you've seen her pleasure herself multiple times on cam. This busty, fit beauty has enormous fake boobs, loves to work out naked and enjoys oiling her body for her crazy hot cam shows. Her specialties include titty-fucking, muscle worship and JOI. I once spent an entire evening just chatting about workout routines with her. Another time, things got way more X-rated, but that'll be my little secret. Just take her private and you'll know exactly what I'm talking about.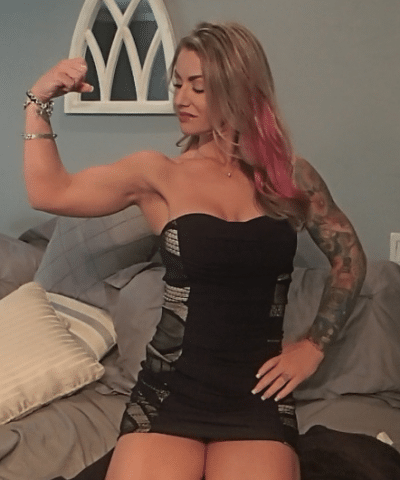 I was turned on by Sunny just by her tattoo sleeve. What can I say? I'm a sucker for girls with tats. It turns out that she's also pierced. And no, I'm not talking about her nipples. Sunny, like a lot of other muscular cam girls, coincidentally, loves to dominate, roleplay and take on Mistress duties with confident men. When I spent some alone time with her, she gave me a virtual blowjob with one of her dildos and would only stop to talk dirty. It was easily one of the best cam sessions I've ever had.
This MILF is not just muscular, she's downright shredded! She's an actual FBB (female body builder) with competition experience. When she's not competing, she's getting naked on cam and putting on some of the steamiest, most sensual stripteases you'll ever see. She loves teasing men of all ages, but she claims to have a weakness for younger guys. I guess that's not too surprising given her screen name is Fit Cougar. But her biggest turn-on? Having sex in public, even if she knows someone is watching.
Train Your Libido to Handle These Fit Cam Babes
These cam girls are easily some of the wildest and horniest you'll ever meet. They're also some of the most dedicated, hard-working and fun performers. It obviously takes a high level of focus and determination to achieve the bodies they have and to me, it looks like they apply that same effort to their cam shows. They can last all night, so start eating your vegetables and drinking your protein shakes so you can keep up with them!