The Cure, Placebo, Chelsea Wolfe, Bauhaus and Joy Divison. When I think of goth, those bands and artists come to mind (of course, there are hundreds more I could mention). There's a certain aesthetic about the culture that's fascinating and undeniably sexy. Perhaps it's the idea of shunning societal norms and not conforming. It's also less about the look and more about the uninhibited attitudes. Plus, it's sexy as hell! I've encountered some stunning goth cam girls and today I wanted to give them the spotlight. These are my favorites!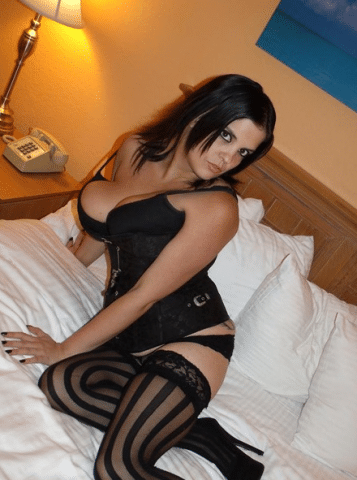 If you recognize Trinity, then there's a chance you've checked out videos from Scoreland. She was rated their top XL girl at one point in time and it's easy to see why. Aside from being gorgeous, her big tits and beautiful curves will have you drooling. And Trinity knows how to have fun. Here's a quick excerpt from her bio on what excites her: "Kinky Freaks. Thick cocks. Tattoos. Piercings. Nerds. Geeks. Gangbangs. Rockers. Rough Sex. Men & Ladies who are closet freaks!" She's skilled in all facets of roleplay and BDSM and her goth style and personality come through in her live shows.
Ouija boards, Game of Thrones and board games. Three things any nerd/goth is going to love to hear. Sierra is no exception, but you can add "sex" to that list too because she's freaky in all the right ways and isn't afraid to let her flag fly. Her tattoos, her clothing and hair, and her sex toys strewn across her bed – all of that is enough to get your blood flowing quickly.
Sierra can cater any live session to your freakiest desires. One of the things she asks is that you tell her what your top 3 kinks are. Then, she'll what she does best. According to her profile, some of her skills include stripping, the art of seduction, stealing your chi, jiu-jitsu, giantess roleplay and burp fetish. (Yes, you read that last one right.)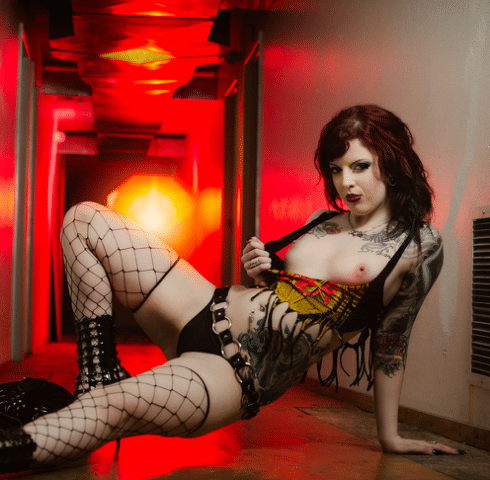 Penny falls more into the metal-head category than the goth one, but who says the two can't coexist peacefully? Penny is a rockstar in every sense of the word. When I saw this picture of her in fishnets and ripping apart her Slayer shirt, I instantly wanted to become her slave. Penny loves anal. So much so that she accentuates it by saying that she "love love loves" anal sex (her exact words). She expects confidence and respect from the people she talks to online. Trust me, you'll be more than happy to give it to her in exchange for a phenomenal time.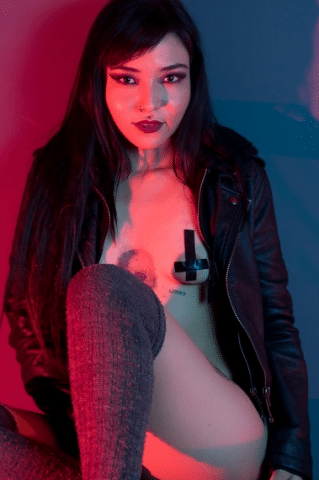 Molly is young, bisexual and carries the energy and the aesthetic of the goth culture in the way she performs and looks. Her piercings, tattoos and inverted cross made of tape on her nipples all add to that, but more than anything it's her equally dominant and submissive personality that will have you falling in love with her. Molly's specialties include leather, straps, harnesses and more. She revels in the fact that she can be tender one minute and a sadomasochist the next. It's easy to see why she deserves multiple visits from you.
If these cam girls fell into different musical genres, Gilded Goth would Black Metal. Donning a form of corpse paint (a look that's often seen on Black Metal bands like Gorgoroth, Mayhem and Immortal), she's as hardcore as they come. Don't be fooled by the "hard" aesthetic in her photo, though, because she's authentic and sweet and an absolute pleasure to spend time with. She loves a sense of humor and laughing turns her on. In fact, one of her specialties is "making people laugh and cum." Sounds like a winning combination to me! She also specializes in feet and has terrific ones, so if you're a foot lover, you should pay her a visit.