Ole Cams has dozens of Latina babes from countries like Colombia, Dominican Republic and Spain waiting to chat with you. Check out these professional cam girls and tell me what you think by email!

Pros
Latina performers with HD webcams
Mobile-friendly interface.
Cons
Most performers only speak Spanish
Not always a big selection of cam girls
Bottom Line
Ole Cams has the hottest professional cam girls from Columbia, Cuba, Venezuela and other Spanish-speaking countries! There are roughly 50 to 60 performers online throughout the day, but sometimes a little less. Either way, they're all using HD webcams and waiting for you to take them Private. They don't get naked in free chat, so you'll eventually want to create an account and grab yourself some credits to have some fun. Unfortunately, most girls struggle a little with English, so you might have some trouble communicating unless you have a strong grasp on the Spanish language. But if you keep your requests simple or use Google Translate, you should be able to talk to them.
My Full Ole Cams Review
Want to Chat With Latina Cam Girls?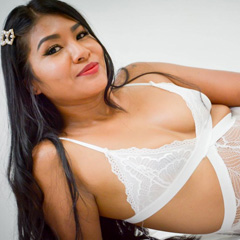 Hola chicos, ¡Paul aquí y me encantan las chicas españolas! Oops, sorry, I think I've been spending too much time on Ole Cams! But can you blame me? When you see the girls on this live cam site, you'll want to spend hours with them too. I got to connect with sexy Latina women! You won't find any Americans - and honestly, that's fine with me because sometimes it's nice to spend time with babes from other cultures.
There's no mistaking that these are studio professionals from countries like Spain, Colombia, Venezuela and Peru. Next to each girl's thumbnail is a flag indicating their country of origin. There are also several categories to find girls based on their country. The ones I mentioned are the most populated. Categories like Italy and Cuba rarely have women online.
Check out Dozens of HD Webcams
Depending on the time of day, I was usually seeing about 50 to 60 performers online using HD webcams. It's not a terrible amount, but it certainly isn't the variety I usually see on other sites. At one point, I logged on early in the morning and only found 20 performers, so it really depends on the time of day you visit. There are also some Trans performers, but I never saw more than two or three online.
Create an Account - Get Free Credits
After spending a couple of minutes looking at all these smokin' hot Latinas, I decided to create an account. You can't chat with the girls unless you have one. It literally took me 15 seconds and after verifying my email address, I got 60 free credits! That's great and all, but I knew I would need more eventually because this isn't a free site like My Free Cams, where girls get tipped and naked in public. There's no nudity in free chat. For that, I would have to take a girl private.
These babes are very eager - almost too eager sometimes! They can probably see users who have a credit balance. As soon as I started chatting with almost any performer, they seemed very enthusiastic and tried to get me to take them private. I don't mind that kind of attention, but there's also an element of "hey, let me get to know you a bit before I spend money on you." Regardless, I eventually found a hot Latina redhead that piqued my interest, so I immediately took her into a 1-on-1.
Private and Group Shows
private show costs really fluctuated. Some would charge about $2 or $3/minute, but I saw others charging close to $10/minute. So yes, it can get expensive. And keep in mind that most don't get naked in private right away. They'll want to chat with you a bit first to get to know you. And that's when I discovered one major hurdle - most performers don't speak English and it doesn't look like they have a chat translation tool either. They picked up on simple requests, but anything overly complicated was met by confusion. I tried working around it by using Google Translate and it helped a little.
I wish my Spanish-speaking skills were better, not just so I'd have an easier time communicating with the performers but also understanding their profiles. It seems like most of them have a lot of details, but since they're all in Spanish, I only got about half of what they said. But at least most of them have free XXX photos to check out.
Group shows are another option. They work slightly differently from other sites. Instead of a performer setting a credit goal, a user needs to request a group show first. Other users in the chat room will see that a request was initiated and if they all reciprocate the invitation, the performer can accept it and bring everyone into a group show. Just like one-on-one shows, the cost depends on the girl and you'll see a lot of fluctuation.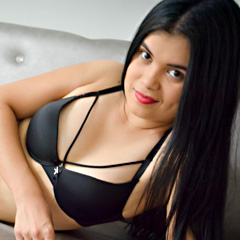 Browse a Mobile-Friendly Interface
Aside from categories based on country, there are also some more traditional ones like MILF, Feet Fetish, Couples and Teen 18+. There's also a basic search engine but I don't think it worked. I tried searching for something as simple as big tits and nothing popped up. I even tried translating it to "grandes tetas" instead (I thought maybe it would have an easier time with a Spanish search), but I still got nothing. But hey, at least the mobile-interface is great! It runs smoothly and I had no issues navigating on my smartphone and tablet. The cams all load quickly, look clear and switching from webcam to webcam is just as seamless as it is on the desktop version.
Brush up on Your Spanish With Ole Cams
To get the most out of OleCams, you should have at least a decent grasp on the Spanish language. But don't get me wrong, even as someone like myself who barely understands it, I still spent hours with these hot Spanish chicks. As long as my requests weren't overly complicated, I got them naked and pleasuring themselves in private in no time! Plus, what better way to learn the language than by practicing on these horny Latinas, am I right!?
Click Here To Visit Website
Similar 🌐 International Cam Sites

The German beauties on Jetzt Live are hot and horny and put on great live cam shows. One look at their sexy teaser video will make you want to chat with these babes right away.

Don't bother searching for the handful of Latinas on other live cam sites. At Camera Prive, that's all you'll find! They have low per-minute rates and free chat rooms too.
The Best From Around the World
Get tips on how to mingle with girls from all over the world on cam!

Although these live cam performers are from Holland, you don't have to speak Dutch to enjoy their naked bodies and chat with them. And there are many sexy girls to choose from.

Morbo Cams is a Spanish sex chat site. It's free to browse and see the Spanish babes live on webcam. The site is mobile-friendly and there are a variety of shows and price points.

German amateur sex cams with uncensored HD webcams. Chat with dozens of babes and stay anonymous while discovering why German girls are so much fun!

There's nothing quite as heavenly as the German webcam babes on 777 Live Cams. Explore the many girls who are online all day and maybe even take one private!

This German site has live stripteases where you can discover the hottest amateur cam girls. Explore a modern platform with hot cam shows!