Want to chat cam girls from around the world and maybe even spy on someone else's private show? Take a look at the 1,500+ performers online all day at Voyeur Villa. Share your comments by email!

Pros
1,500+ performers online 24/7
Mostly HD cams
Incentives for spending tokens
Cons
Delay with teledildonics
Some expensive cams
No free chat
Bottom Line
This is an excellent cam site filled with babes from around the globe waiting to chat with you. With 1,500+ online at a time, you're always going to have someone who piques your interest. You can chat for free, but only if you create an account, but ultimately you'll want to buy tokens if you want to activate a performer's smart sex toy or have a private or group show. There are many ways to spend your tokens, and they give you incentives by unlocking tiers with additional benefits.
My Full Voyeur Villa Review
What is Voyeur Villa?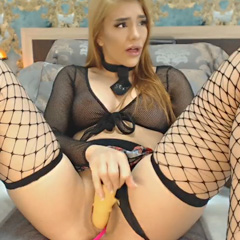 A long time ago, I went to a private villa in Italy with an ex-girlfriend. As beautiful as it was, it wasn't great. I won't go into details, but I will say this - I wish the place was more like Voyeur Villa, because even though this isn't a literal villa, it is packed with beautiful cam girls and believe me, if you want some privacy with one of them you can have it. Before I go any further, I should tell you that the Voyeur in the sitename is a tad misleading. This isn't a traditional voyeur site - there's no Big Brother-style apartment with couples living there and going about their daily lives and occasionally having sex. It's just a regular live cam site.
Chat With 100s of Cam Girls 24/7
Go to VoyeurVilla in the day, afternoon, evening, whenever, and you'll have your pick of 1,500+ performers. There are girls from all over the world - from teens to MILFs and from amateurs to professionals. There's so much choice that I had trouble deciding whom I should chat with first. But the thumbnails helped me decide. You can hover over any of them to get a quick, live look of what the girl is doing. At one point, I saw a blonde teen making out with a redhead and that was enough for me to click through!
Create a Free Account...
I was so excited to start chatting with these girls that I jumped the gun a little. I said "Hi" to one and got a message that read, "We are sorry, but guests are not allowed to chat." Turns out most performers mute guests. Thankfully, creating an account takes a few seconds. Just pick a username, password, put in your email and, bam, you're in! It's not all gravy, though, because some performers will still block you from their chat if you don't have a token balance. But if you verify your email, you get 10 free ones.
I love how easy it is to find a performer. First, there are four main categories: female, male, couples and transgender. Then there are the other categories like anal play, BBW, big tits, bondage, mature, foot fetish and more. If that's not enough, they have an advanced search that lets you filter based on a girl's region, body type, language and more. You can take advantage of all those features on their mobile interface too.
You'll also benefit from all the free nudity! The top performers on the main page often have thousands of users chatting with them and tipping, so by the time you're there, they're already naked, spreading their legs and getting pleasured by the token-activated sex toy in their pussy. And you'll see and hear all of it clearly thanks to the HD webcams used by most babes.
… Then Get Some Tokens!
Eventually, you might want in on the action, so you'll need to get some tokens. The value of 1 token is about 70 cents, but they offer several packages to grab a bunch at a time for a slightly lower cost. They also have discounts and sales during the holidays, like for Black Friday or Cyber Monday. I recommend taking advantage of those times so you can save a little cash.
After you've bought some, there's a lot you can do. The most common use is activating a performer's smart sex toy. It's that little pink thing you're going to see inside a cam girl's pussy. Tip her and it vibrates. The higher the tip, the stronger the vibration. Tip continuously and watch her squirm in pleasure! But I found something strange - there seems to be a long delay between the tipping and vibrating. When you tip, it takes about 20 to 30 seconds before her toy activates. That's way too long. I hope it's just a bug that they eventually fix.
Enjoy a Variety of Live Shows
There are four types of shows: Private, Full Private, Group and Spy. For 60 tokens/minute (about $5), you can enjoy a private show with a cam girl. But those shows are open to spies, who can pay a couple of tokens to watch but won't be able to chat. You'll have to go Full Private for about 90 tokens/minute (about $8) to block them. With group shows, a cam girl sets a token goal that users contribute to. If she reaches it, everyone gets treated to a special show. There's also cam2cam, but when I visited, the feature wasn't working for some reason, but I assume it costs a few tokens per minute to activate. So as you can see, the potential for spending is high and private shows can become pricey.
Unlock Exclusive Features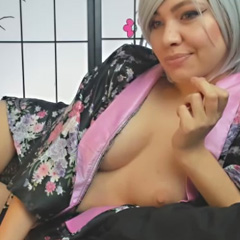 As a member, there are five tiers you can fall into, ranging from Gold to Exclusive. The more you spend, the more you move up in ranks and unlock the various features, like getting to DM girls, customize the color and sound of your chat, and even get the ability to kick out other users. Now, that's all fine and dandy, but here's the real benefit - more attention! Cam girls can see your status. I'm currently at Gold and let me tell you, babes are quick to ignore others and chat directly with me when I enter their room. At one point, I was getting messages from so many girls, I didn't know whom to chat with first! What a great dilemma to have, isn't it?
Experience Hot Sex Chat on Voyeur Villa
Overall, all the cam girls I spoke to were friendly and put on a good show. I love that you can come here and test the waters for free, then buy a few tokens to get the full experience. Sure, you can take advantage of those private and group shows, but you're going to have a lot of fun tipping girls in the free chat and being there for the majority of your stay. I hope they fix the delay between tipping and vibrating, but it's not a dealbreaker by any means.
Click Here To Visit Website
Similar 👀 Voyeur Cams

Imagine a house where sexy girls live, filled with hidden cameras in every room so that you can see what's going on 24/7. Well, you don't have to imagine it with Voyeur House!

Pop open this can of CamSoda to enjoy lots of free nudity. You can join this live sex site at no cost and watch beautiful nude girls getting very naughty on webcam.
Get Exclusive Email Offers
Deals, free tokens & minutes on the top voyeur cam sites!

Check out Voyeur House, a place where you can watch real life cams featuring sexy, young couples in their homes. Watch them lounge around the house or have sex with each other, 24/7.
Camarads cams are streaming 24/7. Check them out anytime and you might see a girl making dinner, folding laundry, taking a shower, or having sex. You never know!

Take a look at these Real Life Cams and see what's going on in kitchens, living rooms, bedrooms and bathrooms, where sexy girls are just going about their day.

In the Voyeur Villa, you can chat with 1,500+ sexy cam girls from all over the world. Whether you're looking for a mature babe or a sexy teen, these performers are as hot as they come!