Sex Cams 101 is great for its different types of XXX live cam reviews including mini and full length ones. There's even an easy-to-use comparative chart with all the information you need. Email me.

Pros
Mini reviews & full-length reviews
Easy-to-browse comparative chart w/cam site information
Cons
Could use more listings
Annoying banner ads and pop-ups
Not mobile-friendly
Bottom Line
Sex Cams 101 will make your life easier by giving you honest and informative reviews about what you want to know in an easily accessible manner. There's everything from mini reviews to full-length reviews as well as a super-handy comparative chart. However, the site could use more than just 18 cam site listings and I could also do away with the annoying pop-ups and banner ads.
My Full Sex Cams 101 Review
Welcome to Sex Cams 101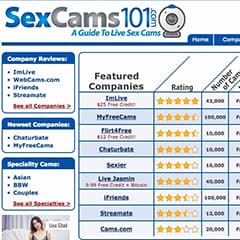 You know what I want right now with zero effort involved? The perfect webcam girl to satisfy all my needs. If you have a mind like mine (savvy and pervy), then you're probably thinking the same. So you might be wondering where you can find the hottest babes and the best sites to experience live interaction with some truly horny cam girls. If you want to get the most out of your experience online I know just where to help you look.
On Sex Cams 101 they give you the 411 on what makes a cam site worthy of your time, effort and money. That's right, folks, this site brings you reviews from the top cam sites on the WWW. Find some honest reviews about what makes a site worthy of your eyes, ears and…. Well, maybe something a little further south.
There's Both Mini-Reviews & Extensive Reviews
You can browse the site in a number of ways. Check out the comparative chart where the top sites are compared by rating, number of cams, cost per minute, features and more. From there you can browse the mini reviews for each featured site or the full-length more extensive reviews. It's sweet that the site gives you the option of tons of information or more of an overview if you don't have time to check out the full review.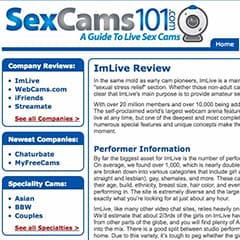 I found the reviews themselves to be thorough and accurate. They break it down into performer info, site features, price, ease of use and more. They also let the users interact with the reviews by posting comments and leaving a rating. I found the layout interesting and I liked that I had multiple ways to interact and browse.
Very Detailed & Organized Layout
You can also browse the specialty section where you can check out cams by category including Asian, BBW, black, couple, Latina, mature and tranny. They also have a "newest companies" section where they list the latest reviews to go online, which is a nice touch to know what's new and hot.
If you want a little more information on Sex Cams 101 check out the "articles" section. It lets you know how the site works, offers tips, let's you know which pornstars perform on camera, a buyer's guide and other helpful information. If English isn't your native tongue, not to worry, the site is offered in multiple languages including Spanish, French, German and Dutch.
Watch Out for Pop-Ups!
So those are all the positives, but where is the site lacking? Well, they only have 18 reviews right now and I would definitely like to see it expand. Also, every time you load a new page you get a pop-up with a different cam girl who's currently live. Some of you might find this to be a pro, but personally I found it very annoying when I just wanted the information from the site and not cam girls popping up all willy-nilly.
There were a couple other things that irked me. I got really excited when I noticed they had a "discussion forum" section and thought I was about to dive into a community of like-minded individuals who were going to tell me what they liked about the site, the reviews and maybe even some critiques. Instead I found a forum that hasn't been used since 2010. The news section was much the same and it hasn't been updated since June 2012.
When you check out the site on a mobile device you'll notice that it doesn't optimize for your device and instead you just get the regular desktop site in a smaller version, which is quite annoying to browse on your smartphone.
A Great Review Site
Overall this is a great place for a general overview of 18 live cam sites. The option to read the mini reviews and the comparative chart make Sex Cams 101 easy to browse and I really like having both. However, there could be more listings and there are some annoying pop-ups and banner ads. If that doesn't bother you I would highly recommend this site for live cam reviews and comparisons.
Click Here To Visit Website
Similar Live Cam Reviews

Get both user and staff reviews. Top Chats gives you all the info you need about live cam sites and the type of performers you'll find, so you can pick the best one for you.

RabbitsReviews is the best place for adult reviews. Their list of live cam sites is thorough and provides you with useful information about both free and paid chat sites.
Sign Up and Hear From the Experts
Updates, opinions and offers from dedicated cam users just like you!

Top Cam Sites gives you info on, you guessed it, the best live cam sites. Read reviews from both users and staff to get a good idea of the online fun you could be having right now.

MyCamGirl realizes the importance of the cam performer in your enjoyment of a live show. That's why they provide reviews, information, photos and videos for hundreds of hot girls.

Sex Cams 101 presents a simple and easy-to-navigate site filled with mini and full reviews of live chat sites. Read and compare info to find the best one for you.

Reviews of all the best adult cam sites are on Cam50. The site provides honest information about each as well as giving it a score. Use it to decide which live sites to check out.

The live cam reviews on Sex Cam Reviews provide detailed and honest comments from experts and users. The information is very helpful in deciding which site to visit.

With a clean interface, Xer Cams provides honest reviews of cam sites. There are lengthy posts for each site as well as ratings and stats that will help you decide which ones to join.