In my expert opinion RabbitsReviews is the best and most honest live cam review site on the Web. The site ranks everything in order of score and lays out all of the necessary information for you. Email me if I missed anything.

Pros
Includes a user score
Lays out pricing, pros and cons, and site details
Good sorting options
Cons
Could use more cam reviews
Bottom Line
This is a site that will show you all of the top live cam sites out there, let you know how much they cost, and then leave the decision in your hands. Not only does Rabbits Reviews lay out all the pros and cons of the site, but it also gives the site a rating and lists the user ratings as well. Overall this is a comprehensive review site and definitely the best for getting an honest opinion. Delve on in and find the live cam site with the sexiest ladies out there.
My Full Rabbits Reviews Review
An Award-Winning Review Site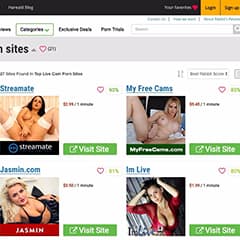 Sometimes I find myself browsing tons of live cam sites and forums, looking for the best girls who can stimulate all my needs. After awhile I tend to get pretty frustrated and just want to take it out with a good ole' wank. Then I stumbled upon RabbitsReviews. Bam! Straight to the good stuff and no wadding through tons of sites to find what I'm looking for.
Rabbits Reviews does not in fact review playboy bunnies. Instead they review all sorts of porn sites and they have a whole section dedicated to live cam sites. You won't find a better list of live cam reviews and rankings. The site features all of the top sites, so you can find top-quality ladies and entertainment easily.
Excellent Layou
Rabbits lays out each site for you with lots of useful information such as how much it costs and what you will get when you sign up and put down some hard-earned cash. Let this review site do the work for you and give you all the information you want to know. You can sort the sites by name, score, price or review date.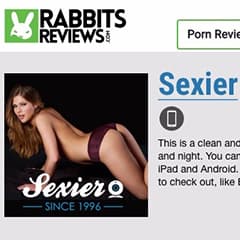 While it's true that there are a lot of review sites out there, Rabbits Reviews has got something unique. It provides a full review of the site by someone who has actually spent time on it. Every review I read was really unique and personable. Not only are RR reviews double the length of a normal review, but they also discuss things that a lot of review sites forget, like the mobile experience. It's really an in-depth analysis of each site and they do it in a way that makes you feel as though you're chatting to a friend as opposed to talking to a robot.
In-Depth Reviews of Cam Sites
Each review had a ton of details, including any features offered, like cam2cam, whether there are timer/credit notifications, if you can post comments, the average cost per minute for private time and if there's an advanced search. The site also provides users with quick pros and cons for each site as well as screenshots so you know what to expect inside. While all the other review sites cover some of those things I've yet to find one that has it all.
So those are all the pros, but what about the negatives? Well RabbitsReviews is on top of their game and only has one minor one. While the site does list the most popular cams sites out there (in my opinion) there are still a lot of sites missing and the list could be longer. Although, they are adding new sites quite frequently and users can make requests for sites to be added to the database, so it's only a minor con.
The Best Review Site of All Time
So to sum it all up, Rabbits Reviews makes it easy to find what you're looking for in a live cam site. All of the information is easily accessible and I would recommend checking out a couple cam reviews on RR before spending any money. Find out just how deep the rabbit hole goes.
Click Here To Visit Website
Similar Live Cam Reviews

Get both user and staff reviews. Top Chats gives you all the info you need about live cam sites and the type of performers you'll find, so you can pick the best one for you.

RabbitsReviews is the best place for adult reviews. Their list of live cam sites is thorough and provides you with useful information about both free and paid chat sites.
Sign Up and Hear From the Experts
Updates, opinions and offers from dedicated cam users just like you!

Top Cam Sites gives you info on, you guessed it, the best live cam sites. Read reviews from both users and staff to get a good idea of the online fun you could be having right now.

MyCamGirl realizes the importance of the cam performer in your enjoyment of a live show. That's why they provide reviews, information, photos and videos for hundreds of hot girls.

Sex Cams 101 presents a simple and easy-to-navigate site filled with mini and full reviews of live chat sites. Read and compare info to find the best one for you.

Reviews of all the best adult cam sites are on Cam50. The site provides honest information about each as well as giving it a score. Use it to decide which live sites to check out.

The live cam reviews on Sex Cam Reviews provide detailed and honest comments from experts and users. The information is very helpful in deciding which site to visit.

With a clean interface, Xer Cams provides honest reviews of cam sites. There are lengthy posts for each site as well as ratings and stats that will help you decide which ones to join.