On Sex Cam Reviews you can enjoy a large database of cam sites and extensive reviews. Read them before you pay for any XXX live show. Share your thoughts with me via email.
Pros
Large database of cam sites
Detailed user reviews
Cons
No members' area previews
Site design is very basic (could use improvements)
Bottom Line
In my humble opinion, this is one of the better live cam review sites and is very thorough with its informative reviews done by paid employees. As a user you can also check out other users' reviews or leave your own. There's a ton of different ways to check out the Sex-Cam-Reviews including a Top 10 list, a comparison chart and a buying guide. Enjoy this large database of live cam reviews.
My Full Sex Cam Reviews Review
Find Out Which Cam Sites Are The Best!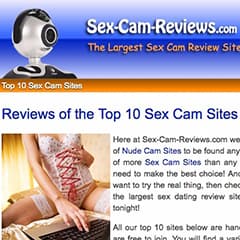 I used to be a huge fan of porn sites, but after several years of getting my wank off the good old fashioned way I wanted someone a little more interactive. That's when I started checking out live cam sites and now I'm addicted.
My problem when I first started going to them was I would waste so much time finding a site that didn't ripe me off and that had hot performers and good-quality cams. I didn't want to waste time looking for the good sites when I could be spending all that time with sexy babes instead. Then I discovered live cam review sites. While there are many different ones to check out, one of my favorites is Sex Cam Reviews.
Check Out Their Top 10 List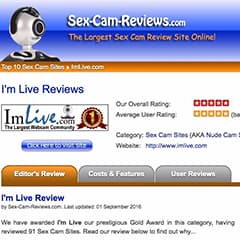 Sex-Cam-Reviews.com is a good site for a number of reasons. There are multiple ways to can check out the reviews including a Top 10 list, a comparison chart and a buying guide. The site sticks to what it advertises and provides you with all the information you need to make an informed decision. Now that's my kind of review site, my friend.
Not only do they stick to their word, but they also have experience reviewing cam sites and overall do a good job. After browsing hundreds of sites on the Net each month, they make a judgment based on a very thorough critic including the number of members, the various ways you can interact with members, if there's any free access, any premium members' features, how complete the member profiles are and whether a site has a built-in search engine. The "Editor's Verdict" usually gives you a bunch of information on the reviewers interaction with a number of different cam girls and the overall quality of the performers. You can also check out the user reviews to see what others think compared to the reviewers employed by the site.
They offer Quantitative & Qualitative Reviews
Check out one of their reviews to see their detailed ranking system. Want to get straight to the numbers and bypass all that reading? Then check out the comparison chart, which is great if you just want to compare site rankings. They list a number of things on the chart including number and variety of models, chat features, overall rating and more.
I hate when I read reviews and you can tell that the reviewer is totally biased and getting a commission from the site they review. You won't find that on Sex Cam Reviews though. I didn't feel like there were any biases in the ranking and as someone who knows a lot about cam sites, they wrote a legitimate list of the Top 10. You can also check out this list on their mobile site, which is optimal for browsing with whatever type of mobile device you have.
One of the Best Cam Review Sites
Now that I've laid out all the good stuff, let me tell you how the site could improve. I don't have any major cons, but I do think the design could be improved. It's very basic and just lists everything without trying very hard aesthetically. Not a huge con, but something that should be mentioned. My other complaint is that there aren't any members' area screenshots, which would be nice.
Overall this site is a one of my favorite review sites and they boast a large database of reviews. Discover the Top 10 cam sites on Sex Cam Reviews and make an informed decision without wasting your time.
Click Here To Visit Website
Similar Live Cam Reviews

Get both user and staff reviews. Top Chats gives you all the info you need about live cam sites and the type of performers you'll find, so you can pick the best one for you.

RabbitsReviews is the best place for adult reviews. Their list of live cam sites is thorough and provides you with useful information about both free and paid chat sites.
Sign Up and Hear From the Experts
Updates, opinions and offers from dedicated cam users just like you!

Top Cam Sites gives you info on, you guessed it, the best live cam sites. Read reviews from both users and staff to get a good idea of the online fun you could be having right now.

MyCamGirl realizes the importance of the cam performer in your enjoyment of a live show. That's why they provide reviews, information, photos and videos for hundreds of hot girls.

Sex Cams 101 presents a simple and easy-to-navigate site filled with mini and full reviews of live chat sites. Read and compare info to find the best one for you.

Reviews of all the best adult cam sites are on Cam50. The site provides honest information about each as well as giving it a score. Use it to decide which live sites to check out.

The live cam reviews on Sex Cam Reviews provide detailed and honest comments from experts and users. The information is very helpful in deciding which site to visit.

With a clean interface, Xer Cams provides honest reviews of cam sites. There are lengthy posts for each site as well as ratings and stats that will help you decide which ones to join.