Hunk Privates will hook you up with free credits right after your sign-up! Plus there's this hot cam2cam option that'll make your live gay sex shows even steamier. Share your thoughts with me via email.

Pros
Free credits after signing up
Cam2cam option
Cons
Low-quality cams
Not a huge database of models
Expensive private chats
Bottom Line
I'm going to give you the lowdown on Hunk Privates. First off this is not a site you want to sign up for. There aren't that many models online for one, they aren't as hunky as promised and the site can get expensive. The cam quality is also terrible and I didn't find any HD ones. Overall I would search elsewhere for all your hunky needs because I was left unfulfilled on this site.
My Full Hunk Privates Review
Hunk Privates on Cam!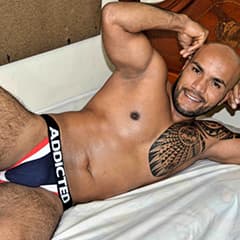 Want to watch hunks in private touching their privates? Don't we all! Well, maybe not everyone (but definitely those reading this!). On Hunk Privates you can supposedly watch hunky men grabbing their balls, rubbing and tugging themselves, and so much more for the camera. I could only find Europeans (though the site has categories for Asian, Latin, African and Arabic dudes). Most were younger though there were a couple of men in their late forties. I also found a straight couple on the site (which seemed kind of random as this is a gay site).
Every time I went on the site there were less than 10 models online (anywhere from 5-9), which is disappointing and lackluster to say the least. There's no way to tell how many actual dudes exist on the site as you can only browse the performers currently online. The guys I did manage to find and chat with looked pretty tired or just not into the experience. I don't necessarily blame them as I seemed to be the only user online, so it's not like they had a crowd of excited spenders to please.
Low-Quality Cams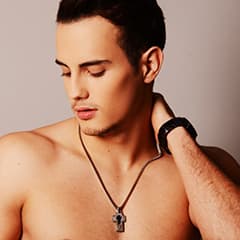 Once I started chatting with someone I noticed the cam quality right away, or lack thereof. The site said that the image quality depends on the webcam models' internet connection. Whatever the case it did not look good for any of the models I was browsing. I mean I've seen some low-quality cams, but these were particularly terrible.
And you'd think for a cam site with low-quality cams that it would be a little cheaper to private chat, but you'd be wrong. It's about $1.50 per minute to private chat with your favorite hunk. You can also chat on the phone for $2.99 per minute, again not cheap. While this isn't the most expensive site it's still on the pricier side of things.
You also don't get any extra features. There isn't a forum, blog or anything else to make this site stand out. Although so far nothing really has. The guys have profiles, but they weren't very extensive and I was left wanting more.
Ad-Free is Always Nice
The site isn't all terrible. At least it's ad-free and you won't get distracted by annoying pop-ups. You can also use the mobile version with ease on your iPhone or Android. The site is also offered in a number of different languages (over 13). There are many ways to browse the models including by language, age, origin, hair color, sexual preference, etc. However, since there were literally only a handful of models on at any given moment it's pretty much obsolete to use these filters. I guess if the site got bigger they could come in handy. I was very happy to see a cam2cam feature though!
Well, if you didn't figure it out by now, I'm not a huge fan of this site. It just doesn't do it for me. There aren't very many models online at any given time nor are there any decent-looking cams. And it gets expensive fast. I would say look elsewhere for your hunky, dirty desires.
Click Here To Visit Website
Similar 🏳️‍🌈 Gay Cams

On Gay Free Cams it's, of course, free to sign up and chat with the many hot guys before you decide which one you want to go private with. Horny men are waiting for you.

Go Gay Cams features good-quality webcams and sexy guys. There's a huge database of male performers ready to have a live chat. Plus you can go cam2cam.
Solid Deals - Straight to your Inbox!
Get exclusive email offers and meet your next online stud!

Live Gay Webcams offers private shows with hot men and there's some free nudity. Either way you look at it, you'll be camming live with the horny man of your choosing.
Prepare to chat and socialize with thousands of hot guys on Social Boys. These men have HD cams and with so many of them to choose from, you'll easily find the perfect stud for you!

There are very attractive guys performing on good-quality cams on Camera Boys. Plus, the site will provide you with some credits just for signing up for free.

With the advanced search and performer profiles you'll surely be able to find the kind of guy you want to chat with on GayCamFlirt. Then all you need do is take him private!

X Love Gay has a lot of what you want on a male sex cam site, like hot performers and good navigation. With a VIP membership you also get lots of pre-recorded videos.

You'll get 10 free credits just for signing up at SuperMen.com. Then you can use those credits to chat with one of the many sexy men who perform live. Things can get very hot!