Live Gay Webcams has loads of guy live cam models who are varied in both their looks and personalities. Most of the cams aren't in HD and a fully private chat can sometimes be expensive. Email me.

Pros
Some free nudity
Good variety of male performers
Cons
Full private chat (no spying) is expensive
Not many HD cams
No hover-for-live-view feature
Bottom Line
Live Gay Webcams features a lot of male performers and plenty of variety in terms of their looks so that whatever your mood you should be able to find a guy to fit it. On the downside, most of the cams don't appear to be in HD and the price for fully private chat is over $5/minute. But if you don't mind other people spying on your chat then the price drops down and you can even find some nudity as guys work for tips in the free rooms.
My Full Live Gay Webcams Review
Hot Guys on Cam !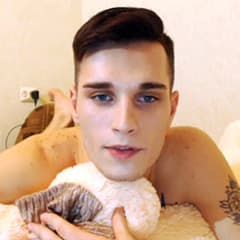 I'm not exactly sure what makes a webcam gay. Especially given that Live Gay Webcams categorizes some of their cams as featuring "straight" guys. But silly observational commentary aside, this is a live cam site filled with guys on cam waiting to chat and show off for you. There are trannies and girls too, but they have their own sections and are not of concern to me when dealing with the experience here (but I did want to let you know should that be of added value to you).
And speaking of the experience, LiveGayWebcams has a pretty standard cam design with thumbnails in a grid pattern. It's simple and clean and easy to understand. One thing it's missing though is a hover feature so that you can get a look at the guy's live cam, which is a favorite feature of mine so that was disappointing. But at least another feature I always look for was available.
To be honest, when I used to spend a lot of time on regular porn sites I hardly ever noticed if there was an advanced search. But when it comes to sex cam sites I find it a very useful and important feature and it's always one of the first things I look for when I check out a live cam site and I was happy to find it here.
There's a Decent Variety in Performer Types Here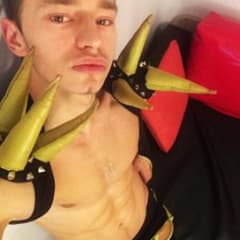 There are thousands of registered performers on the site, but the times I've been there I always found between 50 and 75 guys online. That isn't as many as other sites, but it's enough to be able to find multiple dudes who are right up your alley. There's plenty of variety among the performers too, from chubby dudes to fit guys, and from older men to younger hunks. Also, while most of the guys are Caucasian, there are some ethnic men as well.
The site works like most standard cam sites. The guys all offer a free chat option in the group cam room and if you want to take the guy for some private time you can do so at a per-minute cost – all the guys charge the same price. It will cost you 30 tokens per minute for a private chat (where others can spy in on your chat) and 45 credits per minute for a fully private chat (no spying allowed).
Rates are Around Average Here
There are multiple token packages and the more you spend the lower the per-token cost becomes. If we look at the best valued package it will cost you 12 cents per token and if you do the math that means $3.60/minute for a private chat and $5.40/minute for a fully private one. That first price isn't cheap, but it's pretty average for cam sites. The $5.40 on the other hand is expensive. Sure, there are plenty of other sites that charge around the same, but I still think it's expensive, especially when most of the cams aren't in HD.
As an example, as I'm writing this there are 60 cams online, but only 13 of the guys are offering HD cams. The good news is that checking out a few of the other cams they don't look that bad. The frame rates are good and the image quality, while definitely not HD sharp, is decent.
Lots of Nudity for Free Though
Oh yeah, there was one more thing I wanted to mention: the free nudity. You see, as I browsed the site on multiple occasions I saw a decent amount of naked dudes and naughty play without spending a dime. It seems as though some guys use nudity to try and get tips from people and other guys will set out tip goals and stuff they'll do when those goals are met. Either way, if you're in the room, you get to see whatever happens even if you aren't involved in the tipping.
In the end, it's free to check out Live Gay Webcams, so go do that and then decide if there are any guys hanging around online who deserve your hard-earned cash – and you want to see put on a good show.
Click Here To Visit Website
Similar 🏳️‍🌈 Gay Cams

On Gay Free Cams it's, of course, free to sign up and chat with the many hot guys before you decide which one you want to go private with. Horny men are waiting for you.

Go Gay Cams features good-quality webcams and sexy guys. There's a huge database of male performers ready to have a live chat. Plus you can go cam2cam.
Solid Deals - Straight to your Inbox!
Get exclusive email offers and meet your next online stud!

Live Gay Webcams offers private shows with hot men and there's some free nudity. Either way you look at it, you'll be camming live with the horny man of your choosing.
Prepare to chat and socialize with thousands of hot guys on Social Boys. These men have HD cams and with so many of them to choose from, you'll easily find the perfect stud for you!

There are very attractive guys performing on good-quality cams on Camera Boys. Plus, the site will provide you with some credits just for signing up for free.

With the advanced search and performer profiles you'll surely be able to find the kind of guy you want to chat with on GayCamFlirt. Then all you need do is take him private!

X Love Gay has a lot of what you want on a male sex cam site, like hot performers and good navigation. With a VIP membership you also get lots of pre-recorded videos.

You'll get 10 free credits just for signing up at SuperMen.com. Then you can use those credits to chat with one of the many sexy men who perform live. Things can get very hot!